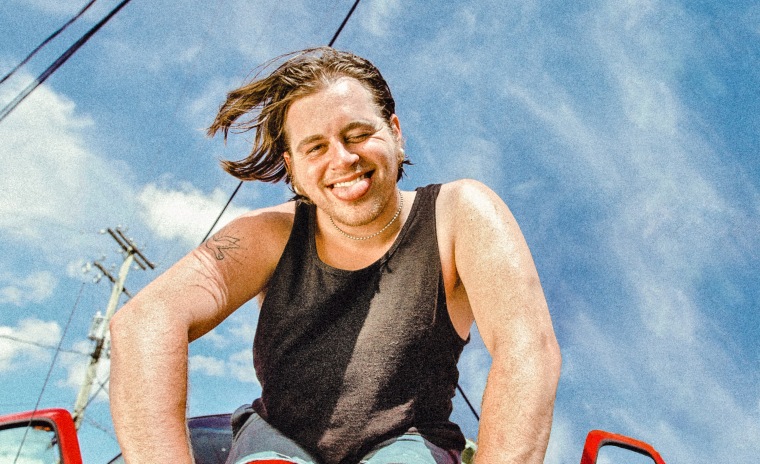 Indiana-based songwriter Kevin Krauter returns with new album Full Hand on February 28. Today he has shared "Opportunity," a hazy waltz that alternates between thoughts of anxiety and excitement at an unknown journey ahead. A video for the song, see below, shows Krauter and his pals playing hackysack.
"I wrote this song a few years ago when I first started trying to do music full time," Krauter said in a statement. "It was a pretty confusing time, and I think a lot of my headspace was taken up by the question of what opportunity looks like in my life, how much of myself I owe to it, and the inevitable reality of me making mistakes and finding an opportunity wasted regardless of my effort. Writing this song sort of helped me to contextualize that feeling and reflect on myself in a critical but compassionate way."
Full Hand is Krauter'sfollow-up to 2018 debut Toss Up and will be released via Bayonet Records. He is on tour from March. Check out the dates below.
Thu. March 12 - St. Louis, MO @ Blueberry Hill Duck Room *
Fri. March 13 - Springfield, MO @ Front of House *
Sat. March 14 - Norman, OK @ The Opolis *
Mon. March 16 - Fri. March 20 - Austin, TX @ SXSW
Sat. March 21 - Dallas, TX @ Club Dada (Not So Fun Weekend) *
Sun. March 22 - Hot Springs, AR @ Low Key Arts
Thu. April 2 - Bloomington, IN @ The Bishop
Fri. April 3 - Louisville, KY @ Zanzabar
Sat. April 4 - Columbus, OH @ Big Room Bar
Sun. April 5 - Cleveland, OH @ Now That's Class
Fri. April 10 - Chicago, IL @ Schubas
Sat. April 11 - Madison, WI @ Der Rathskellar at U of W
Sun. April 12 - Milwaukee, WI @ Cactus Club
Mon. April 13 - Minneapolis, MN @ 7th Street Entry
Thu. April 23 - Detroit, MI @ Sanctuary %
Fri. April 24 - Toronto, CA @ Baby G %
Sat. April 25 - Montreal, CA @ Brasserie %
Mon. April 27 - Brooklyn, NY @ Rough Trade
Tue. April 28 - Philadelphia, PA @ Boot & Saddle %
Wed. April 29 - Washington, DC @ Pie Shop %
Thu. April 30 - Richmond, VA @ Richmond Music Hall %
Fri. May 1 - Durham, NC @ Cat's Cradle (Back Room) %
Sat. May 2 - Atlanta, GA @ Drunken Unicorn %
Sun. May 3 - Nashville, TN @ DRKMTTR %
Sun. June 7 - Lawrence, KS @ White Schoolhouse
Mon. June 8 - Denver, CO @ Lost Lake Lounge
Wed. June 10 - Boise, ID @ Neurolux
Thu. June. 11 - Seattle, WA @ Sunset Tavern
Sat. June 13 - Portland, OR @ Bunk Bar
Mon. June 15 - San Francisco, CA @ Crystal Cavern
Wed. June 17 - Los Angeles, CA @ El Cid
Thu. June 18 - San Diego, CA @ Soda Bar
Sat. June 20 - Tucson, AZ @ Club Congress
Mon. June 22 - Austin, TX @ Mohawk
Tue. June 23 - San Antonio, TX @ Paper Tiger
Wed. June 24 - Houston, TX @ Satellite
Thu. June 25 - Dallas, TX @ Three Links
*= w/ Slow Pulp, Divino Niño
%= w/ Why Bonnie