Big Thief's unfinished history
Coming off the treasured indie band's most staggering year yet, Adrianne Lenker and Buck Meek stare down what's still to come.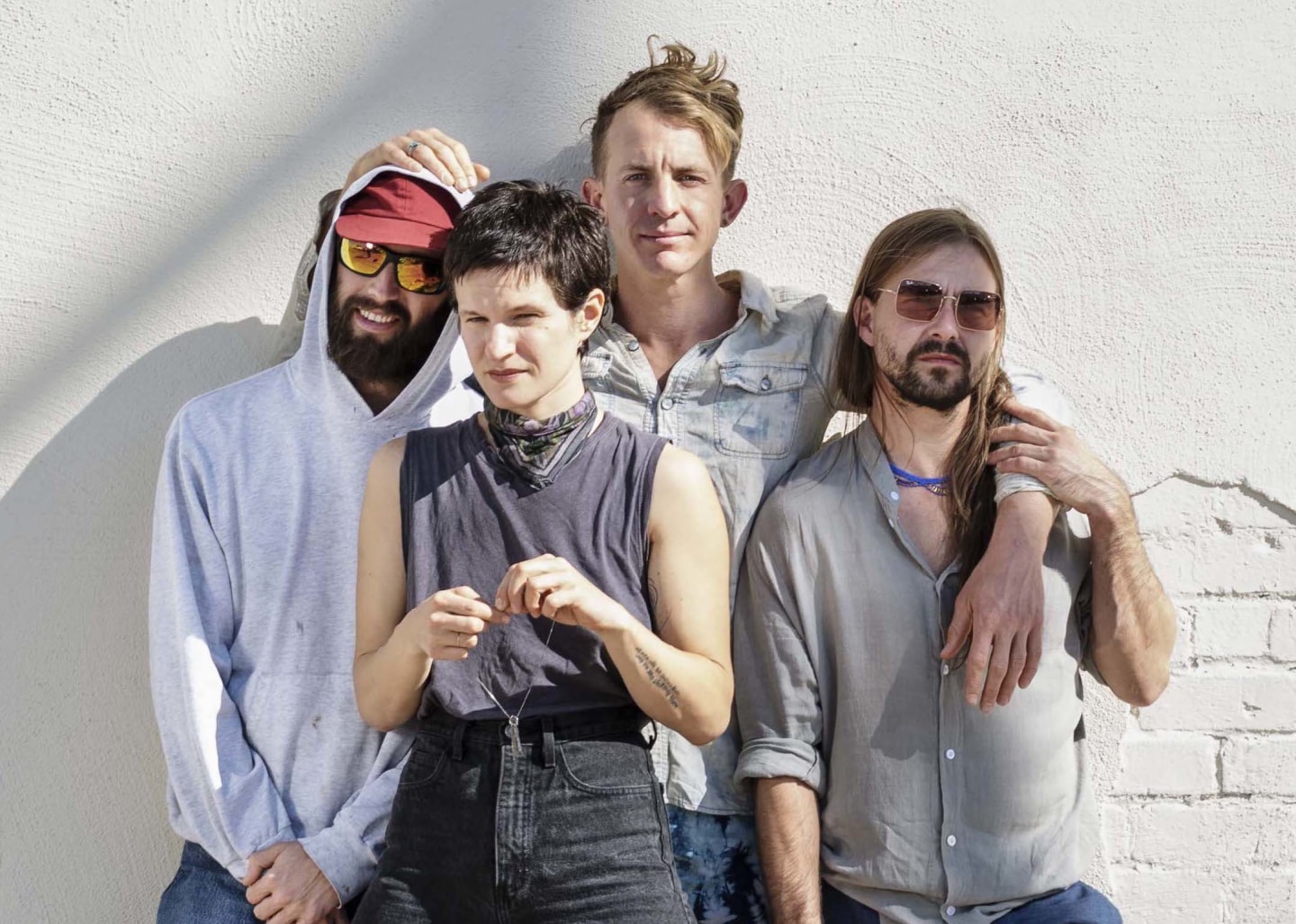 Adrianne Lenker, Buck Meek, Max Oleartchik, and James Krivchenia open their fourth album as Big Thief in the fetal position — weighted down by forces out of their control, but hanging onto the power of song like their lives depend on it. "Hand me the cable, plug into anything," Lenker coos in the dawning moments of Two Hands, expressing weary resolve over softly swaying guitar. "I am unstable. Rock and sing, rock and sing."
Over the phone from a café in Marfa, Texas, Lenker tells me that she wrote the song while going through a breakup. But here, as with all of Big Thief's songs, a deeply personal situation refracts into something much greater. "It's about surrendering to this feeling of utter fragility, and singing through the volatility of it all," she explains. "The earth is unstable, and I'm part of the earth. I can feel it coursing through my own body. I feel the energy of everything, flickering. Let's just sing together."
In many ways, "Rock and Sing" — and Lenker's explanation of it — sums up why people can't get enough of Big Thief. Across four albums in as many years, the band has nurtured a conviction in the strength of vulnerability. In the tradition of great folk acts before them, they've sketched out a loose roadmap of the America sprawled out in front of them — a land marked by jagged edges, quiet daily revolutions, and sincere intentions buried deep below the artifice. They know the routes to some of the most tender places of the human condition, and they also know how to rip.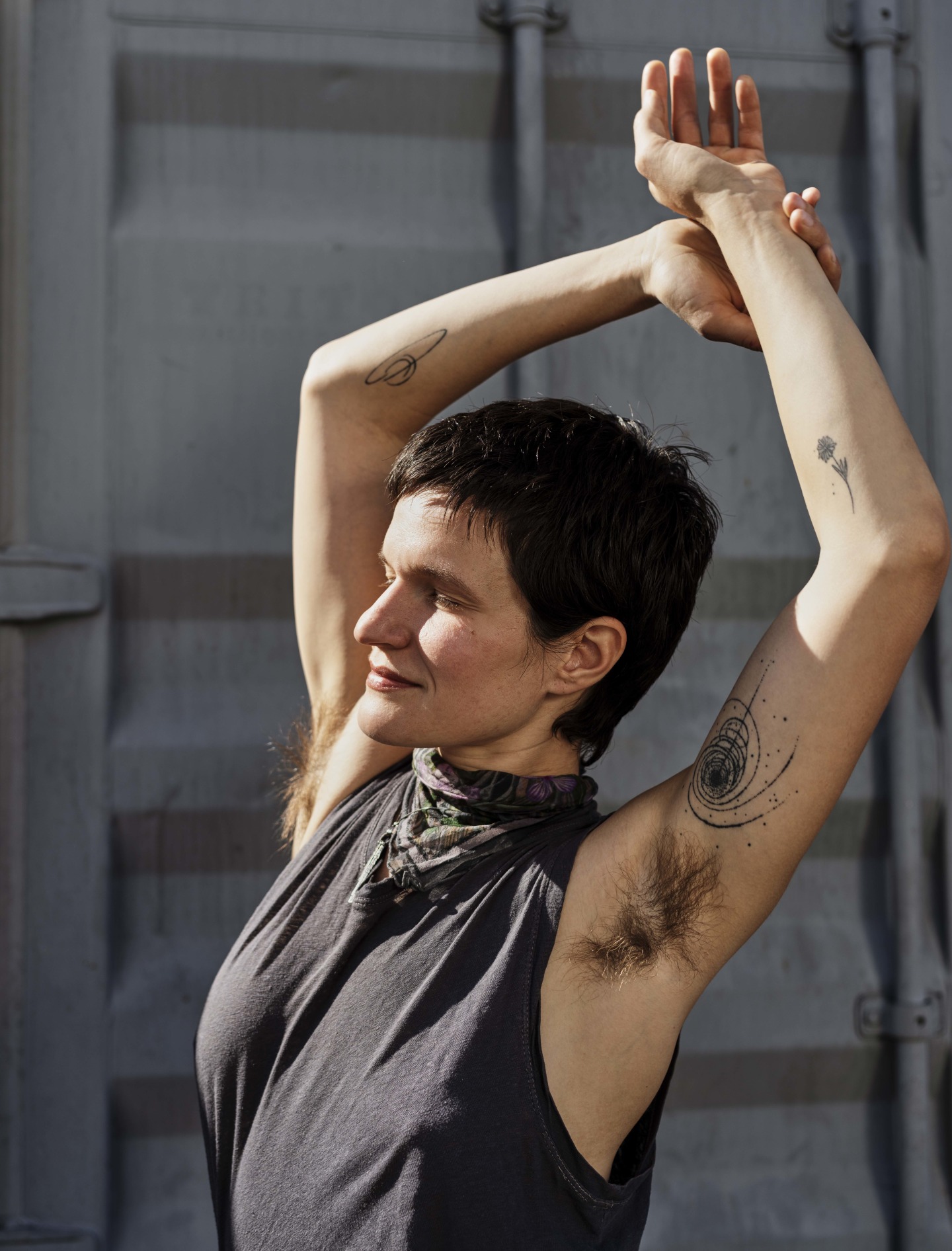 "The earth is unstable, and I'm part of the earth. I can feel it coursing through my own body. I feel the energy of everything, flickering. Let's just sing together."
As we speak, Big Thief are on tour, winding their way from Albuquerque to Austin. They recorded Two Hands just outside of El Paso last summer, and it's their first time playing these songs back to the open desert that birthed them. Over the past five years, the bandmates have grown comfortable with living "like astronauts" on the road, as Meek puts it. "Just when I feel like I couldn't feel closer to them, we get closer," Lenker gushes. "It feels like a true family, the kind of relationship where you don't have a choice anymore. They're simultaneously my teachers, and my friends, and my brothers, and my sons, and my fathers, and my mothers."
That the band's story has been told many times doesn't make it any less remarkable. Born into a religious cult in Indianapolis and raised in rural Minnesota, Lenker began writing songs from an early age. At 16, she got her GED in lieu of a high school diploma; at 17, she earned a full-ride scholarship to Berklee College of Music from acclaimed Americana singer Susan Tedeschi. In 2012, she moved to New York and found a best friend and "beautiful navigator of life" in guitarist Buck Meek, who was also new to the city. He taught her the joys of Townes Van Zandt and John Prine, and the two busked around the city to make ends meet. "We used to go to Washington Square Park on our bikes and scrap to pay our rent," Meek remembers. "We played 'Paul' there way before we ever recorded it."
The foundation of Big Thief solidified when Meek ran into Max Oleartchik, an old friend who'd recently moved to Brooklyn from his native Israel. Beyond his bass skills, Oleartchik lent a certain compassion to the project. "When I first started out in the band, I had so many walls up," Lenker says. "I kept myself so guarded and I didn't understand it. Max has always been able to meet me in this space where nothing's too small to talk about. He has a fierceness about him." James Krivchenia, who engineered the newly formed band's 2016 debut Masterpiece, later stepped in as drummer. "James has such a deep compass for detecting bullshit," Lenker says. "Rhythmically, we're intertwined. We go into the same kind of trance."
The bond between the four of them was instantaneous, and their work ethic was strong: before Masterpiece had even been released, the band had already recorded their sophomore album, Capacity. From the get-go, Big Thief knew there was power in sensitivity, and that they could harness it so immediately is a testament to the trust they placed in each other — both in and out of the studio. "We've always rehearsed in a circle, from the beginning," Meek explains. "We've recorded all of our records in a circle, now that I think of it."
The one-two punch of 2016's Masterpiece and 2017's Capacity did not go unnoticed. Critical adoration was there, sure, but not even critics could've told listeners to resonate with the music the way that they did. As one writer tweeted at a show this November, "The 'hecklers' at the Big Thief show have so far interrupted Adrianne to shout 'amazing human beings' and 'we are here for you,' exactly as one might expect."
After years of touring behind the two projects — as well as solo efforts from Lenker, Meek, and Krivchenia — the band finally etched out a bit of free time to work on new material. In early 2018, they rented a cabin in California's legendary forested artist enclave Topanga Canyon. After they netted close to 50 demos during that marathon session, it was obvious that they were gearing up for something more ambitious than just one overstuffed follow-up album.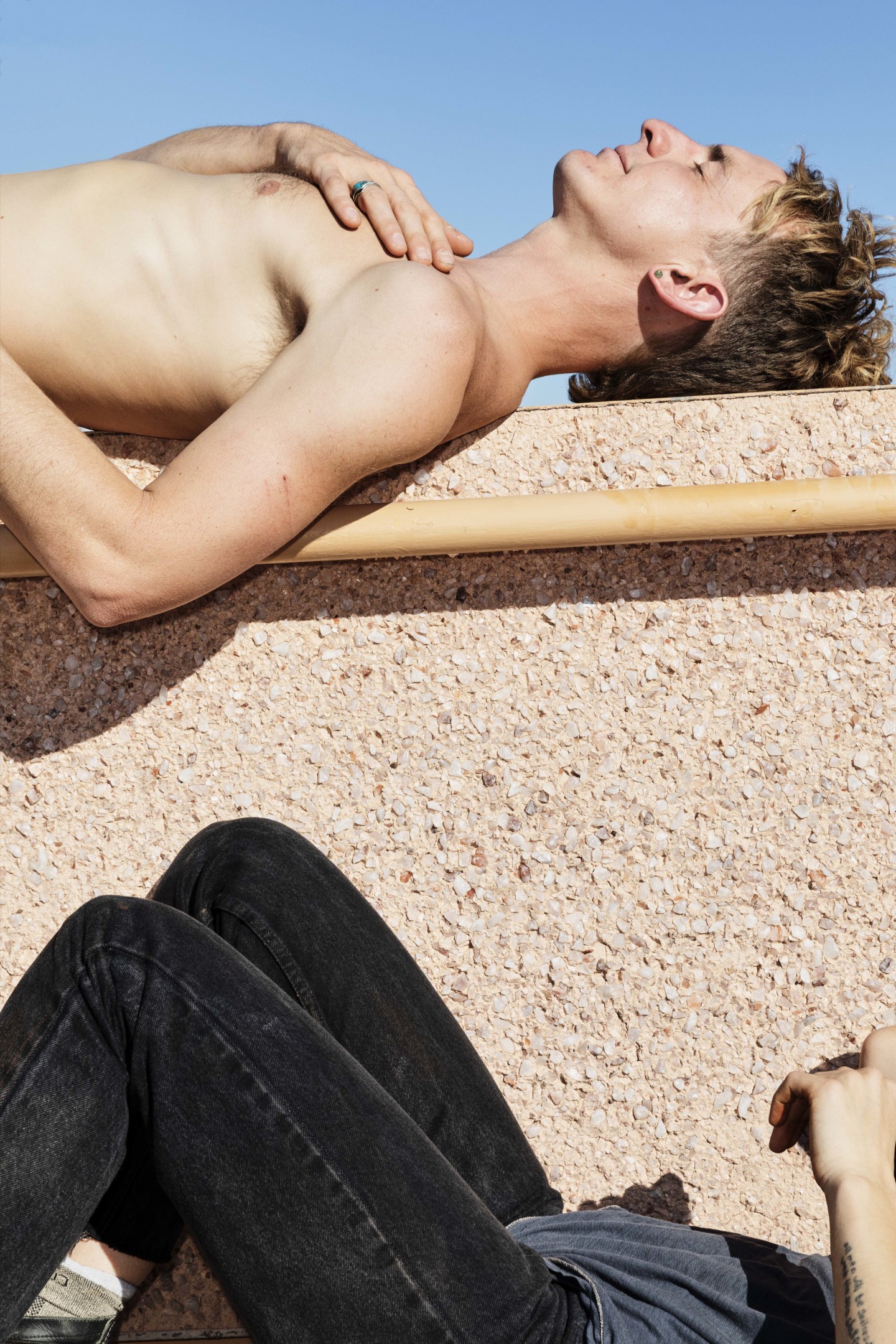 So that summer, the band headed to the verdant and dewey depths of northern Washington to record UFOF, a gauzy transmission to the great beyond that takes its name from the "UFO friend" on the album's beckoning title track. Days after that session wrapped, they bolted down to Meek's native Texas to make the next album. Where the production on UFOF whirrs and crackles (in part due to a modular pedal board Krivchenia dubbed "the magic box"), Two Hands is stripped completely bare. The band recorded it live in the basement of Sonic Ranch, a mid-century hacienda located on a 1,700 acre-pecan orchard. "There's windows that look out eye-level to the soil." Meek recalls. "It's a bit subterranean and dark, but sometimes you catch the light during sunset."
Just above ground and two miles away from the studio sat Tornillo tent city, the temporary detention facility that housed over 6,000 migrant youths during the second year of Trump's presidency. "The border was running right through the land that we were on," Lenker remembers. "There was a fence there, and on the other side was Mexico. You realize, people walk through that desert and die. What a sick joke, to put a fence through this land as if it were ever ours to begin with. And for what? To save some plot of land for future generations while the earth gets so stifled and suffocated and polarized? So we can perpetuate the lineage for as long as possible before an asteroid hits the earth?"

Two Hands is a political album at its root; these songs feel both urgent and lived in. "The Toy" isn't just about guns, but how our societal fascination with weaponry sparks at childhood. When Lenker reckons with domestic violence on "Shoulders," asserting that "the blood of the man who killed our mother with his hands" courses through her, it's also coursing through all of us. "These things can be addressed from the bedrock of just being a human," she explains. "I feel like we can create our own hells and heavens on earth. Some people operate in complete fear that they're gonna lose their stuff and their money. That sounds like hell to me. And then I guess some people operate with hands open, and maybe empty, but at least striving for a deeper understanding of what it means to care."
That heavenly proposition illuminates the core of Two Hands, but hellfire always lurks just around the corner. The inferno blazes particularly bright on "Not," a pile-on of negations that towers into something of a rapturous affirmation. "It's not the hunger revealing, nor the ricochet in the cave," Lenker sings through gritted teeth, her voice nearly buckling under the immensity of it all. "Nor the hand that is healing. Nor the nameless grave."
Aside from "Replaced," a Meek and Lenker duet preserved from the Topanga Canyon sessions, "Not" is the only track the band recorded outside of Texas. "We felt it needed openness," Meek says, "so we re-recorded it at Sound City in LA, where they made Rumours, cranked it real loud, and captured it totally live on the first take."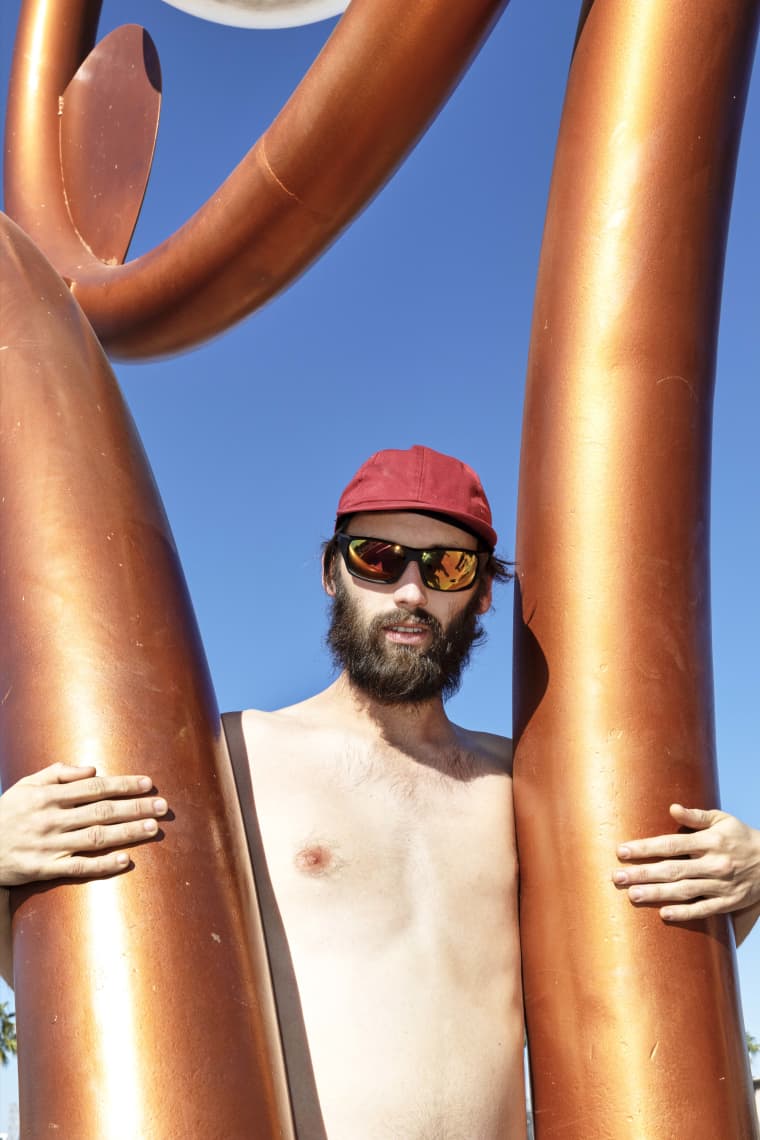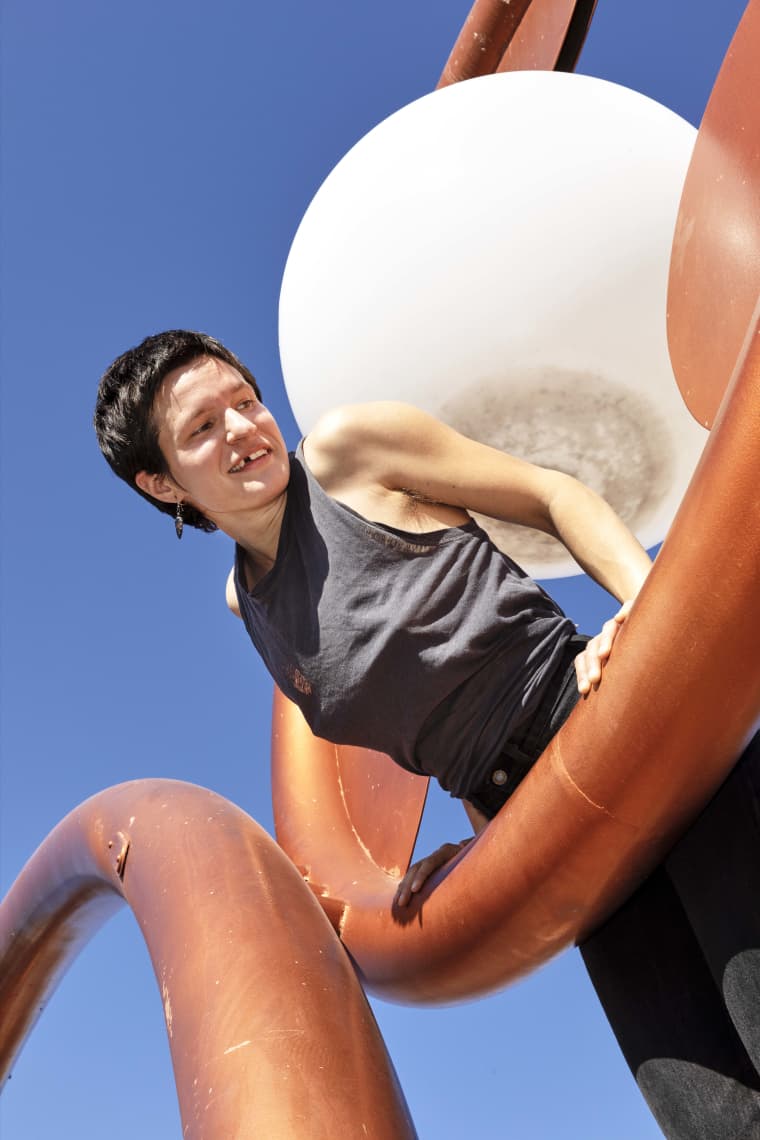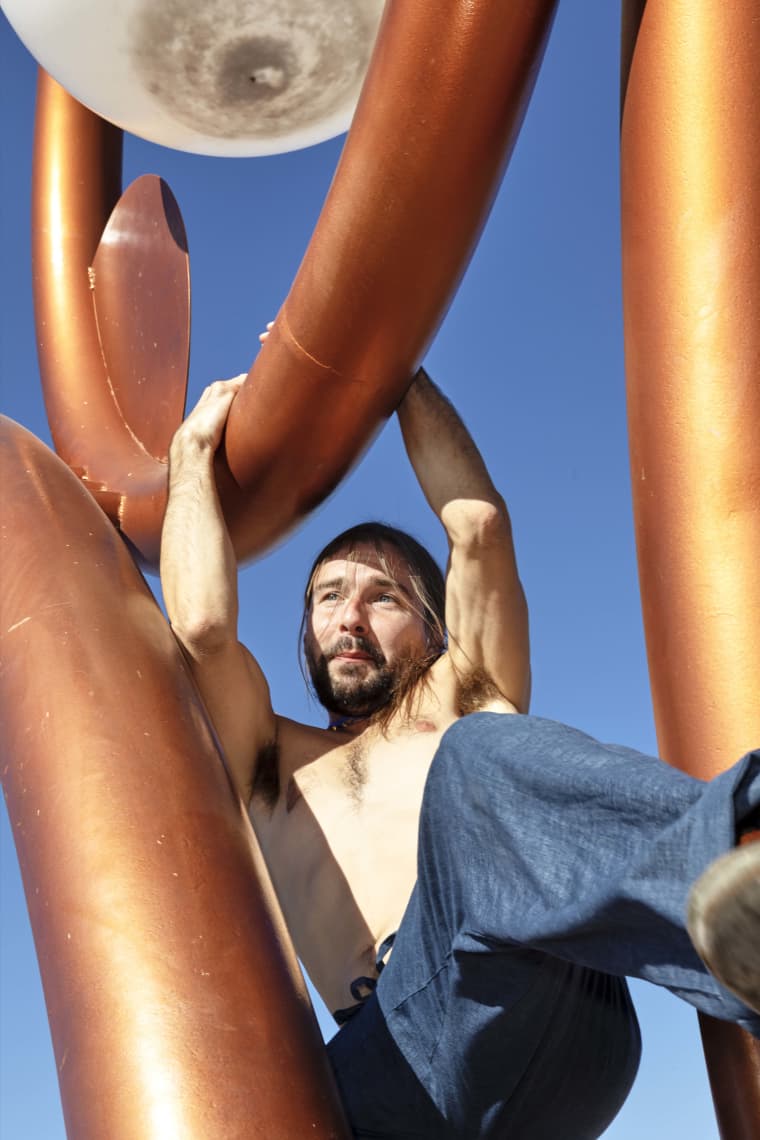 Big Thief aren't here to tell you how to feel — but if you listen, they'll give you something to believe in. Their last three shows in New York City sold out long before UFOF hit shelves. Those who managed to grab tickets for the final night were inadvertently treated to Two Hands' release show, during which Lenker mused before a deeply attentive crowd on how life is really just a series of releases: release of vision, release of hair, release of consciousness. Only Big Thief could so succinctly liken an album's release to a death. "I think I'm learning how to release every day," she remarks, later. "Recognizing that everything you encounter, touch, or love can become part of you, and in essence never disappears, as long as you can recall it to memory or heart. It's all so connected that we lose everything, but also, we never lose anything."
The band never plays the same setlist twice — Meek says it keeps them scared — but as the love for Big Thief has gotten louder, so have fans' expectations. "It's amazing that people are singing the words now," Lenker says, of the recent gigs. "But sometimes I'm battling my own ideas of what people's projections might be. Sometimes it's hard to tune out the voices." She tells me about an angry letter she received after not playing an encore at a recent gig. "I feel a responsibility to the audience, but that responsibility is to perform from a place where these songs originated," she says. "We're not going to pump out a product, or replay our records. We're doing something volatile, trying to be as present as we can and not feed anyone any bullshit."
She was reminded of that the other night in New Mexico, when a man in the audience began to shout at her during the band's set. "I just got off stage and started crying. The veil was already really thin, and I had that other guy's voice in my head," she remembers. But her bandmates were there to wrap her with support. "I felt Buck, Max, and James all come around me. They'll often just hold me in a way where everything feels okay."
There's a reason why the love for Big Thief is so loud. It's not an aesthetic, or the hype, or the videos, or whether they play one song one night instead of another. It's the unfinished history they continue to chip away at with each album they put out, the total alchemy they inch closer to on stage every night. And they're not going to satisfy everyone, but that was never the intention to begin with. "I really don't have the goal of being as big as we can be," Lenker affirms. "I want to make things that blow my mind wide open."