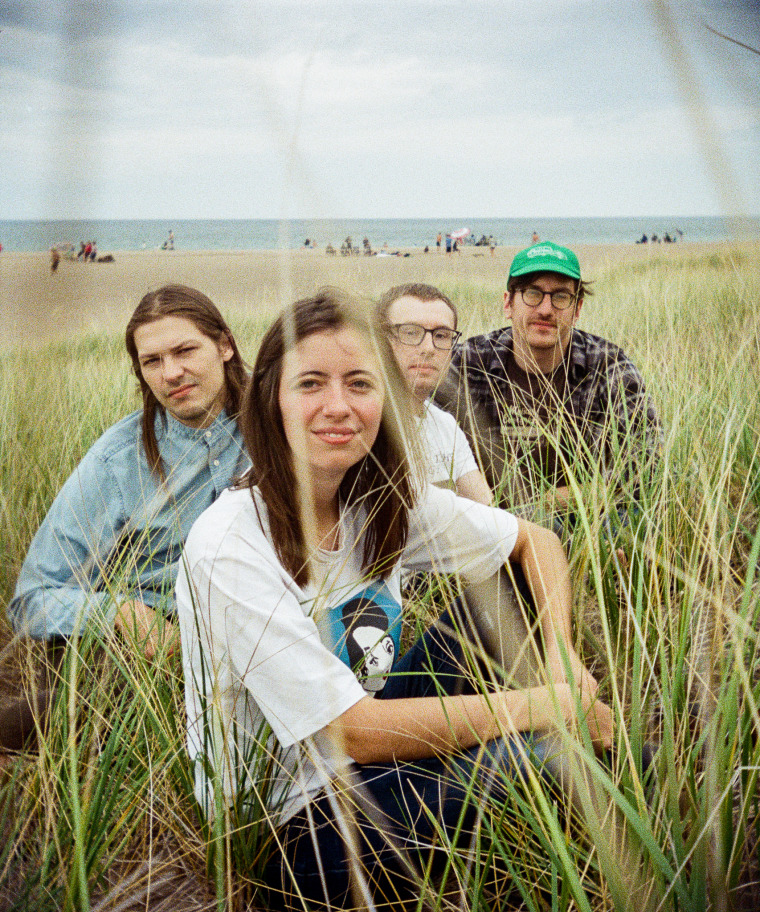 Having now tied up the coveted Bernie Sanders co-sign, Chicago indie troupe Ratboys are preparing to release their third LP, Printer's Devil, on February 28. The latest single from the record is "Anj," released this morning, a sugary slice of pop-punk on which lead singer Julia Steiner looks into her continued relationship with a childhood babysitter. In a press release, Steiner explained the root of the song's refrain:
"Anj is the first song we wrote for the record. It tells the story of my childhood babysitter, a woman named Angie (Anj for short) who watched my siblings and I while my parents worked full time. The verses recall little moments when she held me and comforted me when I was a tiny baby and then eventually as I grew into a small child. As time has passed and I've gotten older, I've kept in touch with Anj, and I've noticed our relationship changing. One time when we got together recently, she confided in me about some trauma she had experienced. It was a fundamental role reversal — she spoke to me not just as a fellow adult, but really she leaned on me for support and comfort in that moment. I did my best to listen and be there for her, to return the gesture of reassurance and love. And I think I needed to write this song to honor that experience. To say out loud for once and for all that I'm — that we're — not alone."
Listen to "Anj" below. Printer's Devil is out February 28 via Topshelf Records. Ratboys will head out on tour as soon as the album releases (without Bernie Sanders headlining this time). Find all of those dates below.
Ratboys U.S. tour:
February 28 Chicago, IL - Lincoln Hall
March 14 Urbana, IL - Rose Bowl Tavern
March 15 Kansas City, MO - Riot Room
March 17-20 Austin, TX - SXSW
March 24 Manitou Springs, CO - Lulu's*
March 26 Salt Lake City, UT - Kilby Court*
March 29 Seattle, WA - Barboza*
March 30 Portland, OR - Mississippi Studios*
April 2 San Francisco, CA - Bottom of the Hill*
April 3 Santa Ana, CA - Constellation Room*
April 4 Los Angeles, CA - The Echo*
April 5 San Diego, CA - Che Cafe*
April 7 Phoenix, AZ - Rebel Lounge*
April 9 Denver, CO - Larimer Lounge*
April 29 Pontiac, MI - Pike Room^
April 30 Lakewood, OH - Mahall's^
May 1 Pittsburgh, PA - Club Cafe^
May 2 Toronto, ON - The Monarch^
May 5 Boston, MA - Great Scott^
May 7 Brooklyn, NY - Rough Trade^
May 8 Philadelphia, PA - Johnny Brenda's^
May 9 Washington, DC - Songbyrd^
May 10 Richmond, VA - The Camel^
May 12 Atlanta, GA - Masquerade Purgatory^
May 13 Nashville, TN - The Hi-Watt^
May 14 Columbus, OH - Rumba Cafe^
May 15 Louisville, KY - Zanzabar^
May 16 St. Louis, MO - Blueberry Hill Duck Room^
* w/ Ellis
^ w/ Another Michael