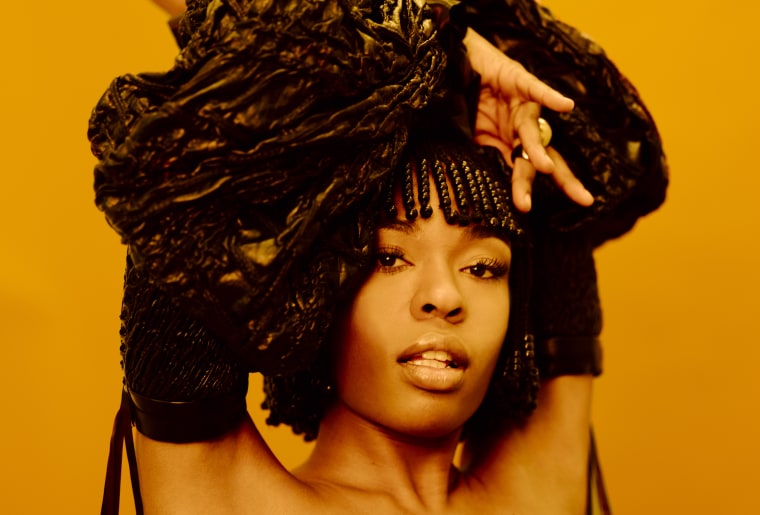 Sudan Archives makes music to build alternate universes to, a mission that courses throughout the entirety of her debut album Athena. It's an ambitious and constantly contorting project that illuminates her skills as a violinist and a songwriter, as well as her dexterity for fusing those disparate talents together. Today, she's unveiling a new video for one of its many gems, "Limitless," which stands out as the most forthright pop moment on the record.
The Femke Huurdeman-directed clip has Sudan channeling Aaliyah in Queen of the Damned, with a deeply psychedelic bend. Just ahead of the video's premiere, we caught up with Sudan as she rehearses for her forthcoming North American tour. Read our Q&A, and check out her full tour itinerary, below.
In the context of Athena as a whole, "Limitless" feels like a tonal outlier, in that it's probably the most pop-friendly track on the record.
The way the song sounds is describing this world that this girl is living in. I'm trying to convince her to leave this guy that she's with for financial support, and she's allowing herself to get verbally abused, and I'm getting aggravated. She's just living in this materialized, pop lush world, and the sound is trying to reflect that. The song is paired with a dark intro and a dark outro — it's a more evil, lo-fi song, and 'Limitless' is this little escape in between.
The groove always comes back to this line: "All we have is the internet." Should we feel constrained or liberated by that limitlessness?
I think it's both! She met this guy on the internet and created her whole world through it. But I did too. That's how I got signed to a label, that's how I moved to L.A. But it can also be so limiting when you get caught up in trends, or abusive relationships.
What was your process in writing this song?
This is the last track on the album that wasn't done. I was having a hard time finishing it because of that sonic dissonance. I just knew that I wanted to tell a story — I wanted to sing about other peoples' lives. Once I started writing about this girl, everything started to come to life, and it put the album into perspective — having "Limitless" between "Stuck" and "Honey" made me realize there's a good side of me and an evil side of me, throughout the entire record. You also hear that on "Black Vivaldi" which sounds really dark and underground, versus "Confessions" which is more grand and mainstream.
Talk to me about how the video came together, with its super groovy Queen of The Damned vibes.
Queen of The Damned has been my reference since the beginning of the album. I met this director, Femke, and I told her about the Yin and Yang of the album. I knew I wanted the video to show the good and bad of me, and I'm a twin as well. When I told her that, she wanted to do a take on eighties vampires movies, with the little circle edits and all that stuff. We ended up shooting the video in Barcelona. It's a pretty dark video for a bright song.
Athena is the kind of album that slowly reveals and rewards through repeated listens. How has it evolved for you since it dropped back in November
I was feeling so tired of it when it dropped, but now I fall in love with it more and more each day. It's because I'm performing it now — once I perform the songs live, then I become more connected to them. Once I really get into the moment. My songs like "Nont For Sale," I can perform them in my sleep. But I'm still getting to know these songs. I want my live performances to tell the stories. One day, I just want to play one day a year and have it be a fucking circus. I'm starting to realize that it's okay to dream big, because that's how I want it to be.
Athena is out now via Stones Throw Records.
Sudan Archives 2020 tour:
February 20 - Vancouver, BC - Fortune Sound Club
February 21 - Seattle, WA - Barboza SOLD OUT
February 22 - Portland, OR - Doug Fir Lounge SOLD OUT
February 24 - San Francisco, CA - Swedish American Hall SOLD OUT
February 25 - Oakland, CA - Starline Social Club SOLD OUT
February 28 - Santa Barbara, CA - SOhO Music Club
February 29 - San Diego, CA - Casbah
March 3 - Minneapolis, MN - 7th Street Entry SOLD OUT
March 4 - Chicago, IL - Sleeping Village SOLD OUT
March 5 - Detroit, MI - Deluxx Fluxx
March 6 - Toronto, ON - Long Boat Hall
March 7 - London, UK - BBC6 Music Festival SOLD OUT
March 9 - Boston, MA - Great Scott SOLD OUT
March 11 - Washington, DC - Union Stage
March 12 - New York, NY- Bowery Ballroom
March 13 - Philadelphia, PA - Johnny Brendas SOLD OUT
March 26 - Knoxville, TN - Big Ears Festival
May 8 - Cincinnati, OH - The National Homecoming festival
June 4 - Barcelona, SP - Primavera Sound
June 7 - London, UK - Cross The Tracks: Brixton's Soul, Jazz, & Funk Fest
June 18 - Dover, DE - Firefly Music Festival
August 20 - Brecon, UK - Green Man Festival