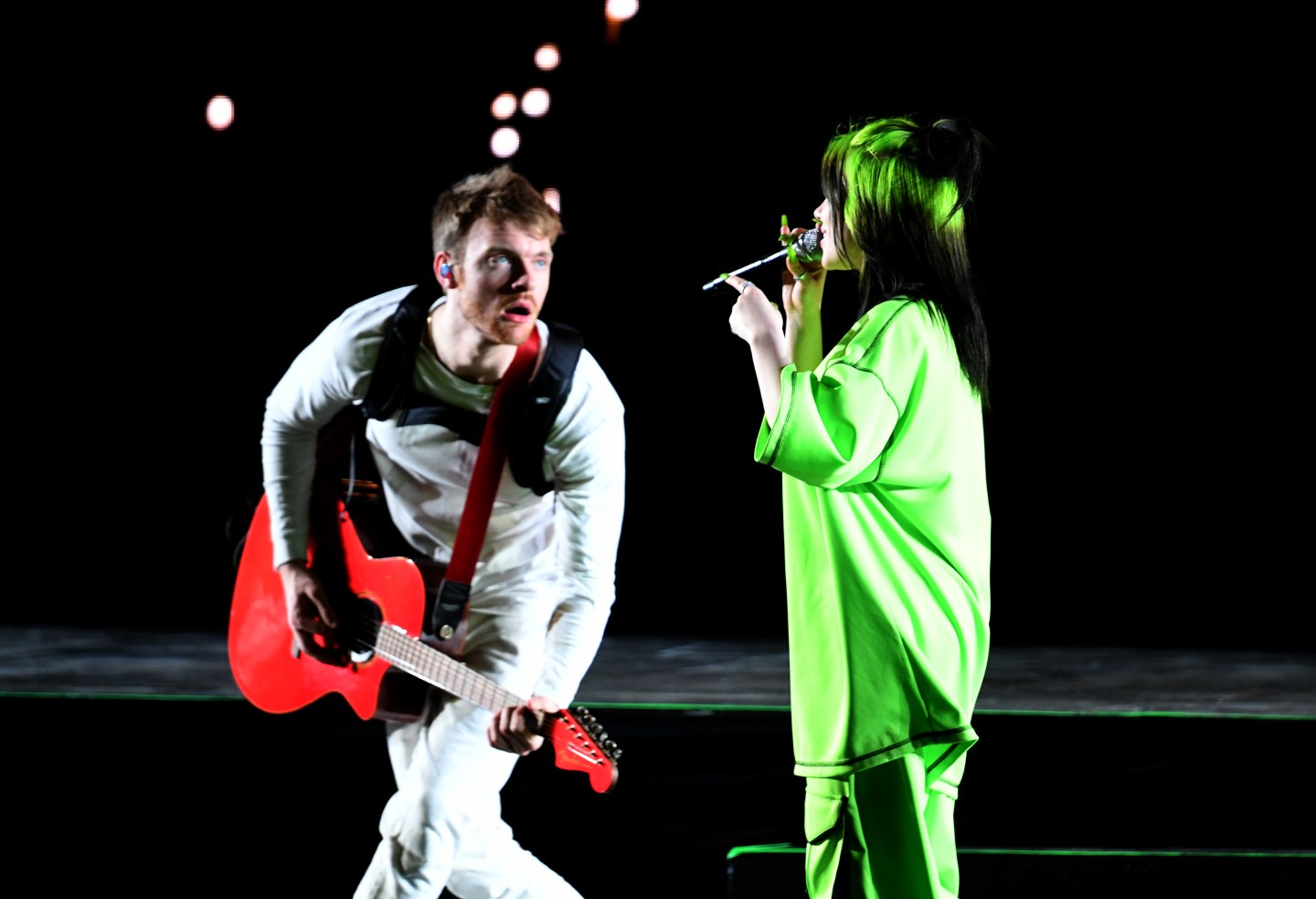 It's a damn good time to be Finneas O'Connell. Over the course of the past year, the 22-year-old Los Angeles native went from producing his sister Billie Eilish's debut album, When We All Fall Asleep, Where Do We Go?, in his Highland Park bedroom to nabbing five Grammy awards for the project. Along the way, O'Connell has become an established artist in his own right, with his debonair debut EP Blood Harmony, and expanded his pop palette even further by collaborating with the likes of Tove Lo, Selena Gomez, and Halsey.
When I meet O'Connell just days after his momentous Grammys sweep, he seems about as discombobulated as anyone in his position might be. I'm the last person he needs to hear another "congratulations" from — but he's gracious when I offer one, and still seems bewildered from the whole experience. He got candid about what really went into that day at the Staples Center, prepping for his sister's forthcoming arena tour (while working on her next project), and how he wants to further establish himself as a producer.
What was the night of the Grammys like? Was the event itself what you anticipated it would be?
I went in nervous. Maybe I shouldn't have been. I was hopeful that we'd even get one, and never thought we'd get the sweep we did — ridiculous. We were performing, so I wanted to be top of our game when we were on stage. If you're guaranteed something you can prep your speech or whatever. You won't know until 30 seconds before you're making a speech if you have to make a speech so it's hard to prepare anything good.
Was there anything about the event that surprised you? It seems kind of like a wedding to me, in that I always wonder if people even have time to eat.
Somebody very smartly ordered Thai food to our green room before the show started. But you're at the Staples Center, there's no food. It's a long day, it's longer than anyone thinks it is. We got there at 10 a.m. The show itself starts at 5:30 p.m. It's a 12-hour day. And Kobe had died earlier in the day, so everyone felt shell shocked. It felt bad to be at the Staples Center all day when there were thousands of people outside mourning.
It was fucking awesome to watch you and Billie spare all of us with that final speech.
I've always wanted to do that, that's a life goal of mine. The issue with that being your life goal is you do a disservice to everyone who deserves a thank you. But we had gotten it all out of the way. And we were so embarrassed at that point. It's embarrassing to win that many things. You want to spread the joy around. It feels selfish, even though we didn't choose anything.
Have you felt like anything's changed since winning?
I haven't felt any shift from the receiving end of my life. This sounds crummy to measure yourself this way, but I have a lot of impostor syndrome in my life. Do I deserve to be here? It's definitely present at a place like the Grammys. So, that lifelong dream has happened. Great. Let me focus on different things in my life. I'm not gonna say, "we'll be back in two years winning again." I already got that T-shirt. Check it off.
I saw you did a foot peel after the show.
It's so gross. It's a gradual process of two weeks. You put your feet into a chemical solution and then the skin sheds like a snake for two weeks. It's so gross. Every time I take my shoes and socks off I have to peel it away. It's such a good example of where you get to when you're in a relationship with someone — I'm a year and a half in with my girl and this is where we're at.
I only know about that because my friend told me to watch [Finneas's girlfriend] Claudia's videos, by the way. How do you figure out how much you're going to share of yourself, especially now that there's so many more eyes on what you're doing?
I love her videos. I feel like I was pretty elusive, and now there's real documentation of my life. It's a good thing, but it's definitely an adjustment. She's really respectful and intuitive when I don't want to be filmed. She's not always gonna keep the camera rolling. Her videos aren't salacious like a lot of YouTube channels are.
The benefit is I never film anything — I don't have a philosophy about it. But it's just not a strength of mine. As much as I'm a creator in music, I'm not a photographer. She's got an eye. So especially when there's a momentous occasion like Coachella, she documents that beautifully. I'm grateful for that, because if it were left to me, there would be no evidence.
So you're the producer of the year — but who were your producers of the year?
Louis Bell was the producer of the year. Motherfucker did everything. And he's such a cool guy. Before the nominations I was like, "of course Louis Bell will be nominated. I might be, but Louis will win it." And then he wasn't even nominated. Bizarre. He means a lot to me. Ricky [Reed] did a lot of cool stuff, and I love what Rostam did on Clairo's record. Ariel Rechstaid did a great job on the Vampire Weekend record. And I love James Blake's album, and all the production on it.
Do you agree that the best kind of producer is the one who makes the artist sound most like themself?
I definitely agree. That's how I rank producers, and it's a criticism I'll throw at people who are very talented but are not invisible. I don't mean physically invisible, but musically. You should work with an artist and make their best record, not your best record with them singing on it. That's the goal, always. Hopefully people see that when I make a record with another artist. If I'm recording with Tove Lo, I want that song to sound like a Tove Lo song, not a Billie song.
When I started producing Billie's stuff, I wasn't being asked to work with anyone else, and people would say "that's the FINNEAS sound." No, that's the Billie sound. I'm just the dude working on it with her, and just because I work on someone's record doesn't mean they're going to sound like her.
How do you want to define the FINNEAS sound?
Sonically, I use a lot more organic instrumentation in my own stuff: live electric acoustic guitar, live bass, live-sounding drums even though I'm programming them. On Billie's stuff, it's more common to have frenetic drum programming and sonic architecture. There's a line in one of my songs ["I Don't Miss You At All"] about a shade of green that would make F. Scott Fitzgerald cry. It's kind of wordy and pretentious, but that's something I'd send in a text to someone, so I can put it in a song. Billie would hear that and say, "I'm not singing that." Those linguistic roles are important. She says "sus," I don't get to say that — I'm 22 and male.
Have you been working on new material since putting out your project back in October?
Usually I take a break after finishing a project, to let myself breathe and the songs live. So I only started writing new FINNEAS songs in December. I like what I've been writing, but I still have homework to do. Billie and I are further along in her next record than mine.
Going into this upcoming arena tour, are you the kind of person who can work amid chaos?
I have a studio being built right now in L.A, which I'm excited about. But we spend so much time on the road that if I was waiting to get home to record, tour would feel like prison. I have to be able to work on tour or I go crazy. Arenas are a little easier — you have a big crew and you don't have as much to do in a day. Those kinds of spaces are depressing. So I try to do two things a day: I try to see some daylight, which sometimes is very hard, and I try to make some music. If I do both, it's a successful day.
Talk to me about "Everything I Wanted," it seems to say a lot about where you and Billie are at right now.
We sort of introverted the gaze on that, because it's about us. That song is about a lot of things. It's easy, and not untrue, to interpret it as being about fame, about getting everything you wanted and it not being what you think. I always felt like I was on the other side of the thing I was hoping for. When I was younger I wanted to be so famous. Billie is so famous now, but I don't want to be that.
I love my autonomy, getting to do everything and not be stared at or chased down the street. "Everything I Wanted," in many ways, is about going through it together. I was watching the new Taylor Swift documentary and she mentioned not having anyone to high-five when all the awesome stuff happened. I feel like Billie and I always have that, we always have that person with us to recognize how crazy this all is.