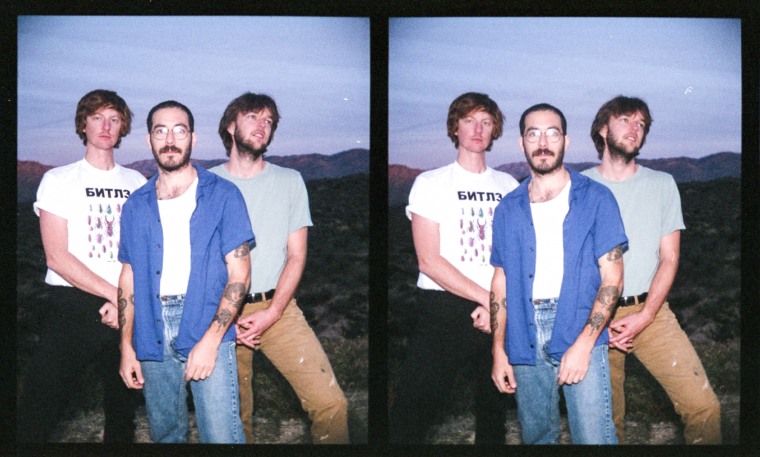 As Music Band, Nashville pals Harry Kagan, Duncan Shea, and Lee Putney make invigorated garage rock that bristles with excitement. After a four-year hiatus following their last LP, 2016's Wake Up Laughing, the band is gearing up for a major return this April with the release of their third album Celebration. Today, they're offering an exclusive listen of one of the first singles, "Over and Over." In an email to the FADER, Kagan explained how the track came together:
"This song was probably the hardest one to nail down in the studio for us, but we thought it was pretty integral to the album as a whole. I think we finally were able to do it justice. Celebration was made over something like three or four years of our lives, so there's a lot of compressed emotions and ideas that seem to get trivialized over that span of time. By the time the album was finished, everyone had new problems and changes and joy and pain that we were confronting. Instead of being frustrated or jaded by that, I wanted to close the record with a message that suggests a future beyond the album itself. For me, 'Over and Over' is a reminder that all things will carry on, changing, just doing their thing, with or without us. That's comforting to me.
I try to see everything in my life as waves: relentless and growing or shrinking in size and frequency, perhaps according to some ancient laws that have nothing to do with me. A lot of my life I've struggled against so many things that are beyond my control instead of just letting them wash over me, and I finally started to learn that there's a lot of power in letting go. No one can really teach you that. Of course, none of this shit is particularly novel, but I think that's also the point. Writing a song, releasing an album, they're ways that I process events in my life. Loss, heartbreak, celebrations…the basic stuff. While moving on from these things might signify their end, I think it's important to acknowledge that the events themselves never end. The things we write songs about, they will keep coming back, over and over again, in their ways."
Hear "Over and Over" below. Celebration is out April 3 via Dine Alone Records.