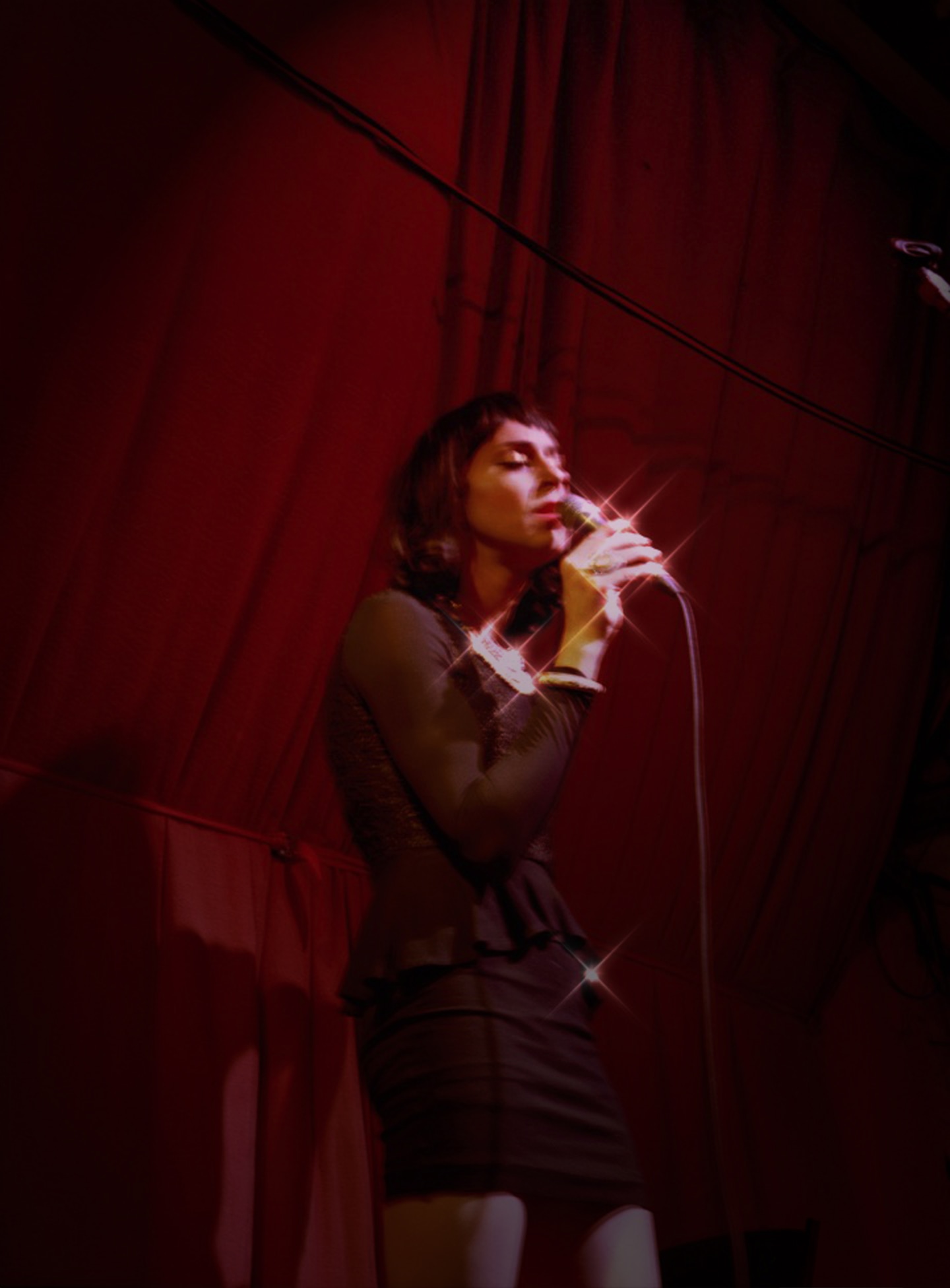 What's Tonight to Eternity, the fifth full-length album by Patrick Flegel as Cindy Lee, delivers discomfort before the prospective listener even hears the music. The cover art by Andrea Lukic depicts two androgynous figures locked in each others' arms — their bodies are pinned in the corner of a candlelit chamber, so desperately intertwined they seem to consume each other. The perspective of the illustration makes the characters look like they're drawing the last moments of solace from an encroaching, villainous outside world, of which the viewer is an ambassador.
In fact, it's the album that ends up swallowing you whole. Dubbed "confrontation pop" by Flegel, What's Tonight to Eternity emphasizes the razor wire beneath the soft candy of '60s Billboard hits and serves it with art-rock basslines, the most venomous synthesizers this side of Suicide, and electronic interference that bubbles like just-forming blisters. Flegel, who uses they/them pronouns, performs in drag — over the phone from New York, they tell me they are inspired by "the suburban, closet queen thing." Stars like Faye Dunaway and Patsy Cline are touchstones, as well as the iconic Japanese performer Akihiro Miwa. "[They're] strong, commanding people who I identify as powerhouses," Flegel says.
In practice, Cindy Lee's stage presence is subtle yet undeniable: footage of a 2017 concert on YouTube shows Cindy Lee and their guitarist on a small stage, red light sparking off the rhinestones on Cindy's dress as they glide their shoulders to the riff. Intimate and inviting, you get the sense that you walked in on something private that is simultaneously beckoning you to stay.
What's Tonight to Eternity draws immense power from religious themes stripped of all glory, and Cindy Lee's voice transmits them from deep within a limbo of unanswered prayers. Their voice is tragically gossamer, like a stained, second-hand wedding veil. On "I Want You To Suffer," the album's second track and a neat encapsulation of Cindy Lee's collision of harmony and chaos, you hear the pleading utterances of a martyr, adrift and alone: "The search for my salvation / Break down and cry / The self I'm still concealing / Sucking me dry." Flegel says the themes and imagery are based on their own spiritual life. "I've had some really vivid, unbelievable experiences, particularly when I was a kid," they say, declining to elaborate. "Lucifer Stand," the album's sexiest song, with a wicked Phil Spector-esque jaunt, concludes with a recording of a woman who recalls being trapped in the pits of hell and renouncing her allegiance to Satan. The use is not exploitative or moralistic. In her voice, you can hear the same despair and hope against hope that's spread across What's Tonight to Eternity.

"I feel like when you want to do things right, it often means doing nothing at all."
When we speak, Flegel's voice over the phone is patient yet taciturn, like they're answering the questions of a tax auditor. "I wish I could be really careerist," they tell me, stressing that they have nothing against labels or touring, "[but] it's just what I gotta do for myself." That might have something to do with the implosion of their previous band Women, a Calgary-based group Patrick started with their brother Matt, Mike Wallace, and Christopher Reimer, who died in 2012. ("Heavy Metal" on What's Tonight to Eternity is dedicated to Reimer, and Cindy Lee's mourning on the song is the album's most direct: "Heavy metal buried deep in my heart / Heavy Metal / Could this be a life without love?") Women was one of the most acclaimed indie rock bands of the '00s, with two beloved albums and an angular sound that would be referred to as "post-Women" for the group's many imitators. But a rigorous touring schedule took its toll on the group, and in October 2010 they brawled on stage during a show in Victoria B.C. The tour was cancelled and Women dissolved soon after.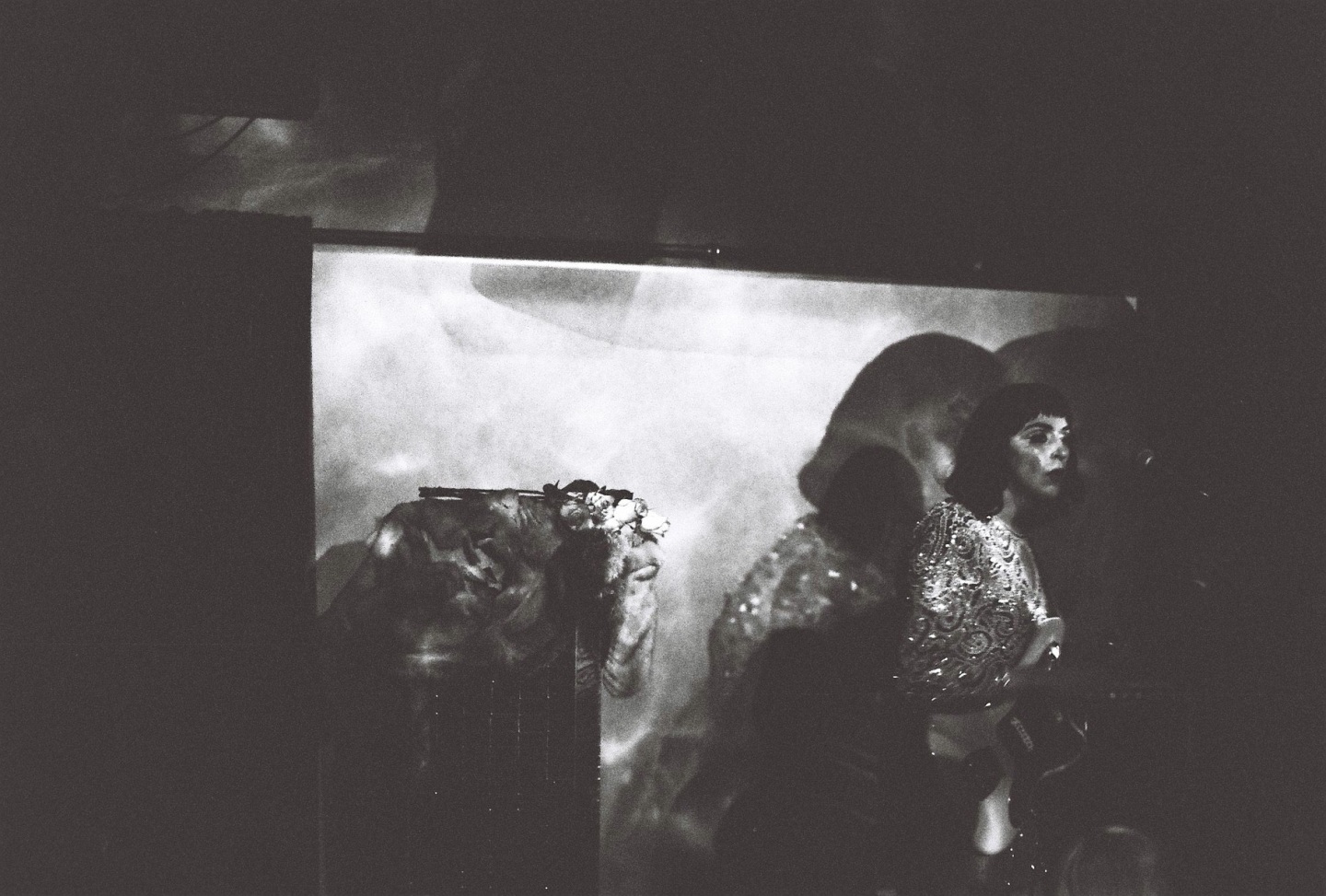 "I've got pretty thin skin," Fleigel says of their state of mind during the tour. "I need to sleep and I need to eat. Taking care of myself seems to take more work than for a lot of other people." Fleigel's experience with Women would lead them to deeply research Karen Carpenter, their favorite singer and a significant figure in the Cindy Lee mythos. "I actually made my own biography of her," Fleigel says proudly. "It's like two and a half hours [of] just her talking about what was going on."
Carpenter's struggles with parasitic associates, overwork, and anorexia resonated with Fleigel. "On a micro scale, I had a similar situation that I could relate to where I had pretty severe mental health issues. I [also] empathized with her because she's this extreme suburban Shakespeare tale of living the dream and then having all of these peripheral people profiting off of their work." Cindy Lee emerged in 2015 with the album Act of Tenderness. "I just took it [to] an extreme," Fleigel says of their inspiration from Carpenter's story. "A cautionary thing of like, be careful what you wish for."
Now, Fleigel records Cindy Lee material almost entirely by themself. "Recording is my favorite thing to do," Fleigel says. "That's the real creative practice." What's Tonight to Eternity was created in Toronto at Flegel's Realistik Studios — they're now based in Montreal, where Canadian artists flock for the cheap rent. Flegel's method is simple: work fast and honesty will follow. "I feel like when you want to do things right, it often means doing nothing at all," they say. An advantage of recording solo is total control of the atmosphere, and Flegel watched a stream of movies during the recording and playback of What's Tonight to Eternity, the album's atmosphere guided by experimental filmmakers like Kenneth Anger. "When you're just sitting at a desk, it's cool to look at some magical, mystical, glorious footage. It's one of these things where [if] you're bummed out by what you're doing, aligning it with something that's a masterpiece tricks yourself into thinking it's good."
Flegel is quick to dismiss compliments of their music: "When people say I'm brilliant or experimental or something, I don't totally understand it because I feel like even the more grating parts of it are just old fashioned," they say. Does Flegel consider Cindy Lee to be outsider art? "Not at all. Everything I do is very basic." Examples of "revolutionary pop albums," they insist, are the Nico albums Desertshore and The Marble Index. But even if it's true that everything has already been done before, the ways in which What's Tonight to Eternity synthesizes its influences make the project challenging in the broader context of underground pop music. That discussion is of no interest to Flegel, who is keeping the Cindy Lee project in a tight embrace as the world peers closer than ever before. "Everything we're talking about just hinges on what other people are thinking," Flegel says. "I try not to think about that."