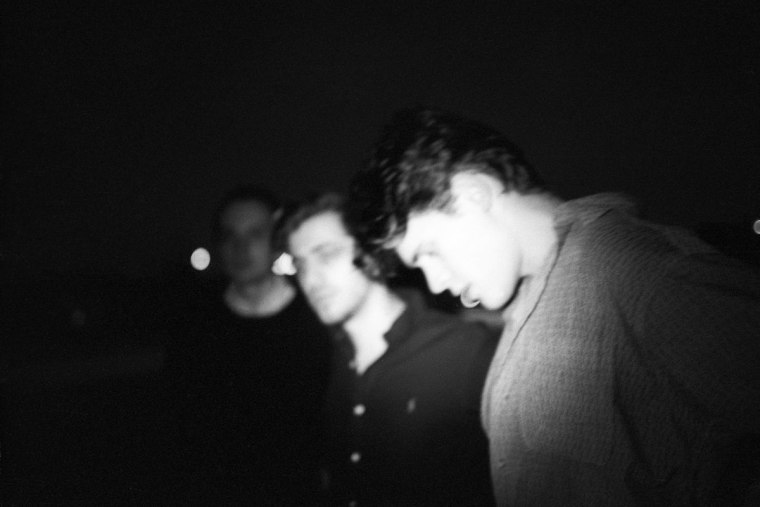 As Bay Faction, James McDermott, Kris Roman, and Alex Agresti combine to make infectious living room rock packed with charm and wit. Following the success of their debut album, 2018's Florida Guilt, the band packed up and moved from Boston to a house in suburban New Jersey to focus on their music. Their first post-Jersey offering is "Swan Dive," premiering below, a delirious toe-tapper that speaks to the particularity of their situation: out of college and doing the thing that they love in the context of the commuter belt.
"We're the only 20 somethings in a family-friendly neighborhood. No one was particularly thrilled that we were sunbathing on our roof and shooting off fireworks in our backyard at night. Neighbors know our names and invite us over for dinner but also call the township to complain when our grass hasn't been cut in weeks…we deserved it; we were pests in an otherwise quaint neighborhood. Everyone here has real jobs with kids and social obligations. The thought of pursuing music as a career can be seen as hedonistic and selfish. There is a moral dilemma inherent in creating art as a job…no amount of hours spent in front of a computer can build community. Our 'swan dive into hell' is an attempt at balancing the privilege of our vocation within the context of suburban New Jersey, while bearing in mind the only skill we really have requires us to be alone for 8 hours a day."
Watch an instructional lyric video for "Swan Dive," and check out all of Bay Faction's upcoming tour dates, below.
Bay Faction tour dates:
2.28 - Springfield, MO @ Outland Ballroom
2.29 - Kansas City, MO @ Encore
3.1 - Omaha, NE @ Reverb
3.3 - Pittsburgh, PA @ Mr. Small's Fun House
—
Supporting Hunny on tour:
3.14 Washington, DC @ Songbyrd
3.15 Philadelphia, PA @ Foundry at Fillmore
3.17 Brooklyn, NY @ Elsewhere Zone One
3.18 Boston, MA @ Great Scott
3.20 Toronto, ON @ Rivoli
3.21 Columbus, OH @ Basement
3.22 Chicago, IL @ Subterranean
3.23 Minneapolis, MN @ 7th Street Entry
3.25 Denver, CO @ Larimer Lounge
3.27 Boise, ID @ Treefort Fest
3.28 Seattle, WA @ Chop Suey
3.29 Portland, OR @ Holocene
3.31 San Fransisco, CA @ Bottom of the Hill
4.2 Phoenix, AZ @ Rebel Lounge
4.5 Austin, TX @ Stubb's BBQ
4.6 Dallas, TX @ Club Dada