What does go-go being made D.C.'s official music actually mean?
Last week, a bill was passed to make the native D.C. genre the official sound of the city. But does that actually help preserve and advance the genre's place in D.C.?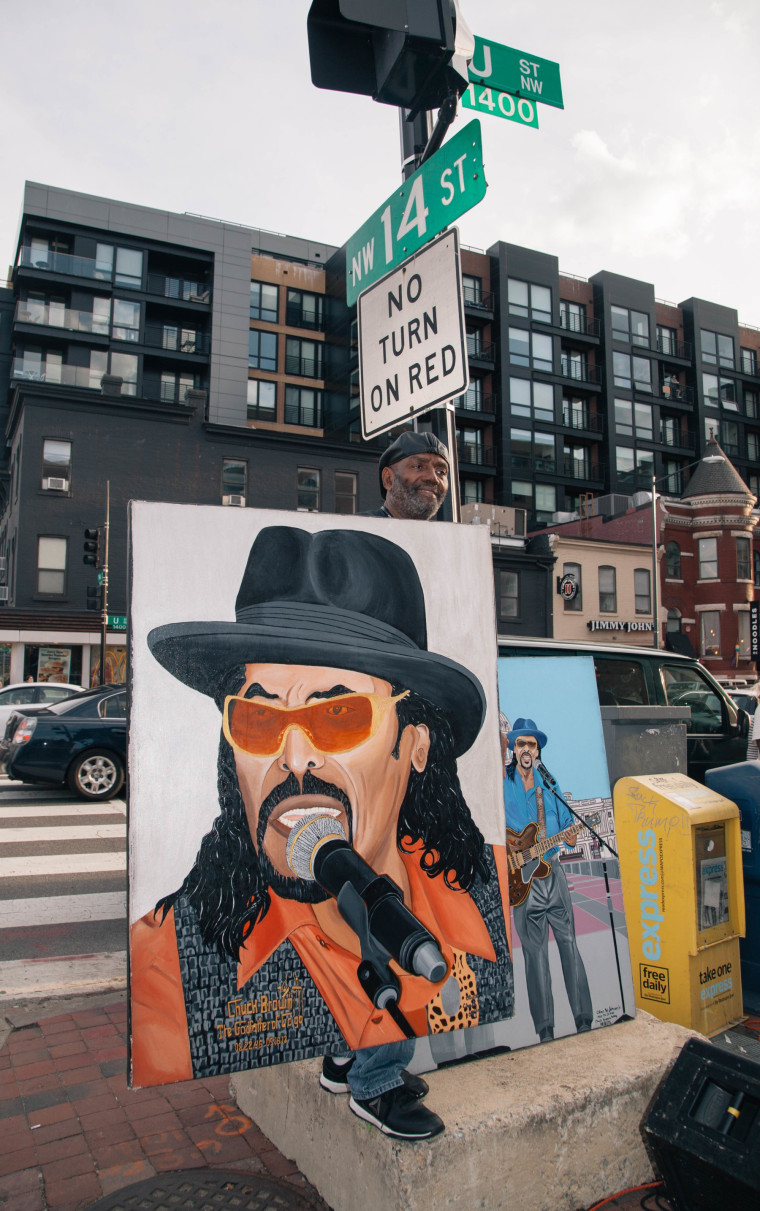 On February 19, what author, scholar, and activist Dr. Natalie Hopkinson called "one of the blackity blackest moments in D.C. history," occurred. Go-go — the percussion-driven and call-and-response vocal-driven sound innovated by and beloved within the city's Black population — was signed into law by Muriel Bowser, the Nation's Capital's Black female mayor, as the Capital City's official music. The signing occurred at Culture House, a 130-year-old art and event space in Southwest Washington, DC, that is formerly a church. Attendees included a who's who of go-go and local politics, including Backyard Band's acclaimed lead talker/rapper Anwan "Big G" Glover, the law's author, Ward 5 City Councilman Kenyan McDuffie, and numerous others. The signing could signify Black culture-defining go-go music achieving unprecedented levels of community respect and industrial sustainability. However, it's audacious and erroneous to believe that 50 years of hard work ends after only 317 days.
On April 9, 2019, a Metro PCS cellular telephone distributor that doubles as one of the last places in Washington, D.C. to buy physical copies of go-go were told by the chain's corporate office to stop playing the genre outside of their location at 7th and Florida Avenues, NW. The complaints of a resident of the Shay Apartments — a mixed-use apartment development that has been at the center of numerous anti-gentrification arguments in the Nation's Capital — were to blame. Almost immediately, and for 72 hours after that, live musical activations ensued. Boomboxes defiantly played go-go tracks at that same intersection. Rapper Wale joined WKYS-FM's DJ Money, At-Large DC City Councilman Robert White, go-go band TOB, and thousands of vocal supporters at 14th and U Streets, NW to throw a go-go party in the heart of what was historically known as DC's "Black Broadway."
In the next 240 days, the city's newly created go-go task force and government officials will "produce, fund and implement programs that support the preservation and creation of go-go music, and the culture and history it represents." The benefits of the task force's work could ultimately provide the outline for a future where go-go is economically secure and more socially respected. This provides exciting, yet bittersweet hope for D.C. and its Black population.
Two advocacy groups — Don't Mute DC (led by activist Ronald Moten, MetroPCS store owner Donald Campbell and Hopkinson) and Long Live Go-Go DC (whose key leaders include activist, promoter, and emcee Justin "Yaddiya" Johnson and economic analyst/fundraiser Kelsye Adams) — led the movement's progression. Don't Mute DC started a change.org petition that was signed by 80,000+ people, including residents of 94 countries worldwide. Long Live GoGo DC organized concert rallies like the original protest-as-party. May 8, 2019's #Moechella event saw Don't Mute DC and Long Live GoGo DC partnering. The Backyard Band, DJ Domo, DJ Kool, and many others drew an impressive 3,000 people to the corner of 14th and U Street. October 30 (the same day that Wale and a go-go quartet performed an NPR Tiny Desk concert and the Washington Nationals won the World Series) proved to be possibly the most critical day in go-go's storied history. Councilmember McDuffie joined with D.C. residents to provide testimonials to propose to D.C.'s City Council that go-go should be officially recognized as the music of the District of Columbia. By January 7, 2020, the D.C. Council voted unanimously to ensure this occurred.
More critical to likely anything to the establishment of go-go's economically and socially secure future in Washington, D.C. is the city's phenomenal financial boom over the past 20 years. In 2000, D.C. was one year away from recovering from a near-bankrupting fiscal crisis that left the city's finances in the hands of a federal Control Board. By FY 2010, the District government was facing an $800 million revenue shortfall caused by the economic downturn. Now, in FY 2020, the D.C. government's budget is an astounding $15.5 billion. Travel and tourism yielding 22 million visitors (at $8 billion in revenue) also bears mentioning.
These figures hearten councilmember McDuffie, but he still has an honest perspective. "We're living in prosperous times in the city. D.C.'s economic success is important, but this should not define the litmus test for creating a place for go-go and its industry in D.C.'s budget," he says. "When times get tough in New Orleans, jazz is not cut from the budget. Music can energize the people, create togetherness, and, as far as creating jobs, be an employer of D.C. residents. Go-go must always be preserved."

The day before October's City Council testimonies, Dr. Hopkinson penned an op-ed for the New York Times entitled "Make Go-Go D.C.'s Official Music." In the piece, Hopkinson noted that after the signature of the then proposed proclamation, she ideally wanted to see advancements made in a few significant areas. These include seeing go-go musicians serving as artists-in-residence at colleges and artistic institutions, rescuing essential go-go archives, creating a go-go museum, plus investing in the genre's creative economy insofar as paying bands a better living wage for their performances.
From activists to fans and go-go band members alike, there is a shared belief in Hopkinson's sentiments. Developing a new generation of go-go musicians and fans are notions that have universal acceptance. In particular, alongside "a Moechella every month," Long Live GoGo DC co-founder and activist Justin "Yaddiya" Johnson says, "education of and mentorship for young go-go artists at the [elementary and high] school level" is something he supports. Re-introducing marching bands and instrument lessons in D.C.'s public school system, plus preserving the history of go-go in the DCPS curriculum, are measures with significant support. Doug Ferguson, the second talker for bounce-beat (more heavily percussive go-go style) loving go-go act TOB says, "go-go should be as much for the community as it is for the kids, so yes, there should definitely be education about instruments, history, all of that in the schools. Even maybe kiddie cabarets, there's a lot that can be done."
Insofar as maintaining and developing a legion of go-go fanatics within D.C. and the surrounding Metropolitan area, there is some cause for concern. The idea that go-go is a music that has long been predominantly enjoyed by the city's currently dwindling Black population introduces two distinct schools of thought. "I'm worried about gentrifiers coming into the city and using go-go more for their benefit than for ours," says Nico Hobson, owner of streaming site Go-Go Radio Live. Hobson is a D.C. native, go-go supporter, and the owner of countless volumes of live go-go performances that he airs online. He continues, "Black people in D.C. could become a parody, where we are entertainment for gentrifiers, shuffling and jiving."
To that point about the various levels of "cultural tourism" of sorts by both the city's gentrifying population and the 20 million-plus tourists visiting the city, Natalie Hopkinson offers a hopeful solution. "Go-go is a secret to most non-native Washingtonians and those who visit the city every year," she says. "The city invests greatly in tourism. This document presents an opportunity to integrate go-go into tourism and make an investment that builds out that infrastructure. The population issue is what it is, but we can now make investments in the present and the future. I mean, more than anything, I want conga drums at Reagan National Airport to greet people when they arrive here." There is a hint of "joking, but not joking" in Hopkinson's tone that denotes the earnestness attached to the cause of go-go preservation.
"I just want to make sure that the bands and people who work hard for go-go get better compensation and more respect," says Kelsye Adams, echoing the statements made by TOB's Doug Ferguson. Ferguson notes that "clubs never really want go-go at first, but let them start to lose money. We get called in immediately. Then, if I went to that same club the night after my band just made them a lot of money, they aren't so fast to be respectful." He feels that the law and subsequent legislation for go-go "shines a bigger light on go-go, and hopefully gets people to support us, and it."
"D.C. has the income now to do so much more for go-go now," Nico Hobson says. "For years I've asked for support with Go-Go Radio Live and being able to preserve my archives (his go back well over four decades of PA tapes and CDs of go-go shows), and have not received anything." Hobson is hopeful, but also has been working in go-go for 30 consecutive years, without government aid.
Related, Councilmember McDuffie is sympathetic to the cause of go-go's artists and professionals who feel slighted and jilted by history and view the future with cautious optimism. "The people who survived the efforts of government and others to curtail go-go's growth via laws and restrictions in the 1980s and 90s — and led to it being a multi-million dollar economic driver that employed scores of Washingtonians — are still here. They can be the ones to re-establish the genre and its industry."
TMOTTGoGo.com's Kato Hammond is a go-go musician, historian, author, and developer of the aforementioned website that has long stood as a global preserver of go-go's community and culture. When he contemplates what's next, he offers sage wisdom. "This is obviously about far more than what's written on a piece of paper. Popularly among the people of the city, go-go was and again has been established as the city's music. There are streets named after Chuck Brown and Little Benny (of Little Benny and the Masters fame). There's also a park named after Chuck Brown. Little Benny's funeral was held at the Convention Center." He continues with a curious note. "The important thing about the law that Mayor Bowser signed is that it makes go-go's place in D.C. officially undeniable. We've never had this be the case in Washington, D.C., so I'm interested to see how this plays out."
"There's tremendous socioeconomic anxiety among longtime D.C. residents about the changes that have occurred over the last 20 years," says Councilmember Kenyon McDuffie. "Ultimately, [this law] also helps the people who built D.C. and made it what it is today unequivocally a vital part of the current fabric of the city and a part of the future of the District of Columbia." McDuffie continues, "[t]his bill enshrines a critical part of [D.C.] culture into law. Go-go will always be protected and respected."