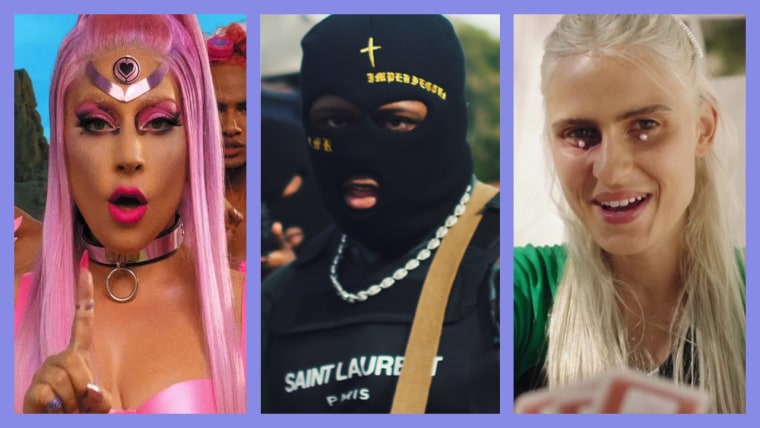 Every month The FADER brings you the best pop songs in the world. Here's February's list, featuring TOPS, Justin Bieber, Lady Gaga, and more.

---
"ringtone remix" — 100 gecs, Charli XCX, Rico Nasty, Kero Kero Bonito

Only 100 gecs could bring together four entirely disparate strains of maximalist pop and make it sound as perfect as this.
"Frame Of Reference" — Drug Store Romeos
This young British band is two-for-two with their second single, "Frame Of Reference," which is romantic, wistful, and off-kilter.
"Deal Wiv It" — Mura Masa & slowthai

Mura Masa and Slowthai's second collaboration is a Streets homage, an indictment of gentrification, and a meditation on fame all in one; it's about as raucous and rowdy as you'd expect.
"Delete Forever" — Grimes

Some of the unfettered nihilism on Miss Anthropocene can be hard to swallow; this song, however, so earnest and heartbreaking, is anything but.
"Describe – Edit" — Perfume Genius

It's almost impossible to predict what kind of turns Mike Hadreas plans to make with his music; mere months after releasing the heady dance track "Eye in the Wall" and the ambient-leaning "Pop Song," he has released "Describe," a rough, yearning indie-rock song. It is grandiose and beautiful.
"Fantasy" — Against All Logic

Nicolas Jaar's second album as Against All Logic is dark and brutalist; on its opening track, "Fantasy," he makes a Beyoncé sample sound borderline demonic, a flip befitting the project's name.
"gray light" — Soccer Mommy

I am astounded by much of the production on Soccer Mommy's color theory, and rarely moreso than on its closing track "gray light," which is hypnotic and jarring.
"Stupid Love" — Lady Gaga

I love the aesthetic of "Stupid Love" a little more than I love the song itself; still, I'm glad Gaga decided not to abandon the meaty, unhinged sound she first explored on ARTPOP.
"After Hours" — The Weeknd

Speaking of revisiting old sounds: Abel Tesfaye takes a dip into Trilogy territory with this dank and depressive sex fantasy. I love it!
"Witching Hour" — TOPS

TOPS's songs are unassuming but fascinatingly complex; "Witching Hour," the second single from their upcoming record I Feel Alive, centers lead singer Jane Penny's wonderfully malleable voice and is an appropriately dark counterweight to lead single "I Feel Alive."
"Birthday" — Anne-Marie

100 gecs-style chaos enters the mainstream with this new track from British musician Anne-Marie. Generally one of our more anonymous stars, she is magnetic on "Birthday."
"Good Bad Times" — Hinds

"You're turning good times into bad times / Now that you're no longer sleeping with me" is so classic Hinds; they have a knack for writing great pop tracks about subject matter that most people can't be bothered touching.
"Girl Crush" — Boys Noize & Rico Nasty

Rico sounds incredible over this kind of hectic, maximalist production; I hope this is just the first of many Boys Noize/Rico Nasty collabs.
"Rascal" — RMR

Whenever I try to talk about this song, all I can really get out is "What the fuck?" I have no idea where RMR came from, but his debut song and video is definitionally arresting.
Grimes & PAN — "Darkseid"

I'm more endeared to the industrial side of Miss Anthropocene than the pop side; this song, with its apocalyptic drones, is a highlight.
"Mother Nature's Bitch" — Okay Kaya

Arch, sad, weird — "Mother Nature's Bitch" embodies all the best qualities of Okay Kaya's latest record.
"I disappear in your arms" — Christine and the Queens

For a while, it felt like Christine and the Queens were doomed to be another band beholden to 80s revivalism; this song pulls them into the realm of future-pop.
"Glimmer" — Tame Impala

Did anyone have 'Tame Impala goes full Daft Punk Discovery' on their bingo card?
"Intentions" — Justin Bieber

How you feel about this song is probably a referendum on how you feel about The Biebers; I love them, and I love "Intentions."
"Count On You" — Banoffee

Nu-metal has been leaking into pop ever since Charli XCX and A. G. Cook inserted a guitar solo into Number One Angel's "ILY2." The revival sounds great on "Count On You," a highlight from Banoffee's debut record.