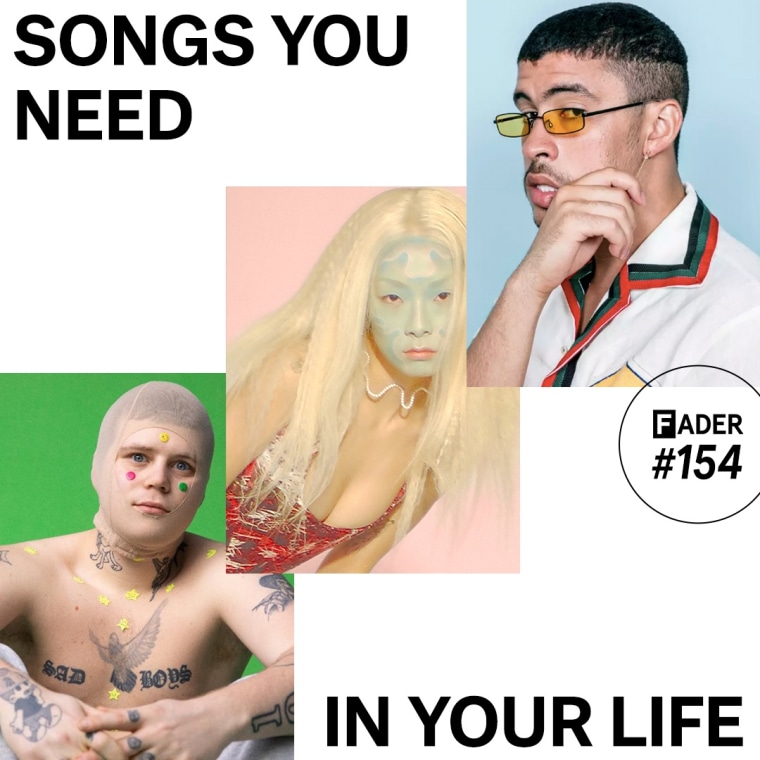 Each week, The FADER staff rounds up the songs we can't get enough of. Here they are, in no particular order.
Subscribe to Songs You Need In Your Life on Spotify
"New Jade" — Caribou
Never mind the deceptively placid cover art — Caribou's new album Suddenly is an exhilarating cavalcade of texture, from front to back. "New Jade" is just one of its many gems, a seraphic coalescence of Dan Smith's chops and chopping skills.
"Salchichon" — Azealia Banks
Happy Dominican Independence Day (for last week), here's Azealia Banks spitting "chúpame la teta, como una chuleta" over a dembow beat from Onyx. Who else is delivering this kind of top-tier, unadulterated chaos? Nobody, that's who.
"XS" — Rina Sawayama
The third single off Rina Sawayama's debut album has the London pop experimentalist bodying some early aughts Xtina riffs over the hellscape that is late capitalism. It sounds like a divine slap in the face.
"Boylife In EU" — Yung Lean
The state of boylife is looking pretty bleak these days. If there's anyone up for the task of reimagining brotherhood, it's Yung Lean and his court. On his first single of the new decade, they manage to do just that in a Nickelodeon-tier dream sequence.
"crawling in my skin" — Soccer Mommy
Something's scratching at the surface of Soccer Mommy's highly-chromatic new album, and on "crawling in my skin," she confronts it head-on.
"U Think U Can Fuck With Me Dont Ya" — Alice Longyu Gao
Alice Longyu Gao makes experimental pop with fangs so sharp, they might bleed you dry. Is her newest single "U Think U Can Fuck With Me Dont Ya" a threat? Is it a mantra? Is it pure hysteria? The answer is, yes.
"I LET YOU" — Tama Gucci feat. X-Coast
There really is nothing sexier than consent. Tama Gucci's latest encapsulates it at its most sweaty and strobelit state.
"A Tu Merced" — Bad Bunny
To be the object of Bad Bunny's desire, right? "A Tu Merced" is straight swoon, no chaser. We can all feel that special, if only for two minutes and 56 seconds.
"Je disparais dans tes bras" — Christine and the Queens
Leave it to Chris to write a song about transience that's catchy enough to latch onto your frontal lobe and never let go. There's an English version of the track, too ("I disappear in your arms") but French fits the song like a satin ruffled shirt, especially in the palatial surroundings of the Opéra Garnier.
"That Way" — Lil Uzi Vert
There's literally nobody else on the planet who could get away with snatching that Max Martin-engineered Backstreet Boys hook without it coming off as completely egregious. When Uzi does it, he stays charming as hell. And, honestly, we'll eat up any crumb of Eternal Atake that we can get our paws on.