Born At Midnite turn a bad party into a great time on "Hawt Heart"
Listen to the Montreal duo's new single ahead of the release of their debut 7".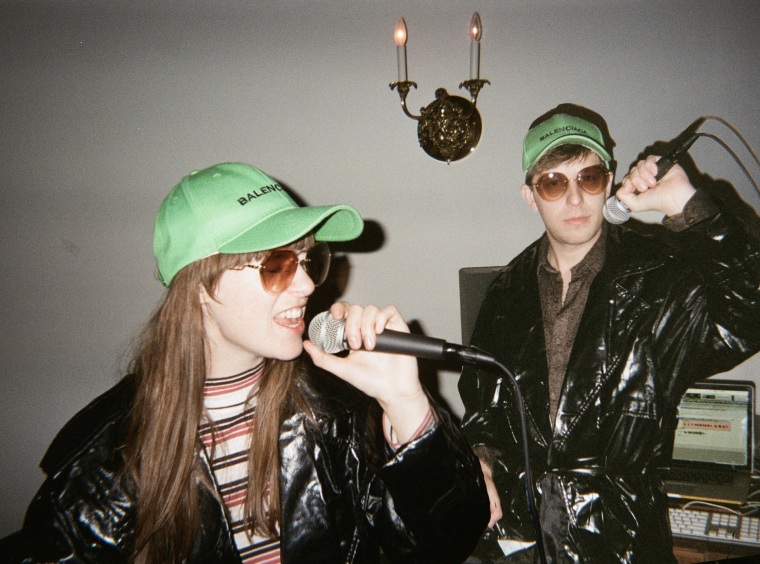 Born At Midnite, a.k.a. Montreal duo Amery Sandford and David Carriere, make playful electronic pop with an uncanny quality. Tongue firmly in cheek, they call their music "product placement punk."
On new song "Hawt Heart" they spit nonsensical lyrics ("with a hot heart, and a sunburn, in a go-kart, make the world turn") over a sleek and hypnotic disco beat, simultaenously poking fun at party culture while also making you want to dance at the same time.
Speaking about the song via email, Born at Midnite said: "Anytime we get together to make a song, we try and start with a very simple theme or idea and then work back from it to make it a little more abstract. The lyrics came together for this one shortly after we had gotten home from a hardcore show in Montreal that blew our minds. We blasted the instrumental of 'Hawt Heart' that we had recorded during our pre-game earlier that night. We decided that the track should be about being at a weird party, or in a generally crap situation, but it's in the end you have a lot of fun because of the friends that you're with."
Born at Midnite's debut 7" is available everywhere from March 6.