Flume on his new Toro y Moi collaboration, "The Difference"
Ahead of the Australian mega-producer's forthcoming third album, we caught up with Harley Streten about his long-awaited collaboration with Chaz Bear.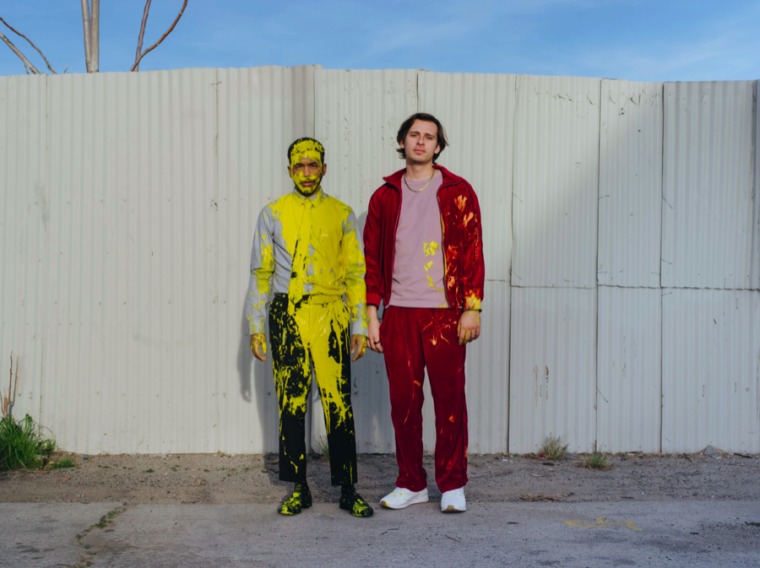 For the better part of the last decade, Harley Streten, better known as Flume, has kept the pop-EDM sphere on its toes by imagining new and unorthodox ways to fuse the two genres. This year, he's coming full circle — in June, he'll headline three consecutive nights at Red Rocks Ampitheater in Colorado, with each night representing one of the three distinct "eras" of his career (2012's Flume, 2016's Skin, and 2019's Hi, This Is Flume mixtape). And in the "not-too-distant future," he's planning on unveiling the next chapter with his as-yet untitled third studio album, a project that he tells us has been coming together expeditiously.
Ahead of that, though, he's finally offering a long-teased collaboration with Toro y Moi, "The Distance," a ridiculously catchy cut that both shimmers and skitters. The Jonathan Zawada-directed video punctuates Chaz Bear's matter-of-fact delivery in Streten's anfractuous sonic landscape with plenty of Pollock splatters into the void. Just before its release, we caught up with Streten to discuss the new track and everything else he has up his sleeve in 2020.
What's new in the world of Flume?
I usually take a while to write a record, but this time I'm like, 'fuck it, I'm gonna do it really quickly.' I've been putting my head down and working since the beginning of the year, really trying to write as much as possible, and it's going really well! Hopefully there will be an album in the not-too-distant future. This track with Chaz came about when he was in L.A., he came around the studio and we messed around and this track came about. I'm super happy with how it turned out.
When I first heard that you and Chaz were making music together, I was almost shocked that it hadn't happened yet. It feels like a collaboration that makes that much sense.
I feel the same way — it was long overdue because we're both in similar worlds but we haven't hung out much. Early on in the Flume project he came out with a song called "Talamak," back in 2010, and that became one of the blueprints for this Flume project, alongside "BTSTU" by Jai Paul. He's been an influence on me since day one, so it's amazing to finally work with him.
How'd you guys initially meet?
I had reached out because I loved his record Inner Peace… I was listening to it all the time last summer and felt like, man, we've gotta start working together. I managed to catch him when he was in L.A. and we got along really well! But it was so effortless and fun and just a really great easy way to make music. Hopefully we'll be doing more stuff, as well.
Tell me how this video came together.
Me and Jonathan Zawada, the man — we've worked on a lot of stuff together. He designed the Skin album art, and I'm a huge fan of his work. We're very much on a similar wavelength. He came up with the concept for the video and directed it. It was actually super tiring to film! I had to run back and forth so many times.
Was that fall at the end staged? It looked pretty gnarly.
Yeah, there was a cushion underneath. Definitely a couple big hits in there.
Later this summer you're doing a three-night residency at Red Rocks, with each show focusing on a different era. How did the idea for that come together?
We just wanted to do something a little different. There are a couple of surprises I'm not supposed to speak about. But, yeah, we thought it'd be good to try and showcase some of the different stages of this project. Some people probably prefer the first record to anything else, and some people probably prefer the last mixtape. We just wanted to make everything special. It's gonna be a fun little experiment, and I'm just excited about all of the people we're gonna bring out for it — SOPHIE, Toro y Moi, Mura Masa, Clams Casino, Kucka, Cashmere Cat, and Shlohmo. It feels like it's gonna be a mini-festival of sorts.
Flume Live Dates:
March 20 — New Orleans, LA / BUKU Music & Art Project
March 20-22 — Miami, FL / Ultra Music Festival 2020
June 5-7 — New York, NY / Governors Ball
June 8 — Morrison, CO / Flume & Friends with Cashmere Cat, Shlohmo (live)
June 9 — Morrison, CO / Flume & Friends with Mura Masa (DJ set), Clams Casino, Kučka
June 10 — Morrison, CO / Flume & Friends with SOPHIE (live), Toro y Moi (DJ set)
June 13 — Manchester, TN / Bonnaroo Music & Arts Festival 2020
June 25-28 — Rothbury, MI / Electric Forest Festival 2020
July 10-11 — Surrey, BC / Fvded In The Park 2020
July 24 — Byron Bay, NSW / Splendour in the Grass Festival 2020