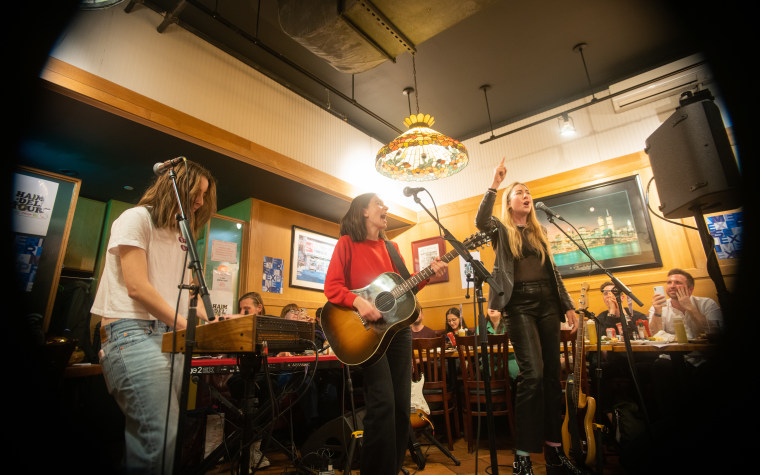 Last night, HAIM kicked off their five-stop deli tour at Sarge's in New York City. Crammed into the decades-old Murray Hill pillar amid heaps of pastrami and bowls of matzoh ball soup, the sister act delivered a four-song acoustic set that brought together some of their older hits ("The Wire" and "Want You Back") and some newer cuts ("Summer Girl" and new single "The Steps.")
This being part of the buildup to their cheekily-titled forthcoming album Women In Music Pt. III, HAIM also made an effort to pay homage to one of the ultimate Women In Music, Britney Jean Spears. Este Haim led a performance of the life-altering Crossroads torch ballad "I'm Not A Girl, Not Yet A Woman" with a spot-on Spears impression she says that she's been perfecting since adolescence. Check out footage of the cover below.
The sisters' take on "I'm Not A Girl, Not Yet A Woman" marks just the latest entry in a long line of HAIMified covers — most recently, they've offered their spins on Robyn's "Show Me Love" and Lil Nas X's "Panini." While they were in New York, they also swung by The Tonight Show Starring Jimmy Fallon to shred through "The Steps" with Rostam Batmanglij. Check it out below.
Women in Music Pt. III is out April 24 via Columbia.