Dogleg's new tricks
On their new album, Melee, the Michigan emo band are every bit as exciting as their hardcore fans have been telling you.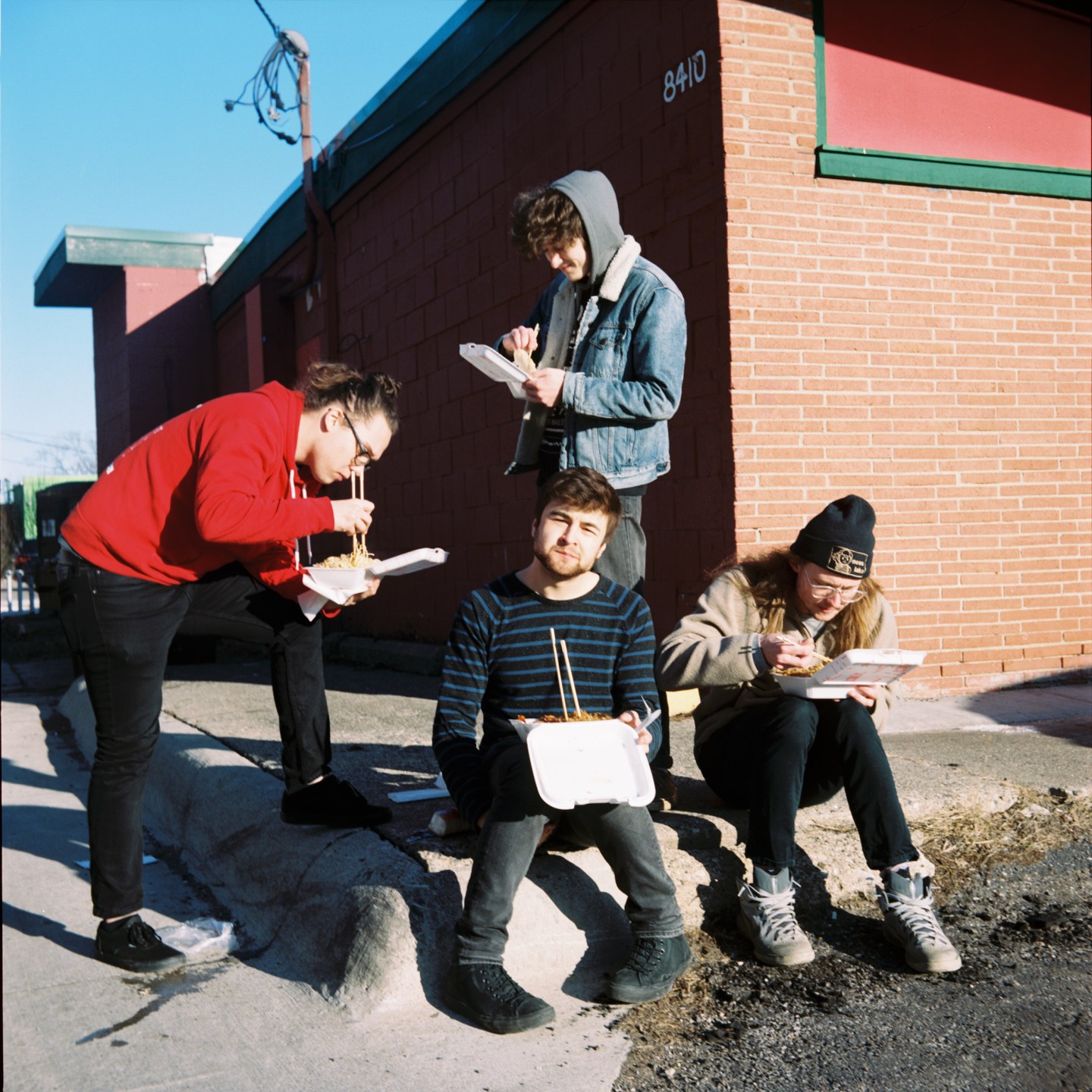 The FADER's longstanding GEN F series profiles emerging artists to know now.
A few seconds of muffled silence and shuffling elapse every time I ask the members of Dogleg a question. On a Saturday evening less than a week before the release of their debut album Melee, the angsty and explosive Michigan emo band seem to be sitting in a circle and passing the phone around like it's a joint.
It's still hard to picture the four-piece — vocalist and guitarist Alex Stoitsiadis, rhythm guitarist Parker Grissom, bassist Chase Macinski, and drummer Jacob Hanlon — sitting still for any period of time. Every video or photograph of them that I've seen on social media features cartwheels, backflips, and stagedives, showing an infectious energy that leads fans to not just like Dogleg, but to love and cherish them. The music video for "Fox," an invigorating sub-three-minute blast released last year, showcases the of fervor that Dogleg elicit when they perform: adrenaline coarses through the audience before the song even starts; pink, green, and blue hair flies around the pit; and someone's crowdsurfing before the vocals even come in. The video ends with the crowd chanting, "Dogleg! Dogleg!"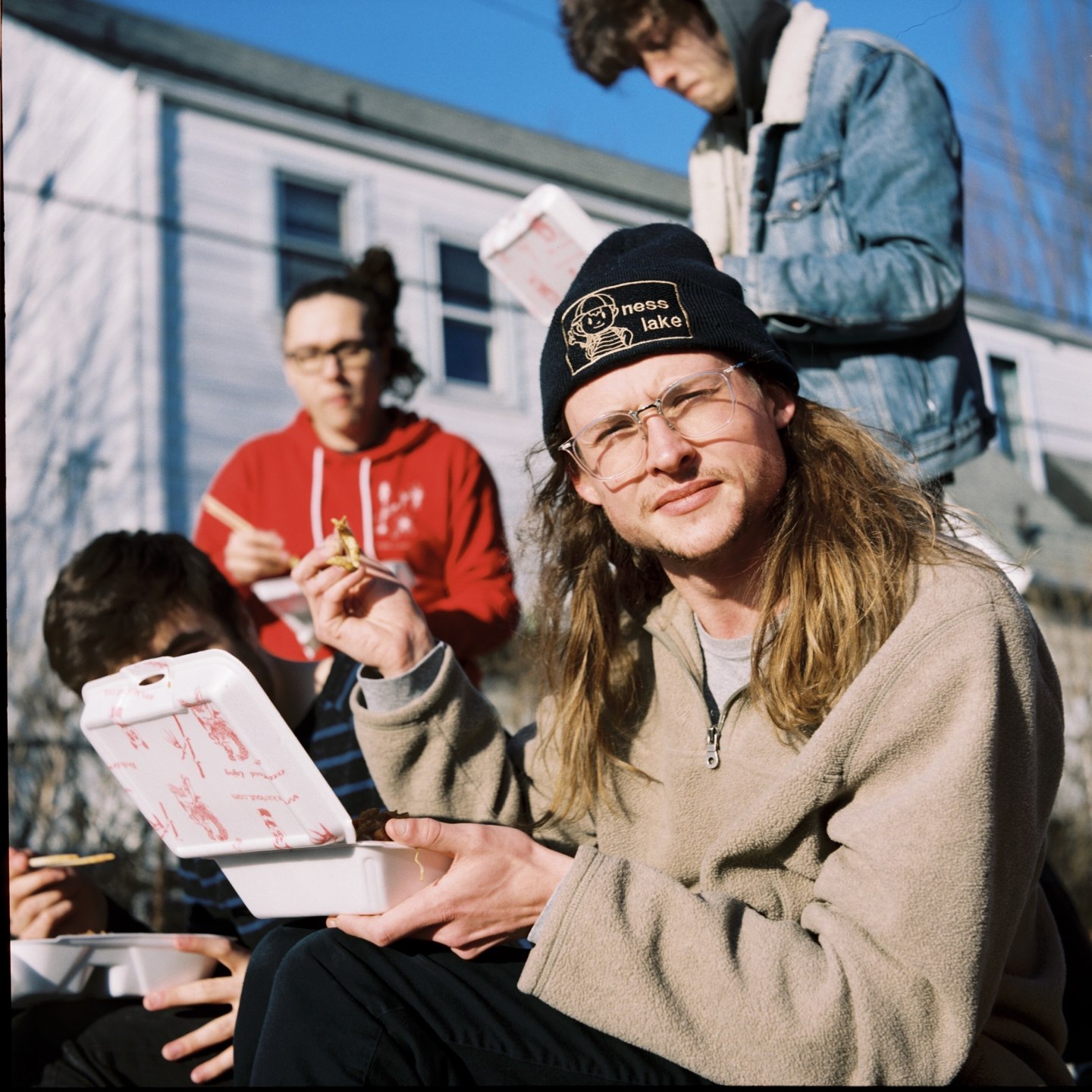 Their relative obscurity to date is part of what makes them so endearing. They're a secret some punks want to keep to themselves but end up spilling anyway out of sheer enthusiasm. "These guys are not only the most underrated band in the world and one of the best bands coming out of the Detroit punk scene," reads a comment under the "Fox" video, "but also my friends[...] They and their music helped me cope with my anxiety and depression that I've had since high school and they're all very nice people."
The close-knit nature of the DIY scene definitely contributes to the intimate connection that fans can feel with a band, but for Dogleg that closeness didn't happen overnight. "It started from nothing — the more we played, the more friends we made," Stoitsiadis says. "From there, more people started coming out to shows and telling their friends. It was all pretty organic."
Like many great emo bands, you won't find Dogleg through Spotify algorithms. Instead, your concert buddy is yelling at you to go to a Dogleg gig with them, and Twitter mutuals are backing up your timeline by just writing DOGLEG in all caps. When I clicked play on "Fox," convinced by friends that I was missing out on something special, I felt like I was visiting a devoted community. The song itself mirrors that passion, wasting no time, racing against itself and picking up energy with every power chord. Their two ambitious EPs — 2015's self-titled and 2016's Remember Alderaan — experimented with this sonic mayhem, but Melee is where they've perfected it.
The first real version of Dogleg came to life when Stoitsiadis asked Grissom and Macinski to help out on what was originally a solo project. A year ago, Hanlon came in on drums, and Grissom switched to rhythm guitar. "We tried to play as much as possible," Stoitsiadis, now 22, recalls of the early years, "even though school still was… a thing."
Stoitsiadis's parents wanted him to get a degree, which meant avoiding big tours. They're making up for it now, though, by embarking on a 13-date midwest-into-East-Coast tour alongside Microwave, Save Face, and Elder Brother, followed by an 8-day West Coast run opening for Joyce Manor. The dudes of Dogleg pitched the booking agency Ground Control, saying: "We know you book for Joyce Manor and Title Fight, and we love those bands. We should play together at one point." Ground Control, to the band's surprise, enthusiastically agreed.
Despite all this talk of current emo and pop-punk bands, Stoitsiadis is quick to offer a disclaimer: "We don't really like to only listen to emo." They all agree, name-dropping Refused and The Strokes almost in the same sentence, trying to break out of the box that critics have inevitably put them in. Macinski also offers "That one Killers album" as an inspiration.
Dogleg's lyrics, though, are nowhere near the slow buzz of Hot Fuss. On Melee's dispirited fifth track, "Headfirst," Stoitsiadis sings: "I'm holding on for dear life / Dangling by the edge of your knife," in between his wails of the one-sentence chorus: "Time will let you down." But when I use the adjectives "dismal" and "depressing" to describe their lyrics, they all break out into a laugh that sounds simultaneously embarrassed and proud. And when I ask what elicits this angst, there's a long pause. "I've had depression and anxiety for a long time," Stoitsiadis says, eventually. Giggles still sound from the other end, because today — especially in emo culture — there is nothing surprising about this, and there's not much to say about it either. "This is, I guess, the best way to express it," he continues. "A lot of shitty things have happened in my life, so this is the way it manifests. I don't really like talking about it directly. I create metaphors behind it and create allusions to it and make it more symbolic."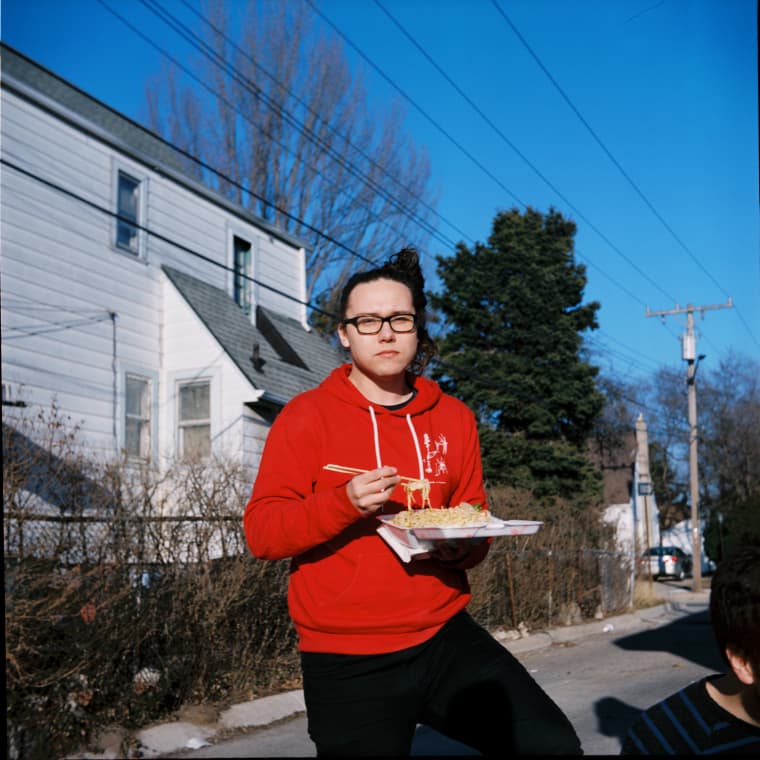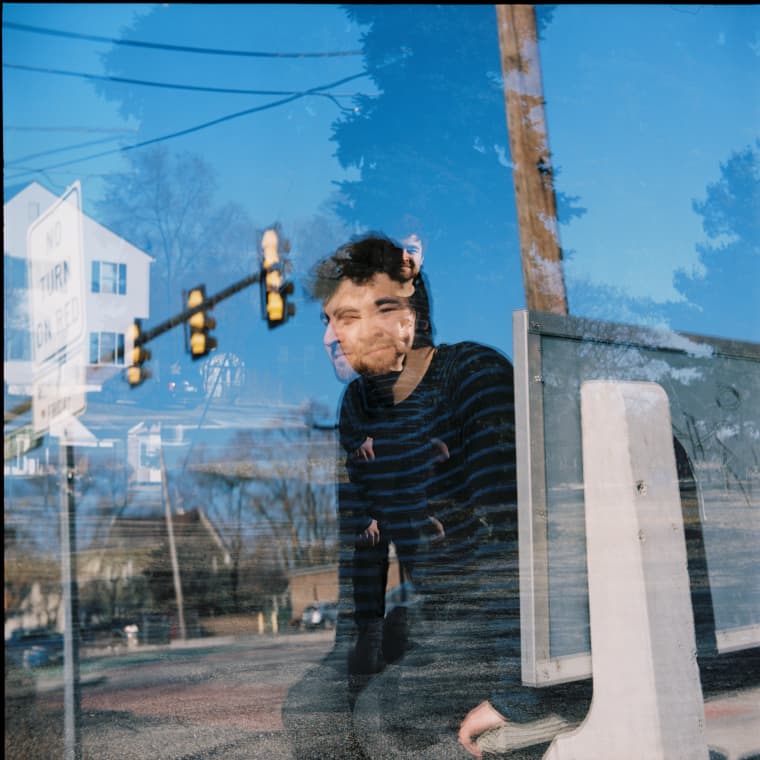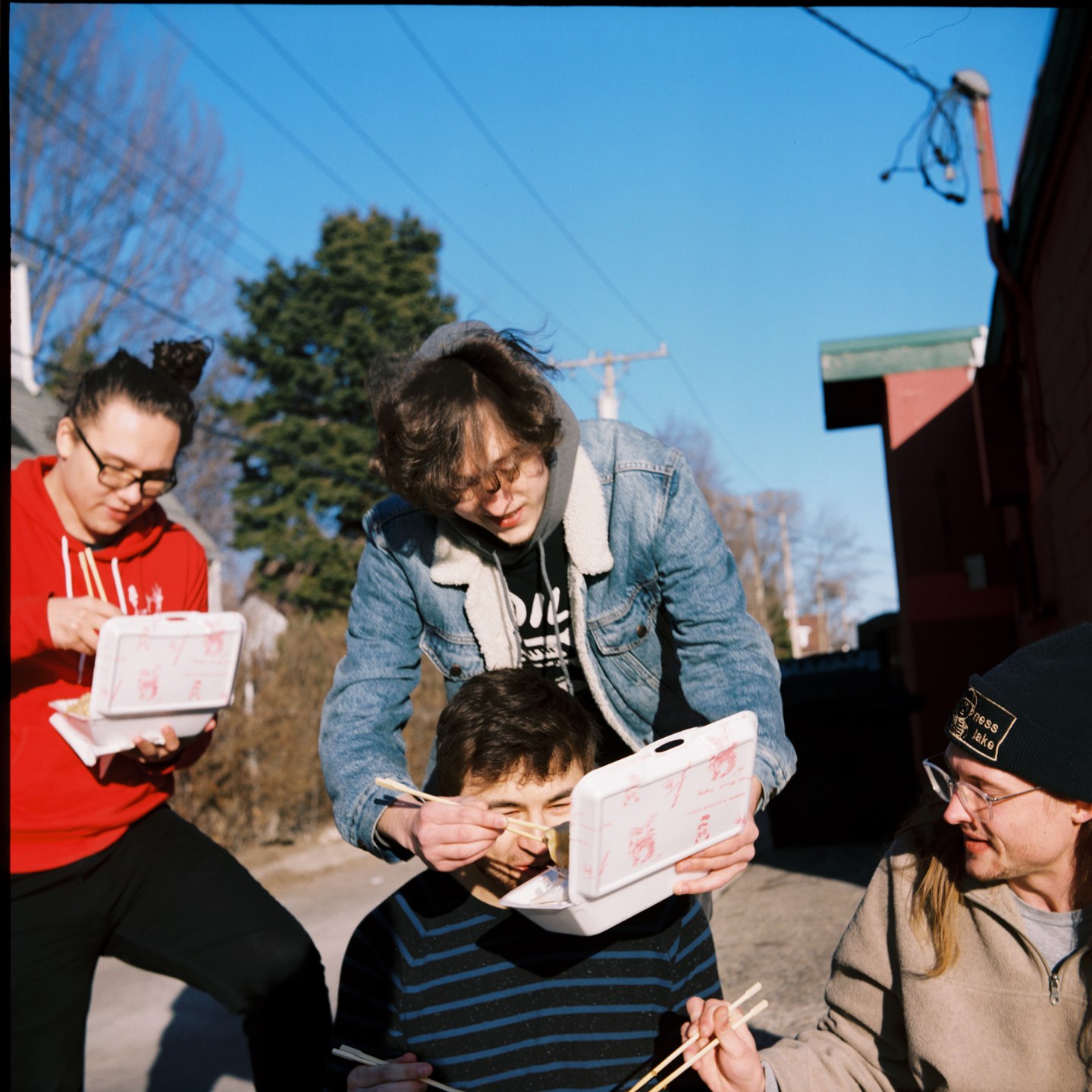 Performing the songs, he says, is "extremely cathartic," but that's a no-brainer. One single fact sums up the band's live sets — Stoitsiadis has two identical guitars on hand. "In case I break anything on one," he says nonchalantly. "I just switch it out really quick. It's bound to happen. It happens almost all the time, so I have to be prepared."
It's all a part of their mission. Stoitsiadis says that, at a time when indie rock is more focused on slowing things down, Dogleg wants to "add back that punch that's missing." When I ask them, all in their early 20s, if they'll be able to maintain this same unhinged energy in 15 or 20 years, Stoitsiadis laughs again. "If my joints are still intact," he says. "I would definitely hope so."