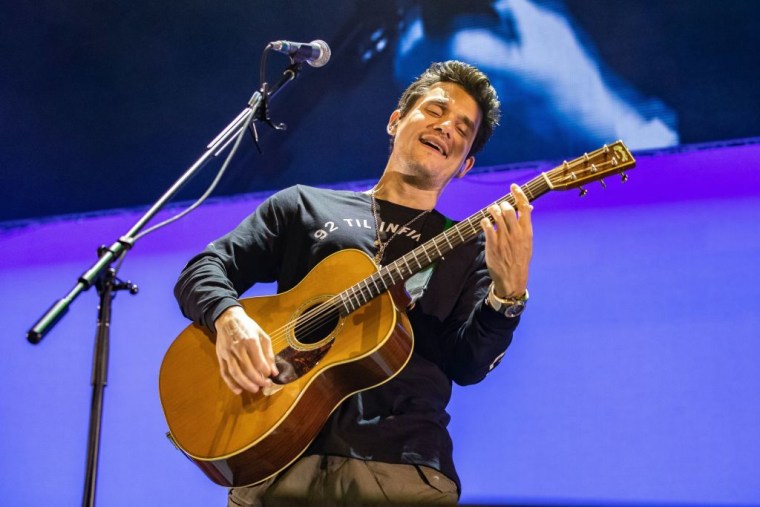 A rare moment of togetherness washed over the internet last week when Gal Gadot, along with a collection of her most misguided and most famous friends, shared an excruciating cover of John Lennon's "Image." Who thought that the one thing we needed to forget the ongoing end of civilization for a bit was Natalie Portman singing about there being nothing to "kill or die for"?
Anyway, as with all big name events it begged the question, Who said no to this? Presumably Gadtot DM'd all of her blue check buddies in a bid to pull this off and, isolated from their publicists, a lot of people agreed. Who had the sense to decline though?
Sadly, John Mayer cannot claim to have refused He did, however, avoid disaster (he claims) by misunderstanding the mission. Speaking on a recent installment of his Instagram chat show Current Mood, he told his followers that he thought he was being asked to sing a different "Imagine" — specifically the one by Ariana Grande.
.@JohnMayer says he was invited to join @GalGadot's 'Imagine' montage, but he misunderstood and sang @ArianaGrande's song of the same name. pic.twitter.com/xZbuXr8wi9

— Pop Crave (@PopCraveMusic) March 24, 2020
"She asked me to be a part of this and I totally misunderstood the assignment," Mayer said. "I thought they wanted me to sing 'Imagine' by Ariana Grande from her 2019 smash hit album Sweetener." He then cut the original, cringeworthy footage of Gadot et al with himself singing Grande's "me with no make-up, you in the bath tub" lyrics.
All of which, if you believe it, suggests Mayer should get to work on an equally impressive roll call of names to record the Ariana "Imagine" cover ASAP.