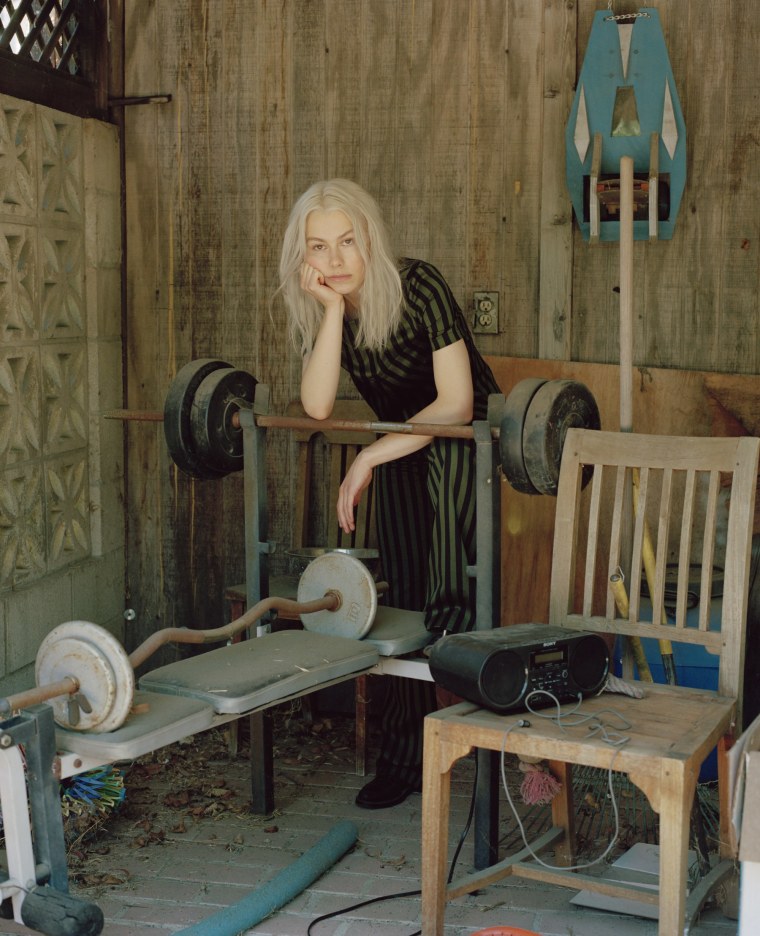 Every month The FADER brings you the best rock songs in the world (in no particular order).
Phoebe Bridgers, "Kyoto"
How much do you want to go stare at chemtrails with Phoebe Bridgers right now?
Orville Peck "Summertime"
Enjoy this new Orville Peck heartbreaker now, worry about the implications of his Diplo friendship later.
Laura Marling, "Held Down"
Laura Marling never misses, so it's no surprise her new album Song For Our Daughter is a knock-out.
Bright Eyes, "Persona Non Grata"
Conor Oberst is back and he's brought his… bagpipes? Bright Eyes first new music in almost a decade is bombastic and tender in equal measure. Welcome back!
Hayley Williams, "Roses/Lotus/Violet/Iris"
What happens when an indie rock supergroup, in this case boygenius (Phoebe Bridgers, Lucy Dacus, and Julien Baker), join forces with the leader of pop-punk's finest band? Hayley Williams's sleek and bright "Roses/Lotus/Violet/Iris" is a timely anthem for those emerging from a trying time and coming out stronger.
DRAIN, "Hyper Vigilance"
"Hyper Vigilance," taken from Santa Cruz hardcore band DRAIN's debut album California Cursed (due April 10), is two minutes of brutality to get you bouncing off your bedroom walls.
Christian Lee Hutson, "Talk"
Fun fact: Christian Lee Hutson is the musician the Reply All guys hired to record that insanely catchy song they were trying to discover on this month's viral episode. His own new song, "Talk," owes less influence to U2 and Barenaked Ladies but is a delicate, Phoebe Bridgers-produced reflection on a man's life with a family in both the past and future.
Courtney Marie Andrews, "If I Told"
Courtney Marie Andrews's new album Old Flowers, due June 5, comes from a pivotal point in the Phoenix-born singer-songwriter's life. "My nine-year relationship ended and I'm a woman alone in the world, but happy to know herself," she said in a statement introducing the record. Lead single "If I Told" is a tranquil moment of peace made bittersweet, with Andrews looking back to the early days of her relationship.
Dogleg, "Kawasaki Backflip"
Dogleg's new album Melee came out earlier this month and it's an absolute ripper. "Kawasaki Backflip" is a super-charged beast that feels like running down a hill at a million miles an hour.
Waxahatchee, "Can't Do Much"
In Saint Cloud Katie Crutchfield just dropped an early album of the year contender. "Can't Do Much" marries her indie rock roots with the album's more country-inspired sound to beautiful effect.
Squid, "Sludge"
The spirit of Mark E. Smith lives on in U.K. post-punk band Squid's antsy and frantic "Sludge." The group just signed to Warp and infuse a baggy Madchester vibe into their tense and angular riffs.
One Step Closer, "Lead To Gray"
Pennsylvania hardcore band One Step Closer push their melodies and clean vocals further than ever before in this exciting taste of their next album, due at some point in 2020.
Gouge Away, "Wave Of Mutilation"
It's objectively funny that a band called Gouge Away covered a Pixies classic and chose… "Wave Of Mutilation." Obviously it kicks ass.
Muzz, "Bad Feeling"
The phrase "Interpol side project" should rightly send a shiver down your spine, and yet somehow Muzz (the new band from Paul Banks plus producer Josh Kaufman and The Walkmen's Matt Barrick) is something special. The trio went to high school together and that lived-in feel permeates the music they make together. "Bad Feeling" is their first release and combines a gorgeous guitar tone with jazz flourishes and heavenly backing vocals.
Blake Mills, "Vanishing Twin"
Mills is perhaps best known in indie circles as a collaborator on albums from Perfume Genius, Cass McCombs, and Weyes Blood. The multi-instrumentalist releases his latest solo effort, Mutable Set, on May 8 via his own label, New Deal. It's an album that deals with the temporal nature of life and is preceded by "Vanishing Twin," a song rich in hushed tones and a tentative energy that rewards multiple listens.

SASAMI, "Mess"
SASAMI's latest loosie catches her high and on the look out for money. Guitars buzz and hum in equal measure while SASAMI's scathing and humorous lyrics jump off the page.
Control Top, "One Good Day"
It's all anyone is asking for right now.
Fenne Lily, "Hypochondriac"
Light and airy folk-pop from anxious British songwriter Lily who finds herself sick and "freaking out," while "waiting for a moment to stop and not feel so much." Play it on a loop while you wait for the same outcome.
Woods, "Where Do You Go When You Dream?"
Woods are prepping to release their 11th studio album, Strange To Explain, this May. This lead single is one of the prolific band's most accessible moments to date, a hypnotic six-minute sprawl which allows singer Jeremy Earl to ask the same question as Billie Eilish, what is that place we go to each night?
Code Orange, "Sulfur Surrounding"
Code Orange dropped one of the best rock records of 2020 and kicked off the livestream concert trend this month. Legends.
Sorry, "As The Sun Sets"
Sorry's default setting, thus far, has been the back alleys and late night clubs of their native London. "As The Sun Sets" wipes clean the grime, however, with singer Asha Lorenz singing about awkward encounters with an ex and interpolating "What A Wonderful World." Don't they scrub up well?
Psychic Ills, "Never Learn Not to Love"
Psychic Ills frontman Tres Warren sadly passed away in March at the age of 41. The band's label, Sacred Bones, has shared their covers of the Beach Boys' "Never Learn Not to Love" and its demo version "Cease to Exist," by Charles Manson as a tribute. RIP to a real one.
Tame Impala, The Slow Rush "Imaginary Place" remix
I'm not saying that this rework of Tame Impala's new album where everything sounds like a distant memory of what it used to be is a metaphor for something, but it's certainly a nice place to hang out for an hour.