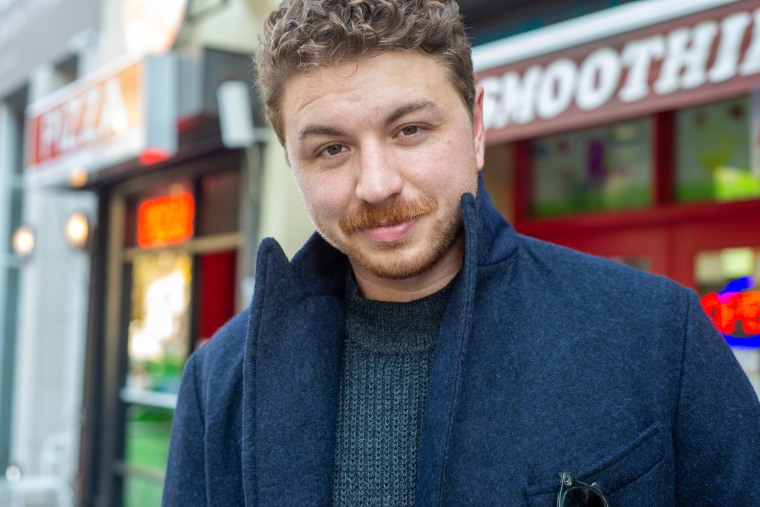 If you've ever seen one of Bon Appetit's bright and compulsively watchable Test Kitchen YouTube videos, you probably know Alex Delany. The prestige food magazine's Drinks Editor, Delany is a staple of BA's Test Kitchen clips, often popping up to offer a coffee or cocktail and some sage advice, to share his favorite recipes, or, in his series "Alex Eats It All," eat through the entire menus of iconic New York establishments.
Working in food publishing, Delany is somewhat insulated from the pressure New York's food scene faces during the COVID-19 crisis. But watching from afar — he's currently isolating at his parents' house in Philadelphia — has been a hell of a time. "Working in and around the restaurant industry, all of my friends who own places or work in places feels very significant," he tells me. The decision to decamp to Philly was a quick one. But Delany still made sure to bring some of his favorite distractions with him, including records and his pour-over coffee setup. Below, read about what Alex Delany does to get himself through COVID-19 quarantine.
Listening to records
One of the things that I brought with me when I was coming down from New York was — I have a pretty big record collection but obviously I couldn't take it with me — I packed a tote filled with records that I had been listening to a lot lately. Spinning records on the turntable here at my parents' house has been really calming, kind of a reminder that songs still sound the same, things that I used to like I still like now. I've been playing a lot of soul from the early seventies and late sixties, a lot of South American music — a lot of Jorge Ben Jor, Elia y Elizabeth, South American pop from the seventies. A lot of more modern Australian surf rock and modern psych, stuff like Traffik Island, Babe Rainbow, Cool Sounds, a lot of stuff like that.
Making cocktails
I've been making a cocktail or having a glass of wine around 6 or 6:30 p.m. everyday. I brought a tote filled with booze down from my apartment — my parents don't have quite as robust a bar as I do. I haven't been drinking a tonne here, but I've been having at least a cocktail every day. I've been doing some old-school, classic cocktails, making stuff that isn't necessarily something I'd make under other circumstances. That cocktail a day is a nice reminder that work has finished. I'm a big Amaro and apertivo fan. I make a twist on an Amaro and soda called a Lil' Ripper — two ounces of Amaro, three ounces of soda water, a spritz of lemon juice, a green olive, and some lemon peel. I've been using Forthave's apertivo called Red. It's a super light, low ABV cocktail, you can drink a tonne of them and still function.
Making coffee
I'm a step too far of a coffee nerd. That's the first thing I do in the morning — I walk into the kitchen, I set up my pour over situation, which takes five or six minutes to make, and I have 14 or 15 different coffees that I've been rotating right now, from a bunch of different roasters. Some are from the States, some from London, some from Hong Kong, all over the place. That five or six minutes of doing a pour-over has been really zen for me — I'm not on my phone, I'm not talking to anyone, I'm just staring at coffee dripping through a filter. It's super relaxing.
Working on side-projects
Back in New York, my friend Jasmine and I teach a once-a-month class called Nightcaps. It's a super casual wine class hosted at Jasmine's apartment in the West Village that I teach. It's usually like, ten-iso of our friends, and everybody pays however much, I go out and buy a case of wine, we drink through the wine and I talk about the tasting notes and how it's made, different styles and origins. When I'm in New York I love doing that, but obviously now that everyone's not leaving the house we can't do it anymore. Jasmine and I have been trying to figure out how to continue doing that, so we decided that our instagram account — @nightcap.s — we're turning it into a log of everything that we're drinking in self-isolation.
A buddy that I went to school with, Albert, he and I are starting a merch company. We're doing tees, totes, mugs, little stuff. He and I both do illustration and design, so we're collaborating there. We just filed for an LLC, I'm doing a bunch of wholesale t-shirt ordering and stuff, all that shit. It's been a nice little distraction from writing and editing, proper work.
What's the first thing you're going to do after quarantine?
I'm going to walk into Altro Paradiso, order a wine, a plate of olives, and some arancini, and just sit there and eat in public.