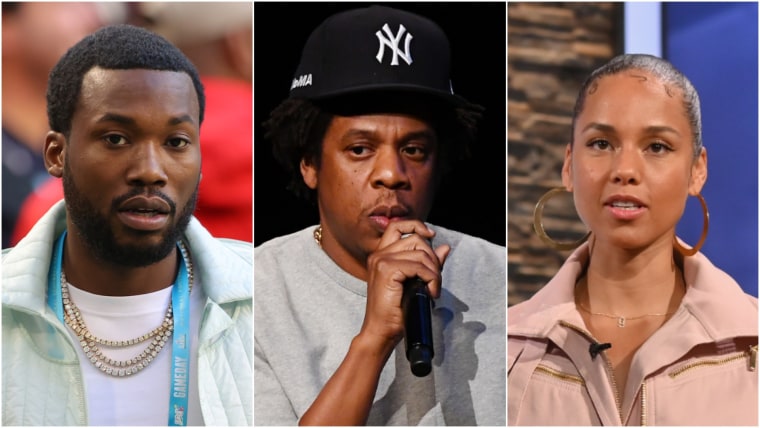 The social justice arm of Roc Nation ran an open letter in the Atlanta Journal-Constitution on Sunday, demanding justice for Ahmaud Arbery, the unarmed 25-year-old Black man who was shot and killed in February while jogging. The case had dragged on with little movement until last week, when a video showing the fatal shooting was published online. Soon after, the Georgia Bureau of Investigation arrested two men — Travis McMichael, 34, the man who shot Arbery, and his father Greg McMichael, 64 — on charges of murder and aggravated assault in connection with the killing.
The letter — signed by JAY-Z, Alicia Keys, Yo Gotti, Meek Mill, and two attorneys — acknowledges that those arrests were a "positive first step on the long road toward justice," but insists that they were just a first step. "It only strengthens our resolve to see that justice is eventually served," they write.
To ensure justice for Arbery, Roc Nation writes, a number of actions must be taken. They call for William Bryan, who recorded the video of Arbery's killing, to be charged as an armed accomplice. They insist that District Attorney Durden recuse himself from the case, as the elder McMichael's police background creates a conflict of interest. The letter also calls for Attorney General Chris Carr to appoint a special prosecutor.
"As a society we can no longer pretend that the racial inequities, which exist in every facet of our lives, don't invariably lead down the path to poverty, violence, and death," the letter reads. "To even think about breaking this cycle we need you to protect the process and preserve the fairness of the trial. And if you take those neccesary actions, you will send a message to the people that want to drage Georgia back to a time when African-Americans were killed for merely voting: hate and fear will lose."