Charli XCX's how i'm feeling now is a claustrophobic revelation
Quarantine has given way to the pop architect's most volatile and honest work to date.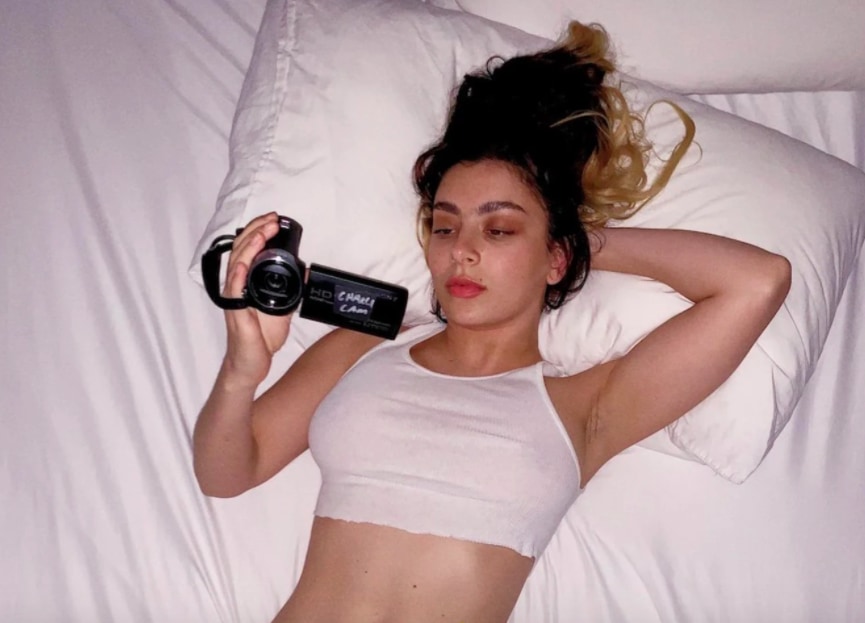 "I go hard, I go fast, and I never look back," Charli XCX emphasized at the very beginning of her last album, Charli, which dropped just eight months ago. This unerring, machine-like drive — one that's established her as one of the most prolific pop artists of our generation — resurfaces almost immediately at the top of how i'm feeling now, her new album, released this morning. "I just wanna go real hard," she deadpans in front of a webcam on "pink diamond," wrapped in a thicket of wonky synths sculpted by Dijon and A. G. Cook. She keeps repeating the line, drained but persistent, almost as if she has to insist on it.
Whether or not it's possible to go hard in the middle of lockdown is the question that tugs at every thread of how i'm feeling now, written and recorded in six weeks of state-mandated isolation at home in Los Angeles. Social distancing goes against everything that Charli has embraced across her decade-long career. She constructs songs that are meant to be shared, songs for the pregame, songs to sweat to, and even her most introspective moments have never felt fastened to any sort of mundane reality. Her realm, up until this point, has been a boundless pop utopia.
how i'm feeling now seems to build on the steely sonic atmosphere of her last few projects, particularly 2017's Pop 2 and No. 1 Angel, but beneath the surface there's a discernable tonal shift. The familiar fizziness is omnipresent, but it's more concentrated, pressurized as though she's trapped in a shook-up soda can. "I wake up with a ball of anxiety in my chest most days," Charli recently told Zane Lowe. "I want to know, will that ever go away? Can I be happy, without experiencing the flip side of what happiness is: the stress, the sadness, the rage? Can I balance myself out and just feel neutral? Or do I have to experience the highs and the lows?"
Each of the tracks orbit around that centralized anxiety, managing to wrangle such emotional extremes as self-loathing, ravenous yearning, and immense gratitude into something indisputably cohesive and honest. She offers songs about endless love and songs about imminent detonation side by side, and at the same frequency. And if you don't catch her drift, she'll repeat it — syllables and phrases are hammered on like forced mantras, and melodies call back to each other. It's an idiosyncrasy that feels like a product of its contained surroundings. Trapped inside a circadian rhythm, and without the accoutrements that "normalcy" once had to offer, what's left that's worth protecting?
how i'm feeling now is easily Charli's most volatile work to date. It's consistently disorienting, just as living in a pandemic. Occasionally, it's difficult to imagine how it will sound out of context. A song like "claws" could theoretically bounce hard this summer, if we're allowed outside, but right now it just ricochets off the walls. It's not polished in the way we've come to expect from Charli, its hooks aren't as immaculately tuned, and its edges are more splintered than smooth. But it's challenging in the way that any real reckoning has to be. The ultimate payoffs, "anthems" and "visions," are rapturous in a way that feels hard earned.
That one-two punch of hedonism is preceded by the record's softest moment, "party 4 u," a shimmering thesis built around a vulnerable admission: "I only threw this party for you. I was hoping you would come through." The song has existed in the XCXverse in some form or another since 2017. On the surface, it plays like a galaxy-brained devotional, not dissimilar to the fan-adored "Track 10." But delivered in present circumstances, it offers a more existential quandary. For years now, Charli has always thrown the party, and we've been there. What's the party going to look like now?