Tactile transmissions from Erika de Casier
The Copenhagen artist opens up on the practice behind her wondrous debut album, Essentials.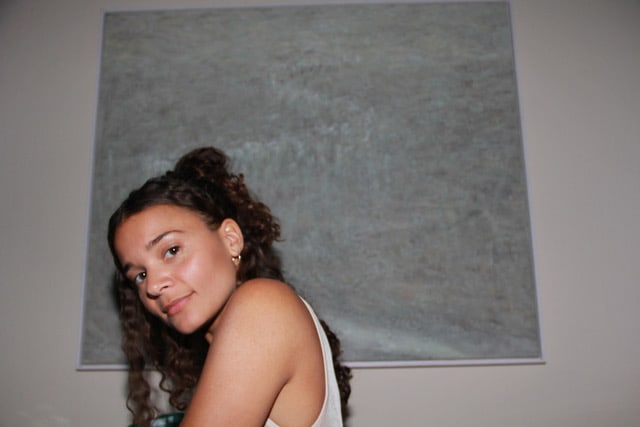 Erika de Casier opens her debut album Essentials with mile-high intentions: "I wanna fly with you, over the clouds you see / I wanna hide with you / Go everywhere with you, if you want me to." Over the past year, de Casier's pop-R&B songs have done just that, sticking to listeners like a fine mist. Listening to Essentials feels like being let in on a secret, one that you want to blow your car's subwoofers out on.
In the time since the album released last May, de Casier's songs have traveled the world, winning over fans like Dua Lipa and Clairo. "I love Erika for her modern take on nostalgic sounds, and her soulfulness," Lipa wrote in an email to the FADER. "She's so uniquely herself and it was that individualism that drew me to her when looking for artists to remix 'Physical'."
"Erika is so good at what she does," Clairo wrote. "She's endlessly creative and it comes across so clearly in her music. She's completely focused, yet still so open, honest and sweet. She's powerful." That de Casier could leave such an impression from a debut album alone is a testament to its strength. From the tenacious pulse of "Intimate" to the crisp hypnotism of "Space," she navigates places that feel wondrous in their familiarity. There's a sense of effortlessness about it all, but it's one that de Casier had to work up to.
Born in Portugal and raised in Denmark (save for a year spent studying abroad in rural Vermont as a high schooler), de Casier had found a universal language on MTV before she learned how to speak Danish. Music was always there, but her path to songwriting as anything but immediate. "I had a piano teacher in fifth grade that killed my desire to make music. I didn't want to touch it for years," she recalls. "Later on, in high school, I was in the choir, and I sang a few bits in a band. But I would have never thought as a teenager that I would be making music at all."
During those years, she found a haven in the music section of her local library, where she'd borrow CDs and import them into her iTunes collection. "It always felt like I was doing something kind of illegal, like I hope the library doesn't find out." she laughs. "I would pick out any CD that I thought looked nice. That's how I found Erykah Badu, because I thought, 'my name is Erika, let me see." I'd borrow these albums by N.E.R.D., or Destiny's Child, and just listen endlessly. Listen, pause, write down the lyrics, and listen again."
That same sense of tactility — of opening the jewelcase, feeling the triangularity of the play button on your fingertip and being swept into a fully-formed dreamscape, with liner notes as your only guidemap — defines Essentials. It sounds like the product of opulent studio sessions, a time when the music industry had more disposable cash to toss around, an impressive feat given its DIY genesis. de Casier's confessionals feel lifted off the pages of a Lisa Frank notebook, her production whooshes and sparkles like it commands a Hype Williams video treatment. Even the title suggests something akin to a Now That's What I Call Music-tier compilation: these are songs that feel lived-in.
And yet, while this early aughts quasi-familiarity is a key element to Essential's appeal, de Casier's vision extends far beyond reupholstered nostalgia. Throughout its tracklist, she negotiates the throes of modern communication with an unwavering perseverance to cut through the static and overthrow the ambiguity in desire. There's a resilience in her tenderness, one that stands in opposition to the idea that apathy begets coolness.
Speaking over the phone, just ahead of what was supposed to be her stateside debut at South By Southwest, de Casier opened up on how she became comfortable with her voice, carrying musical baggage, and what she's cooking up for her next project.
So, Erika, when was the first time you decided to make music for yourself?
One summer I got really heartbroken. I used to paint a lot, but this time it wasn't helping me. I thought, okay, I have to find another way to get my emotions out. So I downloaded this shitty music program with some premade loops and I put them together. Then I was like, "okay, I can't do this myself, I'm going to have to really learn." I taught myself a lot through just Google and the internet, and later I took a course in electronic music where I also met people with different taste. I felt like such a noob, like my taste was so basic in some way. I just kept researching. Later on, I met Natal [Zaks] from Ragelbau and we became friends, and things took off from there.
Were you writing songs while all of this was happening, and building a catalog on the side?
I was making music but I wouldn't say I was writing songs yet. That didn't come like until much later. If I had vocals on my productions, it would be a very faint choir or something. Later on I became a part of this project with my friend Andreas, it was called Saint Cava. I wanted my vocals to be pitched down, I didn't want anybody to hear that it's me. He was like "let's just check… just try to have it in your voice." I think everybody knows the feeling of hearing yourselves for the first time. But in time I got more and more comfortable with my own voice… I maybe got a compliment or two, maybe a few more. I felt like I really had something to say, so eventually I decided "okay, I have to do this because I really want to get this out."
When did Essentials start to form together?
All the songs I wrote in like seven to eight months, like less than a year. All of them were like written because I was in like this very... in the creative flow and I just like. I had more songs than the ones that I put on the album, but these ones fit very well together and I wanted them to be like in a family of some sort. I felt like these were the essentials,
What was it like releasing the first single, "What You Wanna Do?"
It felt like a personal release. Like, fuck it, this is who I am and this is what I like. I was so afraid it wasn't "artsy" enough or that people would see me and put me in a box. But, once I had put it out there, it felt relieving. There's no turning back once it's out there. Luckily the response was positive, but I realized even if there was a bad response, it wouldn't really change my desire to keep making music. I realized nothing's going to stop this, so I might as well just go with it.
Is there any song you're most proud of on this album?
"Do My Thing," because I produced it, and maybe "Puppy Love" too. I'm proud that I was even able to release it because it was one of the first ones I wrote for myself. I'm proud of all of the songs, because it was such a struggle to let go of them in a way. But "Do My Thing" and "Puppy Love" for sure because I produced them myself and I had to build up confidence and learn how to believe in my own stuff.
You excel at tapping into a certain nostalgia without ever getting indulgent with it, and that's a really difficult space to navigate.
When any musician sits down and makes music, we have baggage: what we've heard, what we've experienced. So of course when I'm sitting with a synthesizer, I pick the sounds that I like. And these sounds are like sometimes from the same family and bring like this very nice emotion in me that makes me want to write this kind of song. It's not as easy as saying "okay, I'm going to write a G-funk song." I start with an emotion and then I go from there. This is the music I love, but this is where I'm at, you know? I need something meaningful to me. And yeah, maybe like old but it's like in me so and but I'm living now so what comes out of me is something now. I want to make something that I can feel.

Listening to this record, there's a definite plushness to it, but it's never passive. It's a resilient softness.
I've always liked contrast in music, when somebody is telling you something tenderly but the instrumental is telling a different story. Or if it's not telling the true story, but it's giving a little bit of resistance. I came from a community with a lot of really great producers doing these hard beats and I was never abrasive. That's not me. This is me. I'm caring and that's okay, that's not a weakness. And I'm, yeah, I'm soft and that's not a weakness. And I dare say what I feel and that's not a weakness. You know, all these things where it's like, it's therapeutic for me to do so I think I tap into it like immediately when I make music. Yeah.
The album came out in its entirety last May — what have you been up to since?
Well, I've been playing a lot of gigs. I went on a mini tour of Japan, and played all these different places in Europe: London, Brussels, Amsterdam. Besides that, I've been writing new music. That's actually like the main thing because I spent five months in Berlin just writing and writing and writing. I'm in the middle of some things, but yeah, I'm very shy to show it.
Without giving away too much, can you tell us anything about the new material? Is there anything you want to do differently this time around?
I don't know if I do, but I think I have been, because the new stuff I've been writing has been more experimental. But when I wrote in Essentials I was also in an experimental phase, always open to trying out new things. To be able to write new music, I have to get in that space. I've showed the new material to my friends and they've said "yeah, it's different, but it's still Erika, it's still you." I'm not thinking "oh I'm going to ride into something that follows Essentials." I haven't been thinking about Essentials at all. I'm not going to be able to write 12 identical songs — that would also be boring for you.