HAIM have been down
After spiraling into a collective depression, the Haim sisters have bounced back with their best album yet, Women In Music Pt. III, leaving marks of isolation on their breezy-sounding summer pop.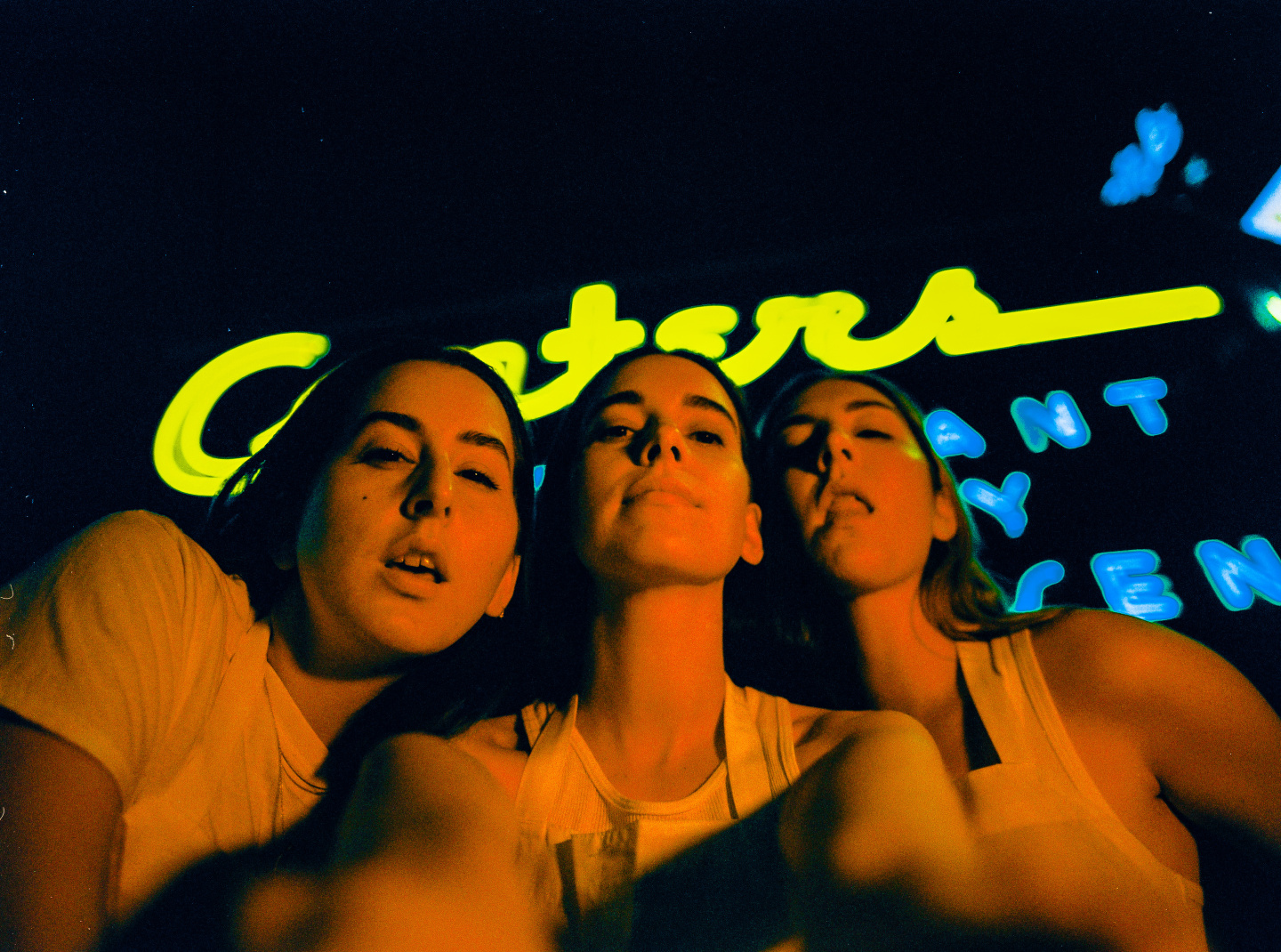 A damp and frigid mid-March Tuesday night in Manhattan's Murray Hill was the last time that Danielle, Este, and Alana Haim felt anything close to normal. Their show that night at Sarge's on Third Avenue was supposed to be the first of five nights at delis across the United States, a nod to the sisters' first concert together at Canter's in Los Angeles two decades ago, and a fun way of promoting their new album, Women In Music Pt. III. Fans and industry types sat shoulder to shoulder on burgundy leather couches, eating matzo ball soup and pastrami sandwiches, sharing leftovers. A TV in the back corner was locked to CNN's non-stop coverage of the Michigan Democratic primary. When HAIM walked through the narrow corridor between tables on their way to their makeshift stage at 9:30 p.m., they elbow-bumped anyone who'd stretched out a hand to say hi — it was the only thing except for the stray bottles of hand sanitizer on tables that suggested anything was out of the ordinary. Their set was loose and fun, a mix of old favorites, newer cuts, and an impeccable rendition of Britney Spears's "I'm Not a Girl, Not Yet a Woman" courtesy of Este.
The next day they took a train to Washington D.C. for the second night of the tour, and everything changed. They played the same set that night to just a dozen or so people, but almost as soon as they finished news hit that the NBA had cancelled its season. Reality clunked onto unfamiliar tracks, and CNN would devote itself to coverage of the COVID-19 pandemic for the next two months. "We didn't know what the fuck to do," Alana says now. They cancelled their next show, set for Friday night in Chicago, and flew home to start quarantining.
On his plane back from the capital, Rostam Batmanglij, who co-produced WIMPIII and played backup guitar at the deli shows, developed a fever that turned out to be the first symptom of the novel coronavirus. HAIM went into lockdown, the country soon followed suit, and the band's third album, three years in the making, was pushed back by two months.
It will still come out in the summer, with a June 26 release via Columbia/Polydor locked in, and, at least superficially, that checks an important box for a HAIM album. Since releasing their first single, "Forever," in 2012, the Haim sisters have been associated with a nebulous summer aura. Their debut album, 2013's Days Are Gone, was such an effortless blend of soft rock and modern R&B that it could only have been made by three sisters who grew up listening to the same artists (Hanson, Fleetwood Mac, TLC) without stopping to consider genre boundaries. Its follow-up, 2017's Something To Tell You, had them breezier still, drifting off into yacht rock jaunts and naturally adhesive choruses. Both album covers had all three sisters wearing sunglasses; NPR's Lars Gotrich declared HAIM "patron saints" of a new movement that he was dubbing roséwave. They worked hard to achieve this easygoing aesthetic and, like their '70s radio forebears, they were unquestionably brilliant musicians. But even at their most downcast or lyrically frustrated, HAIM were carefully channeling their talents into carefree vibes.
Women In Music Pt. III is a slightly different proposition. For all of its familiar levity on first listen, much of HAIM's third album is the product of depression and inertia, loneliness and therapy. Some of its brightest moments turn out to be attempts to smile through desperate circumstances, and their digressions into frustration and anger aren't so often couched in euphemism. "These days I can't win / These days I can't see no visions," Danielle sings on opener "Los Angeles," a song that's ostensibly about loving her hometown despite its flaws. "I'm breaking, losing faith."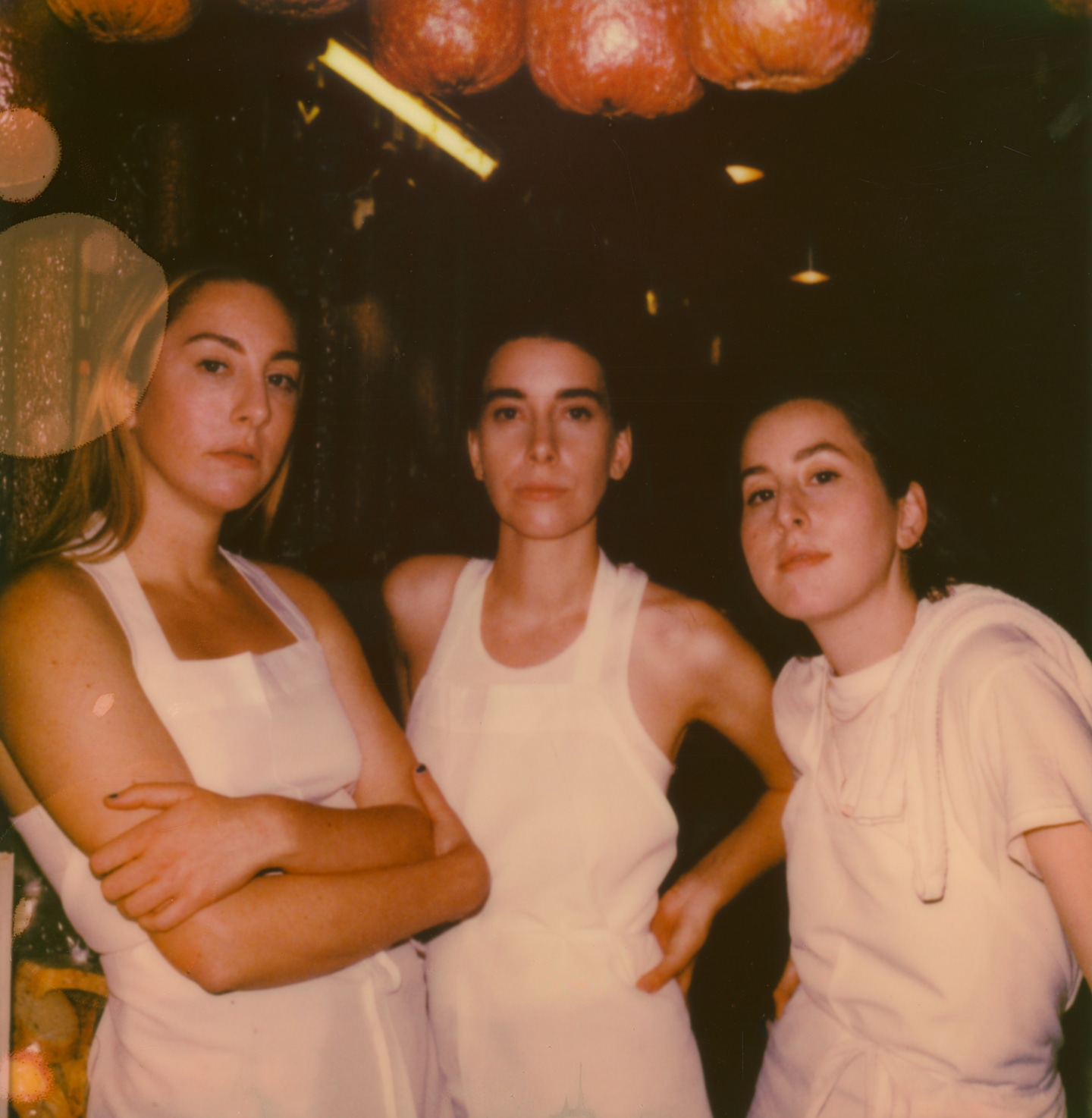 "We could have been on tour forever," Este says on a Zoom call from her Los Angeles home in May, minutes after the release of their new single "Don't Wanna," with her two sisters in adjacent windows. The Sister, Sister, Sister tour, in support of Something to Tell You, ran for well over a year, dragging on into the summer of 2018. The sisters are unanimous in rejecting the idea that a global arena tour might have been draining, despite the physical toll it takes on Este in particular. The eldest Haim sister is a Type 1 diabetic — something that doctors have told her repeatedly should, by rights, keep her off the road altogether. Before a flight to Australia in 2018, for example, she noticed a blister on her foot, which was "the size of a watermelon" by the time they landed. They had to find a doctor on the other side of the world, and when they did he could only say that he hoped Este would be able to keep her foot. ("Always a fun joke," Alana says sternly.) They had two days to recover from jet lag, most of which was spent panicking about Este's health, but at no point did they consider cancelling. "It's not going to stop me," Este says. "I got another 100 years of touring in me."
But the fallow period after the last show ends and the lights go down is a tougher proposition. After tour came to a halt this time, their high wore off quickly and, back in Los Angeles, in separate homes, no longer distracted by the day-to-day routine of life on the road, depression set in. The symbiotic relationship that makes a world tour so fulfilling for three sisters who love each other also makes the comedown that much more punishing. They can all push their collective high even higher when life is clicking, but each of them is just as capable of pushing their collective low into a deep abyss.
"It's a bad neurosis," Danielle says. "I can talk my sisters into being really depressed."
"I think all of us just kind of started spiraling," Este interjects, honing in on the fall of 2018. "And we were just in this really weird, deep, dark funk. I don't know if any of us had really ever experienced that before."
Este was dealing with the toll the past year had taken on her health; Alana had started feeling overwhelmingly lightheaded at points herself, having to sit down for stretches of their set. And Danielle hadn't had the time to focus on her feelings after her partner, the producer Ariel Rechtshaid, was diagnosed with testicular cancer during the making of Something To Tell You. In L.A., trying to process her last two years, she struggled to write and closed herself off. Her sisters suggested she seek therapy for the first time, which helped immeasurably. Her therapist told her to write again, knowing that it was a valuable outlet for her Danielle's emotions. By that Christmas she was in a self-imposed writing routine, churning out a song a day.
But the real turning point for Danielle — and, by extension, for all three sisters — came last summer, when HAIM decided to release a standalone single. "Summer Girl," which now appears as the last song on WIMPIII, is so blissed out that it sounds narcotic. Este's bass ripples like lake water on smooth rocks, a saxophone courtesy of session player Henry Solomon buzzes about like a lazy dragonfly, and a constant stream of doot-doot-doos keep the song floating on. It's Lou Reed's "Walk On The Wild Side," lifted from Avenue C and dropped into a sun-streaked San Fernando Valley. The chorus has Danielle repeating, "I'm your summer girl," and in the video (shot, like most HAIM videos, by Paul Thomas Anderson) she's smiling warmly every time the words leave her mouth.
Danielle had already worked on the song with Batmanglij (as "Sunny Girl") before taking it to Rechtshaid, who says he had no idea that it was about him when he first heard it. "It's kind of abstract when you listen to the verses," he says on a separate call from the verdant back yard of the home he shares with Danielle. "She's not spelling it out." When he did convince Danielle to reveal that the song was written directly to him, as a promise to keep him afloat no matter how bleak his outlook after the cancer diagnosis, he suggested that she try not to overthink things. "Let's not even try and turn that into a melodic aspect of the song," he remembers saying. "Just go spit. Get on the mic and just talk to me."
So, while verses are a little disquieting but mostly oblique — "Lightning in your eyes, you can't speak" — Danielle's spoken-word bridge is movingly transparent. "The tears behind your dark sunglasses / The fears inside your heart as deep as gashes," she says as the bass bubbles away. "Walk beside me, not behind me / Feel my unconditional love."
With "Summer Girl" out in the world, HAIM found themselves back in their groove. "The act of releasing that helped me not take everything so hard," Danielle says. "Releasing music so spontaneously helped me get excited about releasing and writing music again."
"It seems super elementary but for us it was a big deal," Este adds.
It wasn't just the act of releasing a piece of music, though; it's no coincidence that HAIM drew confidence from releasing one of the best songs of their career. "Summer Girl" confronts an almost impossible situation with deft lyrics and a shameless singalong, borrowing from the past and repurposing it for the present. When Este tells her sister on our Zoom call, "You've gotten so good at being able to communicate what you want and what you're hearing," she's talking about more than just her growth as a producer and engineer. "Summer Girl" was evidence that HAIM were in full control of their talents, able to express their emotions more fully than ever before without sacrificing the pop instincts that made them such a fascinating proposition at the start of the decade. They realized that themselves last summer, and it freed them up to write some of their most emotionally resonant songs.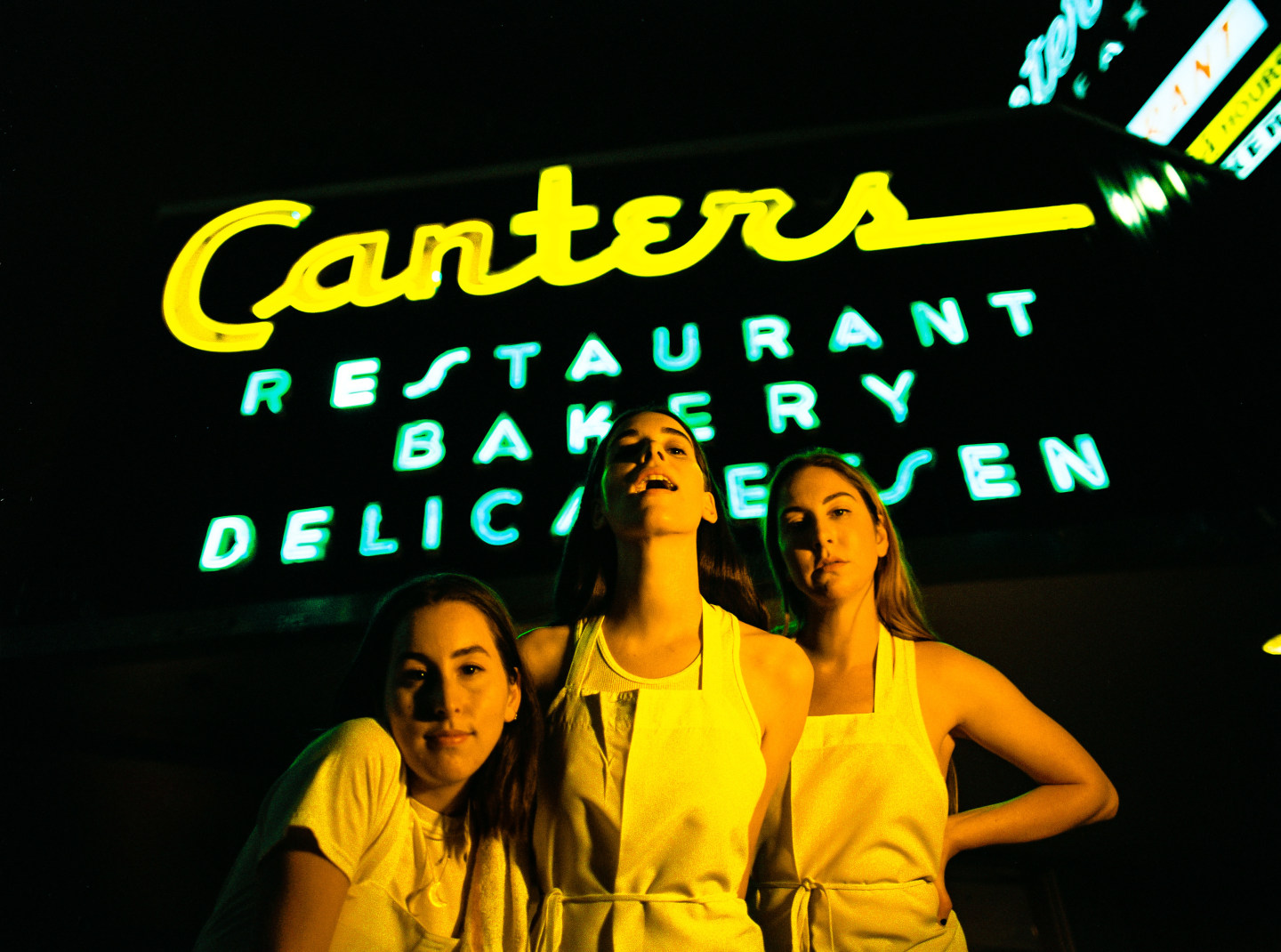 Danielle never loved talking about her lyrics in public, reasoning, like most songwriters, that it's better to let listeners come to their own conclusions. But that's changed in the lead-up to WIMPIII. She was open about the story behind "Summer Girl," and in April, when the band shared the skittish but still upbeat "I Know Alone," she wrote on Instagram that the song came from "the deepest spiral of being alone and feeling like I felt loneliness deeper than anyone ever had."
A week after our first conversation, on a Wednesday evening at sunset, Danielle phones in from L.A. again, alone this time. "I think it's important for people to know where we're coming from," she says, the Zoom video glitching a little. She was frustrated, she says, with the narrative that HAIM had been "taking too long" to release their second album, and she wanted to cut it off at the source this time. "Like, 'Sorry, my partner had cancer. Fuck you,'" she says. "It was really hard, and obviously it wasn't our place to tell everyone the news. Obviously it was his story to tell."
Frustration is palpable on WIMPIII. Sometimes it's in the service of pure fun, as it is on "The Steps," a riotous single built around the sisters' inability to stop screaming "You can't understand me!" over the chorus in the studio. But on "Man From The Magazine," there's straightforward anger at sexism and its side-effects — the guy at the music store condescendingly thrusting starter guitars on women, male music journalists asking despicable questions. "You expect me to deal with it / 'Til I'm perfectly numb / But you don't know how it feels / To be the cunt," Danielle whisper-snarls over a loose, elastic acoustic. "It's a line that just came out of me," she says via text a few days later. "It's speaking to my experience of being called a cunt to my face when sticking up for myself — now it's almost become my mantra. If sticking up for myself and sticking up for my profession makes me a cunt, then I'll be the cunt." All three members of HAIM delight in how funny their album title is (and they're rightly very pleased with the acronym it produces), but there's intent and fury behind it. They're tired of having to explain themselves.
Some songs don't require over-explanation, and invariably they're the ones that Danielle wrote from or about the lowest point in her spiral. "I Know Alone" ("Been a couple days since I've been out / Calling all my friends but they won't pick up") and "Now I'm In It" ("I can't get a hold of myself / I can't get outta this situation") were both released as singles. But the starkest is "I've Been Down," on which WIMPIII co-producers Danielle, Rechtshaid, and Batmanglij packs the mix so full that the song sounds difficult to escape from, like a stifling barroom. "A little moonlight coming through the blinds / The love of my life sleeping by my side / But I'm still down," she coos in an intimate spoken interlude plucked from the Phil Spector playbook. "Can you help me out?"
"'I've Been Down'" is a cry for help, in a way," Danielle says. "That was one of the later songs we wrote, and I think inherently, the way that I sing it, it's just this expelling of a gnarly feeling." I ask Danielle a question I'd put to all three Haim sisters a week earlier: Do songs like "I Know Alone" fit into a pattern for the band of using pop music as a Trojan Horse, sending depression through the gates under the cover of bright melody?
"In the moment… it gives me confidence, I think," she says, leaning towards the camera on her laptop. But depression doesn't just evaporate, no matter how much writing and performing might help to organize or briefly expel certain feelings. Danielle's throat catches a little as she tries to start a new sentence, and suddenly she starts crying. "I'm just a little emotional today," she says before standing up and walking way from her screen.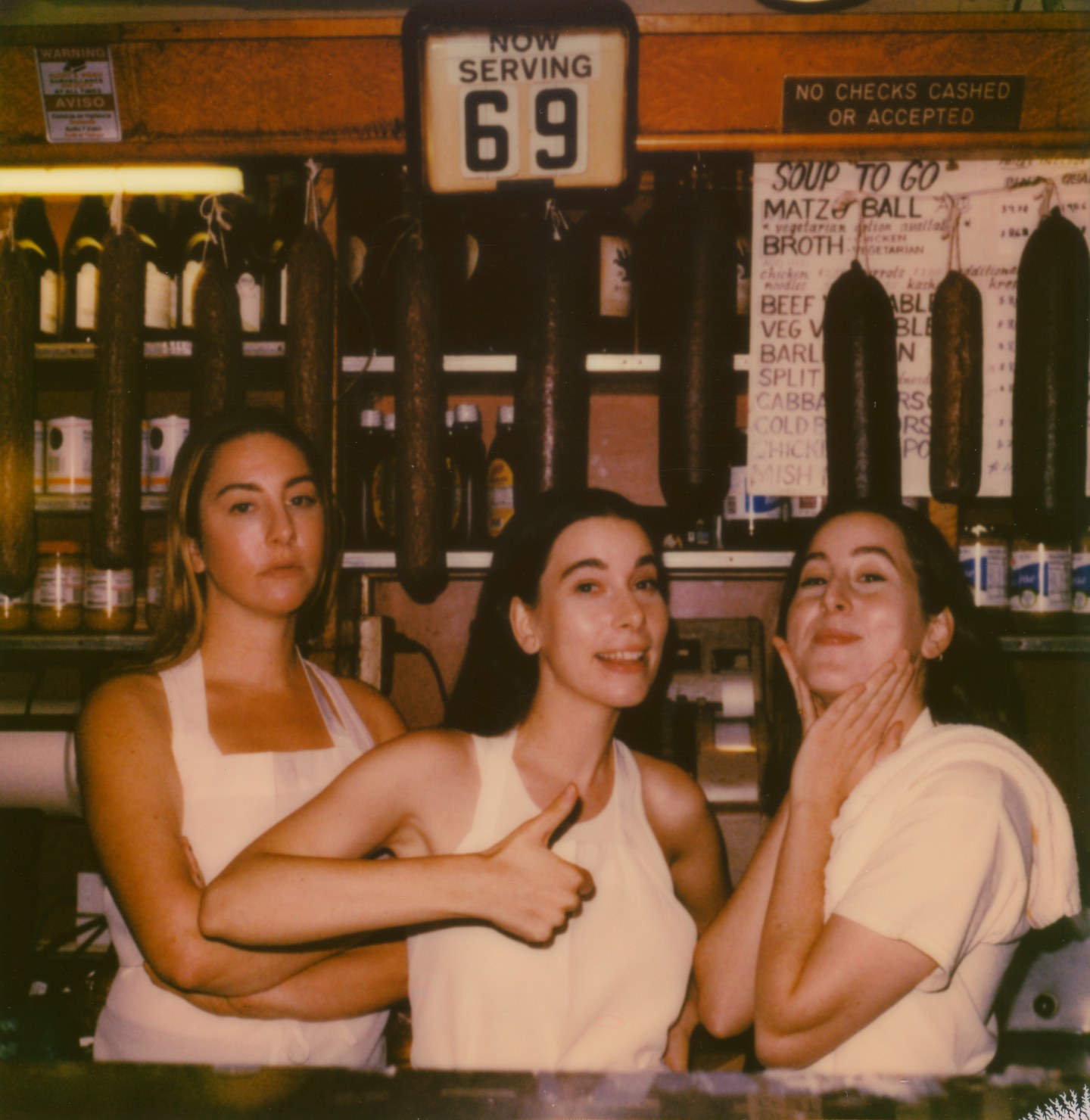 When HAIM went to the U.K. to tour Days Are Gone in 2013, they were told by the music press that they had a "California sound," an idea that baffled the sisters. "I don't even understand what that means," Danielle said on our first call. "In my mind, I wasn't pulling from anything. We were never pulling from things that were from California."
But everyone has an accent, even if they don't realize it until they're far away from home. After telling me that they didn't hear anything inherently Californian in their music, Danielle, Este, and Alana spent 20 minutes talking about the city and its mythos ("Did you know there's a secret tunnel that goes from the Houdini Mansion to the Blood, Sugar, Sex, Magic Mansion?!" Este asked me. "The tunnel under the street? Do you know about this?!") Cass McCombs, the crown prince of present-day Californian mysticism, plays guitar on two WIMPIII songs, "The Steps" and "Up From a Dream." One of the first things that Danielle and Ariel found they had in common was an upbringing in the Valley, a too-often maligned part of a city that is itself sneered at by New Yorkers. Danielle doesn't think she ever owned a set of headphones in high school, so committed was she to playing music through either her or Este's car speakers as she drove through the city. "Every time I think I might / Leave this city for the first time / I wake up on the other side / Wondering, was I just dreaming?" Danielle sings on "Los Angeles."
At points on Women In Music Pt. III, HAIM more fully realize a lonely Los Angeles — a city that, in the midst of a depressive spiral, ends up defined by long drives to nowhere, dust and fog on the boulevards, anxiety attacks magnified by a dearth of human contact. Danielle said she's always been a "loner," that solitude is her "weird comfort spot." But things got debilitating around Christmas after the Sister, Sister, Sister tour, when the city cleared out and started to feel like a "ghost town[...] it didn't at all feel like my comfort place. It felt like something was wrong."
It's easy to wonder if the long tail of a global pandemic will deepen that loneliness again, as it has for millions of people already. HAIM's music is supposed to be shared, shouted back in three-part harmonies by tens of thousands of people in between bouts of oddball banter from the stage. Listening to HAIM is supposed to be fun, even when the subject matter comes from a scary place. It's supposed to ward off the worst parts of isolation, that feeling of living in an inhospitable city or mindset. That's as important for the sisters as it is for their fans. You don't play a show on the other side of the world when your foot is swollen to the size of a large man's head just because you're professional — you do it because, deep down, you have to.
But there won't be any shows for a while. In the meantime, Danielle has been relying on the rituals she learned in the depths of her depression: cooking with whatever groceries she can get, speaking with her therapist on FaceTime, trying to write. And when that doesn't work, she falls back on hands down her favorite activity in the world: "Driving around and listening to music really loud."