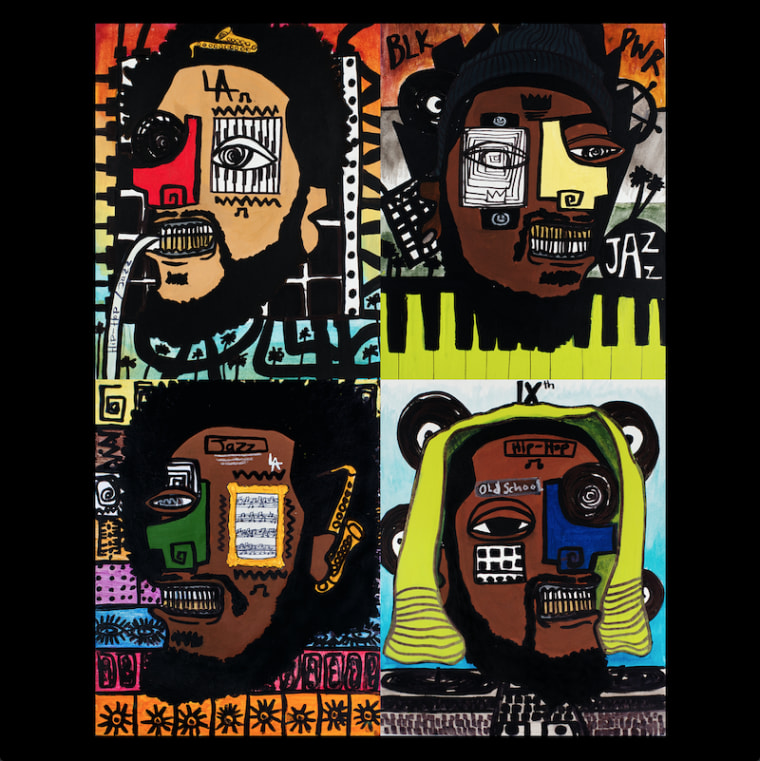 "A lot of musicians have so many fucking rules in their heads that they limit themselves," Terrace Martin says, halfway through an interview that's picking up pace as he talks about the intersection of jazz and hip-hop. "They know so fucking much, they don't know anything."
Martin is introducing one of the most formidable supergroup lineups imaginable, a crossover band called Dinner Party, comprising pianist Robert Glasper, producer 9th Wonder, and Martin himself sharing saxophone duties with the inimitable Kamasi Washington. It's a gathering of musicians that, on paper, looks as though it could be intimidating. But Martin, a producer and songwriter best known for producing Kendrick Lamar and YG as well as releasing albums as a solo artist, is keen to stress that Dinner Party is as laid-back as its name suggests. It's a meeting of four friends who could let loose in the studio, making music that sounds like a casual conversation. "We wanted to break that barrier down and just make it more about the music," he says. "Not about what anybody knows less or knows more. Just make something that feels good to the heart."
Dinner Party's self-titled debut, announced this morning and due out July 10th via Martin's own Sounds of Crenshaw / EMPIRE, is a seamless-sounding project, seven songs that sit in the sweet spot between 9th Wonder's throwback beats, Glasper's mellow keys, and the two saxophonists' melodic digressions. The Chicago-based singer Phoelix, best known for his work with Noname, adds vocals to five of the album's seven songs, sometimes as a lead vocalist, but just as often using his falsetto as complimentary instrument, sitting behind the horns. Dinner Party sounds like an instinctive project from a group of artists who've known each other for decades, and that's mostly true. But, Martin explains, it actually started out as an attempt to disrupt each of their creative processes.
Glasper and Martin came up with the idea last fall, on tour in London with another supergroup, R+R=NOW. Glasper has spent a career bridging the gap between jazz and hip-hop — those who caught his four-night tribute to J Dilla at the Blue Note in New York last year saw it clearly — but using beats as the cornerstone for a song was a fresh challenge. As soon as they returned home after the tour, Martin called 9th, a friend and collaborator with whom he's been in constant contact for years, and asked him to send over some ideas. Glasper and 9th had worked together before, on the remix to the Erykah Badu-featuring "Afro Blue" from Glasper's Black Radio, and he was excited by the opportunity to work with Washington for the first time.
The process from there was fluid. 9th sent a package of beats over from his North Carolina home in October, and Martin brought the rest of the group together in his Los Angeles studio to build on the skeletons. They didn't dwell on things, though. "We're not going to sit too long. Not a lot of talk in the studio," Martin says. "It's a lot of music. Good water. Good vegetables. Fruit. Good vibes. A lot of motherfucking weed. Gangsters in the studio, lovable people. It's such a mixture in my sessions, and we don't have a lot of time to discuss and break down shit. We just got to go. So when 9th sends something, we listen to it one time and say, 'Okay, let's break this motherfucker apart.' And we break it apart." I ask him if there was more improvisation between the three in the studio than there might usually be in a session. "More stealth," he says. "Not thought about."
Glasper agrees that the atmosphere in the studio was extremely relaxed. Martin and Washington attended high school together; Martin and Glasper attended jazz camp together at age 16; and Washington and Glasper used to sit in with each other at The Piano Bar in L.A. The trio even worked on a collaborative album together in 2017 as The Pollyseeds, helmed by Martin. "Our chemistry is very strong," Glasper says. "We all have a rapport with each other. It's like sitting down and having a conversation over drinks, and then we'll look up and be like, 'Oh, we recorded something.' You don't even realize it because it's literally just that simple. When you have the right chemistry with people, it's not hard."
Washington compares a session with Martin and Glasper to "working on a car with your dad or your brother," a process so natural that he needed to think about nothing except the melodies as they came up. "For this record we were trying to find spaces and places that we didn't normally go," he says. "A lot of that was allowing the music to dictate to us what we did instead of the reverse."
Dinner Party is clearly a product of its easy-going sessions, all four artists working in tandem, building on each other's ideas without trying to snatch the spotlight for any length of time. From the falsetto-fueled "Love You Bad" through the muffled and utopian-sounding "The Mighty Tree," it's a welcoming record, never intrusive — maybe even something to leave on in the background. That's no accident, Glasper explains: "This album, there's not so much going on. We did that on purpose. Some things might even sound unfinished, but it's because a lot of people, when they record, they put all of their thoughts and everything in every track. It doesn't leave the listener room to just think. I feel like this album is a house, and we're letting the listener move their own furniture in."
This is more than music to just chill and study to, though. Lead single "Freeze Tag" is the album's sweetest-sounding song, 9th Wonder's steady beat mingling with cooed harmonies, Glasper's expansive piano, and even a chime tree for blissful punctuation. But Phoelix's lyrics — no verse, all chorus — starkly lament the violence inflicted by police on Black people. "They told me put my hands up behind my head / I think they got the wrong one / I'm sick and tired of runnin'," he sings. "Then they told me if I move, they gon' shoot me dead."
"We always got to deal with the motherfucking police," Martin says of the single. "We're born into that being a topic. That song was just birthed out of that. That was the night [Phoelix] was in the studio just talking about shit he had went through, shit I had went through. I've been arrested by the police. I've been to jail. I fought cases, beat cases. Kamasi was right there. I rolled up some of this weed and I drank some of that organic tequila and we just got on with it."
9th Wonder sees "Freeze Tag" in a tradition of songs that sound sweet but deliver a striking message, particularly '70s soul songs like "People Make The World Go Round," made famous by The Stylistics. "It feels good, but it's sad," he says, "these feel-good-type of songs with these solemn type of messages. We call it pills in the applesauce."
"I like to call it the aspirin crushed up in the orange juice," Glasper says. "That's how my mom used to give me medicine."
"Light in the dark," Washington adds. "If you have a beautiful light that you want to see, you'll turn off the other lights. The only reason why we have a word for day is because there is a night."
Most of the supergroup's members talk about the intent behind their music, in Dinner Party and beyond. 9th Wonder is a professor, teaching the history of hip-hop at Duke, NCCU, and Harvard, so determined to have the genre considered "genius" that he'll play with almost anything that pushes it to new places. Glasper says that he's "introducing jazz to the young cats and hip-hop to the old cats," emphasizing a shared history to communicate essential ideas to a wider audience. "Those are two genres of music that were born out of concrete, that were born because of things that were happening to Black people in America," he says. "It was birthed out of necessity. They're both protest genres of music."
But, for Martin, the process is more organic. "It's kind of like now you wake up and breathe," he says. "You don't think about breathing. It's the same thing with this music. We've been doing it for so long, being in these fucked up environments and having to make these environments beautiful, despite what the system wants you to think or feel. We've had to make things out of nothing. All our lives, we've had to make things out of air."
His pace quickens a little more as he talks about an artist who recently sent him music that seemed oblivious to the crises outside. "You stupid fuck," he told him. "You complete stupid idiot. You have to look at the environment. You have to look at what's going on." Better still, he says, you shouldn't even have to look. "When you really pay attention to the environment, and you're really tapped in, you don't think about it. You live it. It's different. You've only got to think about it when you're faking it."
Dinner Party is out July 10 via Sounds of Crenshaw / EMPIRE.