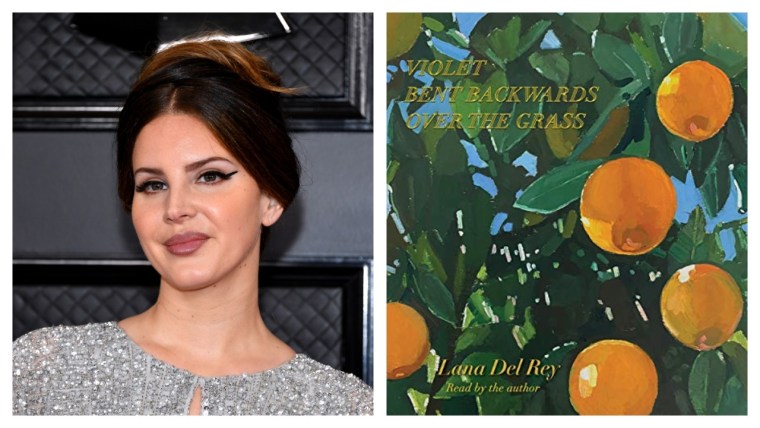 Information about Lana Del Rey's new book of poetry, as well as its accompanying Jack Antonoff-produced audiobook, has been detailed in product listings on Amazon and Waterstones sighted by The FADER. Violet Bent Backwards Over The Grass will be released in a 112-page hardcover format on September 29, while the audiobook version, previously described as a "spoken word album" by Del Rey, will run 33 minutes and be released on July 28. In the audiobook, 14 poems from the collection will be set to music by Antonoff. Violet Bent Backwards Over the Grass is also the name of a poem in the book, and is "the first poem [Del Rey] wrote of many."
"Some [poems] came to me in their entirety, which I dictated and then typed out, and some that I worked laboriously picking apart each word to make the perfect poem," Del Rey writes in a statement, "They are eclectic and honest and not trying to be anything other than what they are and for that reason I'm proud of them, especially because the spirit in which they were written was very authentic." Per the listings, Violet Bent Backwards Over The Grass includes poems titled "The Land of 1,000 Fires", "LA Who Am I to Love You?", "Tessa DiPietro", and more. Unlike previously stated, the book will cost more than one dollar. View the Waterstones listing here and the Amazon CA listing here.
Violet Bent Backwards Over The Grass was originally set for release on January 4; in her initial announcement, she described the record as "gritty." At time of its initial announcement, Del Rey stated that half the proceeds from the record would go towards Native American charities as a "reparative act;" an Instagram post from earlier this evening seems to indicate that is still the case, with Del Rey writing that she will be attempting to raise $1,035,000 for the Navajo Water Project over the coming month.