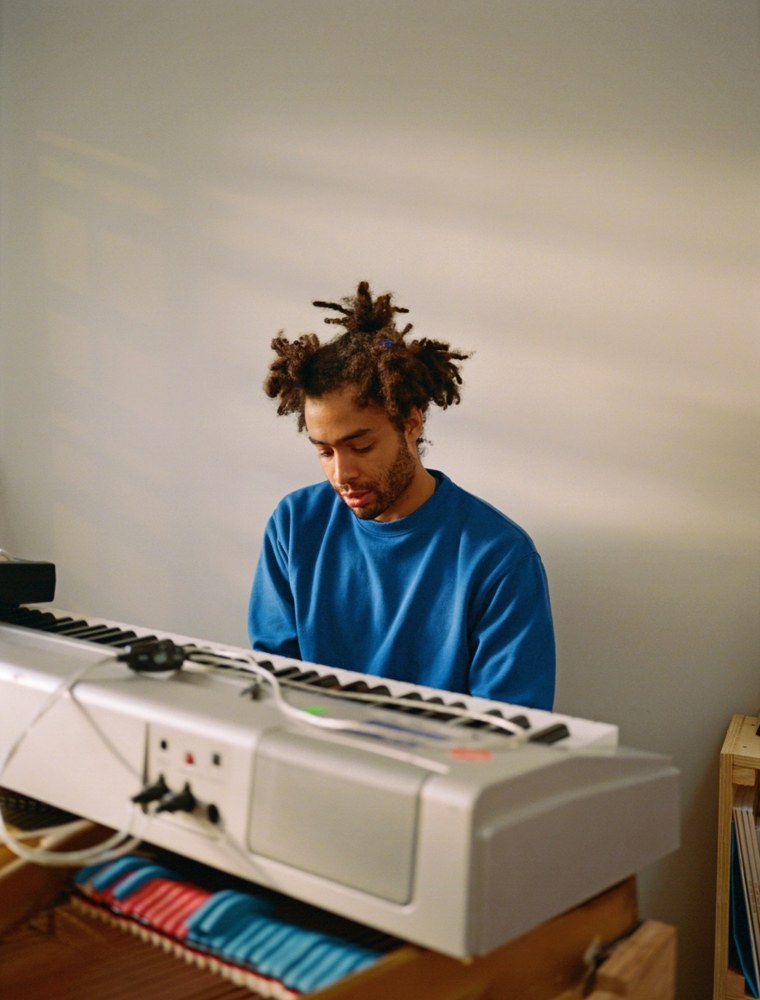 Duval Timothy has spent much of his remarkable career to date exploring his relationship with Sierra Leone. He's travelled to the Freetown peninsula to learn about traditional weaving techniques, which then inspired him to start the lifestyle brand and record label Carrying Colour. He brought his love for Sierra Leonean food to the Groundnut, which began as a supper club among friends in South London but soon grew into a cross-platform celebration of West African cuisine that spawned a critically acclaimed cookbook. And his music, a challenging but engrossing combination of winding jazz and free-form minimalism, has quite literally been in conversation with the country in which his father grew up — 2017's Sen Am, for example, foregrounded samples that he pulled from WhatsApp messages his family in Sierra Leone had sent, and 2018's 2 Sim was built from field recordings and interviews with loved ones in Freetown.
His new album, Help, is out on August 7 via Carrying Colour, and, though the record is less clearly devoted to the sounds and textures of West Africa, his conversation with Freetown is clearly ongoing. The record's first single, "Slave," a collaboration with Twin Shadow, twisted and distorted the transatlantic slave trade into a commentary on the music industry's most pernicious practices, even questioning the ethics of sampling by twisting Ibiye Camp's vocals out of shape.
Now Timothy is sharing another song, "Fall Again" featuring Lil Silva & Melanie Faye, which builds from a minimal piano into a swirl of voices, guitars, and interjections. "'Fall Again' is the product of a long collaboration between myself and Lil Silva," Timothy wrote in an email to The FADER. "The track started as a solo piano piece which Silva sang over. We developed the idea of the track becoming a comforting voice that could re-assure that things will be alright. We incorporated contributions from my brother Miles on the trumpet, Kwes on OP-1, arrangement by Rodaidh McDonald and Melanie Faye on guitar."
Timothy also expanded on the concept behind the video, which was shot in the Sierra Leonean fishing village of Tombo. "We discussed the concept of a loved one going away and the value of patience," he wrote. "I wanted to capture a local culture in Sierra Leone which involves people going away and returning at an unforeseen time. To shoot the video I assembled a small crew of friends from Freetown and headed to Tombo, working with the local chiefs, the harbor master and casting local fishermen in the key roles.
"We mounted our two fishing boats — one for the cast and one for the film crew — and set sail," Timothy continued. At sea we passed many larger fishing trawlers, which feature in the video — a reference to the under-regulated commercial fishing industry where international vessels exploit Sierra Leonean waters, often over-fishing, depleting one of Sierra Leone's major resources and in turn thwarting the efforts of the local fishermen depicted here. In spite of his best friend condemning fishing in favor of gambling and the overwhelming task ahead, our protagonist Ibrahim M. Kamara is strong and determined. After conquering the sea he returns only to find evidence that his good friend has left."
Watch the stunning video for "Fall Again" above. Help is out via Carrying Colour on August 7.