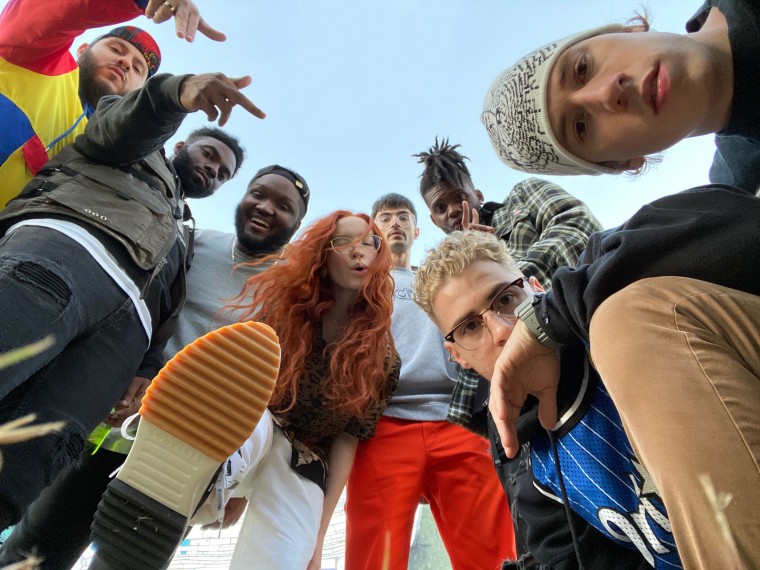 seeyousoon have built a solid online following since debuting earlier this year with "Steamy," a dextrous pop-rap track that sounded as though it could have been released at any point in the past decade. The Florida-based nine-piece is a mix of singers, rappers, and producers — Ignacio, Kenny, Denny, Maddie, Josh, Dre, Drex, Luke, and Mitch — with distinct styles and influences (they proudly put forward Jadakiss and The Mars Volta as inspirations). But their end product always has a radio-ready sheen; even the apparently confrontational single "Shut Up" comes off more stoned than furious.
Their debut full-length, VIDÉ, premiering in full at the foot of the page, is the perfect showcase for their populist tendencies. Here, styles and ideas blend together seamlessly, like a well-curated playlist, swerving from Kanye-indebted bars "BEN AFFLECK" into punk-rap chant-alongs ("EVERY TIME I DIE") to R&B slow jams ("ICFWT") without inducing whiplash. They're more BROCKHAMPTON than Odd Future, seemingly brought up on prestige streaming rather than grainy horror films. And there are enough hooks crammed into its 14 tracks to ensure viral success.
"This is a celebration of the things that make us different," the group said in a press statement. "It's like we're painting a picture. In color theory, there are three primary colors. In songwriting, it's similar, because you have happiness, sadness, and anger. Those colors are very easy to paint with. However, we're trying to paint with as many different colors as possible to tap into more nuanced feelings, which are harder to describe with words. It's interpretive and meant to transport you somewhere else."
Listen to VIDÉ in full below.