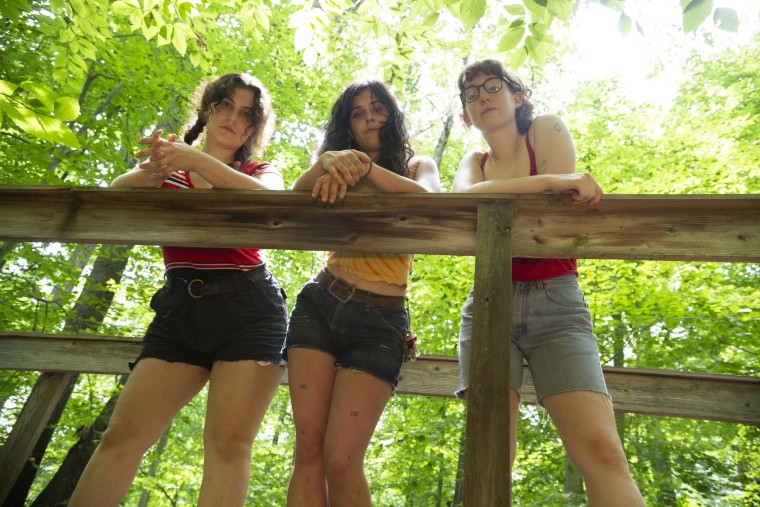 As Palberta, Ani Ivry-Block, Lily Konigsberg, and Nina Ryser are adept at mixing a bit of salt in with the sugar. It's almost immediately apparent on their cunning new single, "Something In The Way," when its happy-go-lucky bounce is hit with a thwack of jilted guitar. The minute you think you've caught on to that, they switch directions once again. Taken as a whole, the effrontery and all its obstructions make a strong case for spitting out what you've been fed.
In an email to The FADER, the group explained how the song came together: "Something in the Way" started as many Palberta songs do, with one person playing a drum, guitar, or bass riff and then the other two building off of that initial feeling. As usual, we frantically but carefully guided each other to the end of the song. When we got there, we found ourselves fading into a tricked-out looped fragment of John Coltrane's 'A Love Supreme.'"
"Coltrane's melody has a direct connection for us to our beautiful friend Pablo Ramirez, who passed in 2019. His view on life—"LIFE IS BEAUTIFUL LIFE IS IN COLOR LIFE IS A W A Y"—impacted us all in such a positive way, and his beauty and genuine LOVE of life lives on through the thousands of people that he blessed through meeting. We dedicate this song to Psplifff and his mother, the amazing Mammasplifff, and all the beautiful people on the right side of history showing up right now. We love you."
Hear "Something In The Way" below, via Wharf Cat, and be on the lookout for more from Palberta.