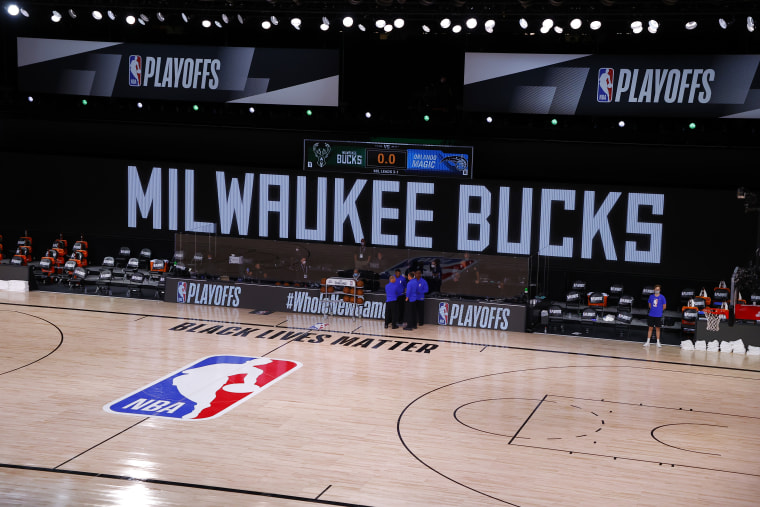 In a movement spearheaded by the Milwaukee Bucks, several NBA teams boycotted Game 5 of the NBA Playoffs in protest of the police shooting of Jacob Blake, a Black man, earlier this week. In addition to the Bucks game against Orlando Magic, playoff games between the Oklahoma City Thunder and the Houston Rockets; and the Portland Trail Blazers and the Los Angeles Lakers were also postponed on Wednesday.
"When we take the court and represent Milwaukee and Wisconsin, we are expected to play at a high level, give maximum effort and hold each other accountable," the Bucks players said in a collective statement. "In this moment, we are demanding the same from our lawmakers and law enforcement."
Shortly after the Bucks announced their decision LeBron James appeared to show support for the move.
FUCK THIS MAN!!!! WE DEMAND CHANGE. SICK OF IT

— LeBron James (@KingJames) August 26, 2020
Meanwhile, reports suggest that players from the LeBron's Los Angeles Lakers and Clippers are keen to boycott the remainder of the NBA season.
Before a packed room of teams in a hotel ballroom at Disney, the discussion is centering on whether to continue with the playoffs -- or end the season, sources tell ESPN. So far, there seems to be momentum not to play the three playoff games on Thursday, but nothing's decided.

— Adrian Wojnarowski (@wojespn) August 27, 2020
Sources: Every team besides Lakers and Clippers voted to continue playing. LeBron James said in meeting he want owners to be more involved/take action.

— Shams Charania (@ShamsCharania) August 27, 2020
The NBA protests are one of the most striking declarations of support for racial justice from sports franchises since the dawn of the Black Lives Matter movement. According to Matt Pearce of The Los Angeles Times, any team that strikes is opening itself up to potentially significant retribution from the NBA: the collective bargaining agreement with the league signed by the teams specifically bans any "strikes, cessations, or stoppages of work."
On August 23, Blake was shot seven times in the back by police in Kenosha, Wisconsin after authorities arrived on the scene of a dispute. Blake's lawyer Benjamin Crump claimed that his client was attempting to deescalate the fight before police drew their weapons on Blake and fired a taser gun at him. Video shared on social media shows Blake attempting to enter a vehicle with police following close behind, weapons drawn, before gunshots are heard.
Since Blake's shooting, protests have popped up nationwide, and armed far-right counter protestors have responded with violence. On Wednesday, 17-year-old Kyle Rittenhouse was arrested for first-degree homicide after killing two protestors and wounding one more during a demonstration in Kenosha.