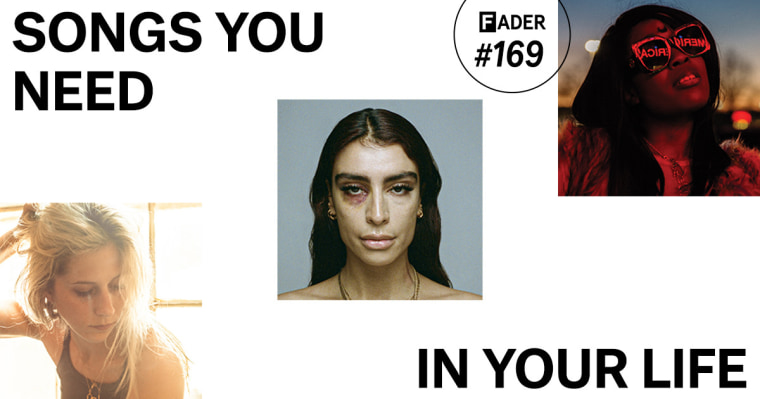 Each week, The FADER staff rounds up the songs we can't get enough of. Here they are, in no particular order.
Bbymutha, "11:11"
"He think we datin', I say / 'Sorry, I don't fuck wit niggas who don't fuck wit Satan.' He say, 'Jesus is the way' I drink his blood, now let us pray." Say less. Can't wait to blast muthaland this Sunday.
A.G. Cook, "Oh Yeah"
PC Music's founder takes a turn for the adult contemporary as only he can. "Oh Yeah" is the weirdo scion of Tom Petty's "Free Falling."
Quelly Woo, "Bacc Out"
One of the most promising new artists from the NYC drill scene shares a funereal smackdown anthem.
Chief Keef and Mike WiLL Made-It, "Bang Bang"
If you had told me in 2012 that Chief Keef's rapping would age like wine, I probably wouldn't have believed you. Yet here I am, listening to "Bang Bang" and hearing different nuances in Sosa's flows on each listen.
Porter Robinson, "Mirror"
Nurture is one of my most anticipated albums of... whenever it's coming out. Robinson's new songs are some his best, but the big beating heart on "Mirror" is something newly revealing.
Sevdaliza, "Habibi"
Sevdaliza is an autotuned angel on her new album Shabrang, specifically, one of those fearsome biblically accurate ones. On "Habibi," she brings it relatively down to earth: "Is there anyone out there to get me out of my head?"
reggie, "Southside Fade"
The upcoming L.A. based, Houston-bred artist has a neo-soulful rap that sounds studied over yet never too polished. One to watch.
Ela Minus, "el cielo no es de nadie"
It should be a crime to release full-throttle techno-pop this good during our rave-free quarantine.
Power Trip, "Executioner's Tax (Swing of the Ax)"