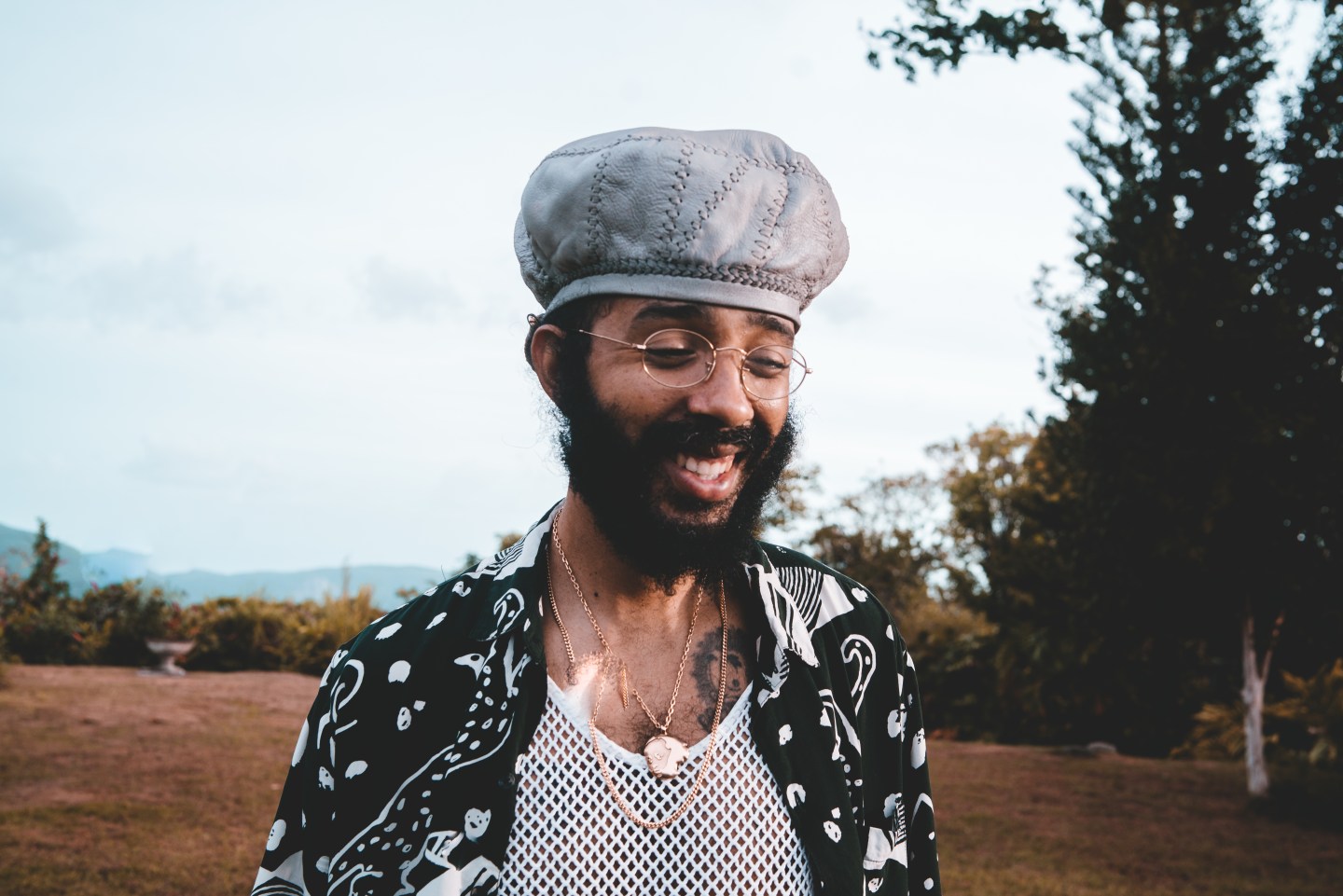 "I think it's important to keep your ears and your eyes locked into what's happening now so that you do not get complacent," the Grammy-nominated Jamaican artist and producer Protoje says. "Complacency is the worst thing that can happen to an artist." Now 15 years into his career, and with his sixth full-length project In Search of Lost Time out today, the introspective 39-year-old reggae artist is still searching for new inspiration and new artists to collaborate with, guided by the philosophy that a win for one artist is a win for the creative community he's worked hard to foster.
In Search of Lost Time is a masterful culmination of everything the artist is and represents. Its lyrics are honest and sharp, and its production is indicative of tried and true collaborations while bolstering Jamaica's emerging class of producers. Beyond the music, it was made with an admirable amount of intention in its design — Protoje worked alongside his creative director Yannick Reid to illustrate his vision — and acts as a means to chronicle the artist's journey thus far. "I want that in my time, where people look to my music and give what I'm doing attention, to make the quality [of what I produce] on par with global standards: visuals, cover art, music — with the way things are mixed, mastered, put out and marketed — to be very palatable, but at the same time, authentic and positive," he says over the phone from his studio Camp Habitat in Kingston.
It also comes on the heels of the artist's newly-minted deal with RCA x 6Course, which afforded him the opportunity to bring his InDiggNation label into the fold, along with its artists Sevana and Lila Ike. But there was an emphasis on creative control and autonomy within the pairing which gave Protoje, and his InDiggNation signees, full ownership of their masters. "I'm glad that RCA was very willing to do what we wanted and they've been very, very supportive," he says of the deal.
The project is a snapshot of where Protoje is in his life: stepping into fatherhood, continuing to empower the creative people in Jamaica he believes in, and articulating the highs and lows he touched along the way. On the punchy "Like Royalty" with Popcaan, Protoje expresses gratitude to the people who were formative in his early days as an artist (and paired with an endearing visual directed by photographer and Sprinter director Storm Saulter, it really is a thoughtful touch). On the fiery "Self-Defense" he critiques the world he lives in, speaking to police brutality and condemning the ills he sees in Jamaican society.
The FADER caught up with the self-proclaimed "junkie for inspiration" to discuss his new album, uplifting Jamaica's creative community, and why ownership for artists is important.
The FADER: Tell me about the process of making In Search of Lost Time.

Protoje: The process was a twofold thing. I started to conceptualize it in 2016. I went to Miami to meet up with [producer] Super Dups because I had some ideas. We worked through about eight songs which I thought would have been the core of the album. Years passed, I did another album, and then at the end of 2019 [in November] when my studio was finished being built — because I didn't want to record and work on the music until I had my own studio — I dived in. My first day in The Habitat I did "Same So", "Strange Happenings," and "Like Royalty", so it was a really awesome start. We spent the majority of time between February to April and May just linking up with lots of producers in studio and just vibing out the project. That's when the core of the album really came together.
Was this scheduled to have happened regardless of the pandemic?

It was on the calendar, but there was no chance of us making it if there wasn't the pandemic. I don't even know what I was thinking in terms of telling the label I could give them the three albums. It would have been an absolute disaster for the projects. For sure, now, I would say maybe Lila's project [The ExPerience] would have been done, but that would have been about it. If I didn't have the studio, either, it wouldn't have been done. So it was divine timing.
And the album's features?

For all the songs [that feature someone], those were the only artists I wanted for those songs. All the producers, the lineup of producers on the project, sometimes I just look at the producer tracklist and asked, "How did this happen?" Just really excited for people to get into it and for new audiences to hear this type of sound. I feel like In Search of Lost Time is really authentic and people out here [in Jamaica are] really loving it. But also globally, it's a sound that's very palatable to the new ear.
One of the themes that has sort of tied all your projects — Seven Year Itch, The 8 Year Affair, Ancient Future, A Matter of Time — together thematically is this exploration or concept of time. What is it about that makes it something that you want to return to so frequently?

In Search of Lost Time is by far where the theme is most underlined. The whole thing is me having my head down, being completely focused on music for the past 10 years and at the turn of the decade, looking up and realizing. [My single] "Arguments" was released 10 years ago, my daughter is three, my godson is 11, and I've only been there for two birthdays. My dad is getting to be 70. I haven't paid enough attention to the personal relationships in my life. I've been caught up with everything apart from what I ought to be. I was being turned away from studios in 2008. Now, I have my own studio. The whole album, from track one to 10, every song has something to do with just reflecting on what's around me and how everything has been affected.
I feel like In Search of Lost Time was an exercise in introspection and this desire to want to understand what's happened in the past, dote on it and the tracks were sort of your retelling of that and maybe what some of the things that you were thinking about.

For sure, and then the symbolism [of the album art] of my daughter running and I'm just two steps behind trying to catch up. Just in search of that time. The whole thing is a really, really well put together idea and very best listened from track one to ten to get the fullness of what I'm trying to do.
What kind of bar or precedent are you trying to set for yourself, your collective InDiggNation, and for the music and creativity that comes from Jamaica?

I just feel that Jamaican culture and music are at its peak. It's been so influential for years and decades. With the type of artists that I sign — Lila and Sevana — they're both very driven in the same way and I also want to leave that mark. I feel that, internally, it pushes all of us. Because I know Sevana's video is going to be the most highly curated thing, in my eyes I'm like, "Alright, my video has to be the shit." We're all not in any form of competition, but we challenge each other to be as best as we can be knowing that what each one does really accentuates the other. And then, just on the scale of music, seeing what Chronixx is doing, Koffee is doing, Shenseea, Jada [Kingdom], lots of people. There's lots of people that are really putting work and time into their craft. I just want it to be an example of that. So when people know that I'm coming around with music, everybody can be like, "Let's get the popcorn, and watch what he's going to be doing and watch what the standard is going to be."
What drives you to stay keyed in on who's emerging?

Oh, I'm a junkie for inspiration. I'm addicted to being inspired. You know how people like rollercoasters, they'll drive fast, they'll skydive or whatever it is they do trying to do to get a rush? That's like me when it comes to being inspired. I'm a proper music junkie. Lila will be like, "I thought I was obsessed with music," but she's like, "Something's wrong with you. You need to go get a hobby or something." I hunt for inspiration. If I hear, "Yo, there's this dope new producer," I want to put it to the test. I want to see if maybe this is the kid I've been looking for. I don't put anything past anybody. So even two years ago when I met Iotosh, I just heard about him and saw some work he was doing, [and said], "Let me go see what his meds can be." Two years later, he comes through and produces those two tracks — "Deliverance" and "Self-Defense" — on my album. If I didn't pay attention to him two years ago, maybe it wouldn't be what it is now. Me and Winta make dope music, but who else? What else is happening? What other things can I get up to? It's the same with artists. The artist thing was more direct because something that I've always wanted to do was artist development. From [when] I came out, I've been trying to do that like when I did Kabaka's first EP that came out in 2011, Rebel Music. But when I found Sevana and Lila at different times, it was the same thing. I had an out-of-body experience. I couldn't sleep in the night because I was like, "I can't sleep without knowing that I'm going to be involved in their careers." That's how I know how deep it was and for me. I like, being at the start of other people's careers. It gives me the exuberance to remember what it felt like when I was just coming out, and that keeps my drive going too.
I wanted to talk more just about this really amazing opportunity of ownership, creative control, and autonomy that you were able to advocate for, and at the level you were able to advocate for, when you got your RCA x 6Course deal. How did that pairing come about?

I was in L.A. and I just finished coming off tour in September 2018. I went to a Kylie Jenner party — very random — and I met a guy called AK there. He was at Adidas but was leaving to go work with his cousin, Archie, who was just leaving Interscope to go to RCA. He was just like 'Archie's going to RCA and he wants to do something different, what they don't expect, and he's a big fan. He likes the messages and what you're singing about.' So we went to meet him, we smoked all night, hung out, and I played Sevana's and Lila's music. He was like, "Bro, forget about being signed as an artist, you need a label deal. This is what I'm going to work on for you." He spent months trying to organize that. Then when we got our interview with Peter Edge from RCA, we kind of hit it off as well. He was telling me about his love for Jamaican culture, [his knowledge of Jamaican music from the] '60s to the '80s, how much he respects Jamaica as one of the meccas of music, and that he wanted to see us have a platform. The whole thing was more about a feeling than them saying, "Oh my god, you're going to come and we're going to make you big stars. You're going to be on top of the world." It was like, "We're gonna help build your music, help build the Jamaican industry, give it more of a platform, and that we have a chance to kind of set a precedent of what's possible and what's to come."
What does autonomy, creative control and ownership mean to you as an artist and why is it important?

I don't own my first two albums and it kind of bothers me on some level just because I'm the type of artist that I know what I want to do. I know what my vision was. My first album turns 10 next year and I can't do the things I want to do. I can't release a special edition with two extra songs or add an extra verse [onto a single]. That annoys me. Ever since my second album, I was like, "I'm never not owning any music I ever do again." It's just not happening at all and that's the opportunity I'm trying to give to my artists. That's why I cut them in on their masters. I'm like, 'Look, I can own all your masters myself, and you can take your advance and go and buy a car or do what you want to do, or you can invest back into your career and own your masters as well,' and both of them wisely were like we want to be on that shit where we own our stuff. That's the example I tried to set. Lila, from her first project, is an executive producer. At different points of your career, maybe you have to make a sacrifice and do a project and not own it to put yourself in the position, depending on what your circumstances are.
So I'm not saying it's a must, I'm just saying that there's different times for different things. Maybe my first two [albums] put me in a position where I can own the rest of my masters and all my artists can own the rest of [theirs]. Me and my mom, [the label's general manager] were like, "How come they're being so cool and generous?" My mom, at the start of negotiation says, "Look, nothing is written in stone, a contract can be anything. You could sign your masters for a loft in Manhattan, New York. You can do anything you want. You tell me exactly what you want and we're going to try and go for it." RCA was very supportive and has been very supportive in their process. Very involved, but also just very supportive of what our vision is and what we want to do. It's crazy because we did the two projects — Lila's The EXperience and Sevana's Be Somebody — and handed in my project. The conversation I get is, "Alright, bro, who's next one? Who else do you have your eye on? Who else do you want to put on?" It puts me in a position to be like, "I think this artist has a really good shot, then I can present it and then they can get on."