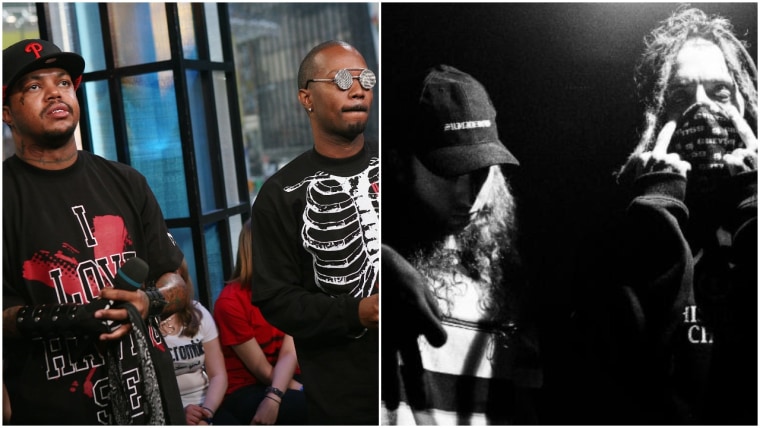 DJ Paul and Juicy J of Three 6 Mafia filed a $6.45 million copyright infringement lawsuit against $uicideBoy$ in June, according to a report in XXL. Paul and Juicy J are accusing the New Orleans rap duo of "illegally sampling and stealing" elements from 35 different Three 6 Mafia songs.
In court documents viewed by XXL, attorneys for Three 6 Mafia claim that $uicideBoy$ have received royalty payments from songs that lift elements from the original Three 6 Mafia compositions. They point to the Three 6 Mafia songs "Mask and Da Glock," "Mafia Niggaz (Yeah Hoe)" and "Smoked Out, Loced Out" as examples — the instrumentals for these songs were used by $uicideBoy$ and released online as "Ma$k and da GlocK," "BREAKDALAW2K16," and "Smoked Out, Loced Out."
"Defendants' infringing songs have garnered millions of streams on YouTube.com, Spotify, Soundcloud, and Apple music for which they have received royalties payments," the documents read. Juicy J and DJ Paul are seeking $1,200,000 for "compensatory and actual damages, including [d]efendants' profits from infringement, in an amount in excess of $1,200,000" and $5,250,000 in statutory damages.
$uicideboy$ have denied the allegations in documents reportedly filed by their attorneys. In their response, the group claim that Three 6 Mafia do not own the copyrights for the songs in question. $uicideBoy$ also claim that Juicy J verbally agreed to clear the samples as an exchange for the group's work on the Juicy J mixtapes Highly Intoxicated and shutdafuckup. $uicideboy$ note that they did not receive "any fees, royalties or other compensation for their production services, unpublished beats, and creative contributions" for either of the Juicy J mixtapes.
The FADER has reached out to representatives for Three 6 Mafia and $uicideboy$.