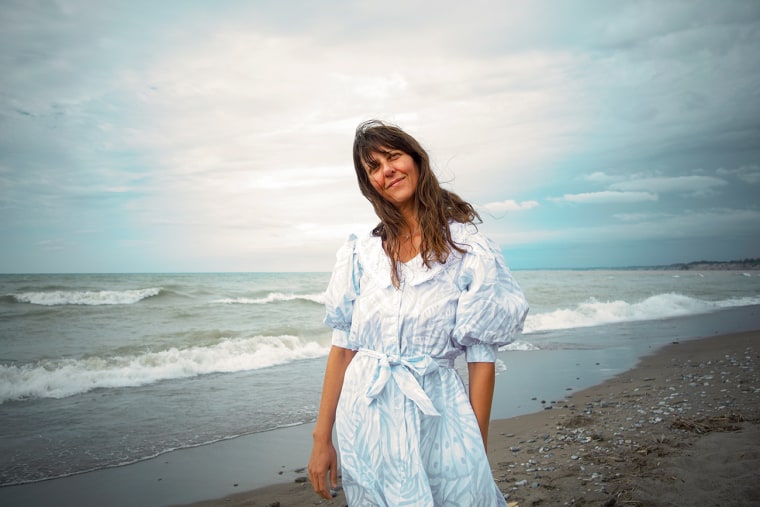 When she's not writing, recording, or touring, Jennifer Castle works as a doula. It is, she told The Globe and Mail after the release of her 2018 LP Angels of Death, a job that she has taken to quite naturally. "As a doula, every word counts," she said. "You have to speak clearly to someone who is uncomfortable or who is being tested with all of her patience. Sometimes that's a good spot to throw in a wordy person who doesn't have a fear of intensity. I'm built for this kind of work – I walk with light-swords on that level."
Castle has always chosen her words carefully, just as she has made sure that every quiet addition to her carefully crafted songs is purposeful. Her new album Monarch Season, announced this morning and due out on October 16 via Paradise of Bachelors and Idée Fixe, is on first listen her quietest record to date, a sparsely populated collection of songs written at her home in Lake Eerie and recorded alone. An occasional harmonica seems almost startling here; there is so much space left in the mix that she might consider crickets and lapping lake water to be collaborators.
But despite its apparent fragility on first listen, Monarch Season contains all of the intensity that Castle refuses to shy away from while helping others through childbirth. On "Justice," premiering below with a video animated by Jesi Jordan, Castle is alone with an acoustic guitar, singing a gentle folk melody, but her lyrics are pleading: "Justice, my sister / I need you this very hour / Where are you?" It is, Castle said in a statement to The FADER, a meditation on motherhood and its expectations.
"The duality of being heartbroken and hopeful at once unfolds from my heart into a continuum," she wrote. "Even in the broken place where I have only questions and fists, there is another, more powerful place, where I have hope and courage. Thrust upon many mothers is the assumption we can find hope at all costs, in any condition, even when great injustices have occurred. The world looks to mothers as a symbol of hope and strength. This song is by them, for them. And for all the people, young or old, who might need it."
Watch Jordan's video for "Justice" below and pre-order Monarch Season here.