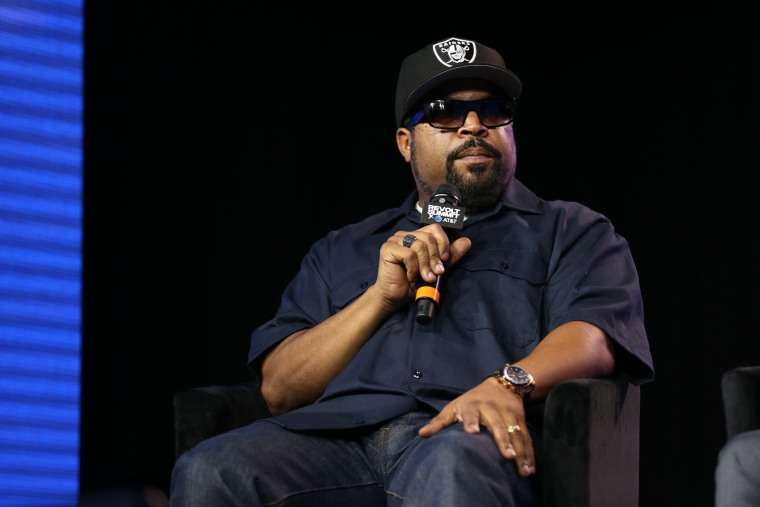 Ice Cube is a rapper known for music that takes a bold stance against white supremacy and police brutality. His most recent album Everythang's Corrupt, released in 2017, contains the single "Arrest The President," a song targeting President Donald Trump. Songs like these are why the rap world reacted with shock and outrage on Wednesday, when Trump Campaign Advisor Katrina Pierson thanked Cube for his work on the "Platinum Plan," a political platform targeting Black voters.
On Twitter, Cube said that both Democrats and Republicans contacted him to discuss the "Contract With Black America," his own set of policies. "Dems said we'll address the CWBA after the election," Cube tweeted. "Trump campaign made some adjustments to their plan after talking to us about the CWBA." In a subsequent post, Cube said he had intended to speak with "both sides of the isle [sic]" about the proposal.
In subsequent tweets, Cube clarified that he had not endorsed Trump's reelection, and took a skeptical tone with intentions of the country's political parties. "Every side is the Darkside for us here in America," he wrote. "They all lie and they all cheat but we can't afford not to negotiate with whoever is in power or our condition in this country will never change."
Racial income inequality between Black and white Americans has indeed exploded over the last three decades, but Trump has been president for four years, and has been accused of anti-Black racism and business practices well into the '70s. The likeliest explanation for the Trump campaign meeting with Cube was to secure an association with an elder Black cultural statesman, a potential political boon, in exchange for a few promises that can be easily discarded.
However, Cube still sees himself as a player, not a pawn. Cube discussed the controversy on V-103's The Morning Culture show today with host Big Tigger. Despite being a "staunch Democrat" his entire life, Cube claimed that his priority was focussing political pressure and engaging with power regardless of party. "We can't be looking for a lesser evil, they all evil," Cube said. "We have to push our program and make people do what we need them to do."
Paradoxically, Cube seemed to emphasize that he did not believe that politicians would actually follow through after being pressured. "Now, do I believe Donald Trump? Do I believe these politicians and what they gon' do? Hell no." He also clarified that he has never met Trump, but suggested he wouldn't be opposed to it. "Every person I know trying to get something done has talked to power so that's nothing, that's a part of it. I expect to talk to every damn president until we get this contract done."
Listen to the full interview below.