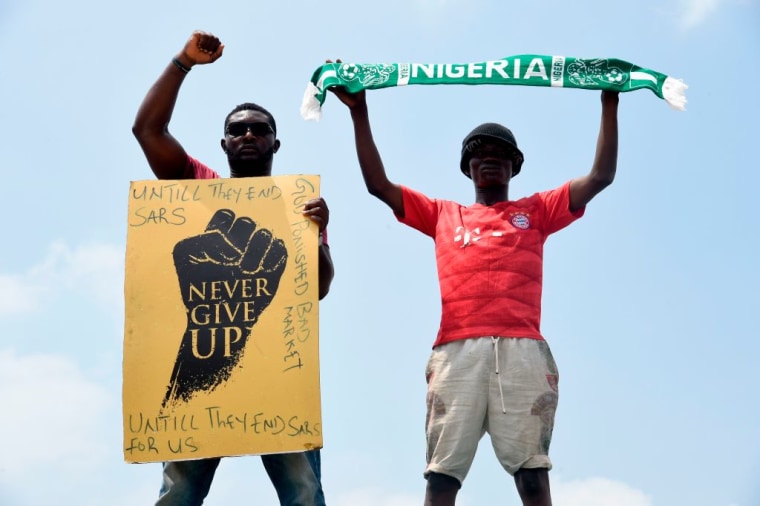 Beyoncé is among a number of musicians and other public figures who have spoken out about the Nigerian government's treatment of people taking part in protests against police brutality in the country. Reports from Lagos on Tuesday suggested a number of protestors were shot dead when soldiers opened fire, with up to 12 deaths reported and Amnesty International claiming it had "credible reports" of fatalities.
The army dismissed these reports as "fake news" while President Muhammadu Buhari has appealed for "understanding and calm." Lagos is currently under a 24 hour curfew amid the rising protests, which began earlier this month in response to the SARS police unit. SARS () was synonymous in the country with police brutality, and its abolition was the focus of a number of protests in recent weeks. However, protests continued with people keen to have their voice heard about broader problems with the police as well as demanding compensation for victims of police violence.
Writing about the reports of violence and disturbing images filling social media, Beyoncé wrote: "I am heartbroken to see the senseless brutality taking place in Nigeria. There has to be an end to SARS. We have been working on partnerships with youth organisations to support those protesting for change. We are collaborating with coalitions to provide emergency healthcare, food, and shelter. To our Nigerian sisters and brothers, we stand with you. Please visit beyonce.com for a list of organisations to show your support."
Rihanna, meanwhile, posted an image of a protestor holding a blood-stained Nigerian flag on her Instagram Stories and wrote: "I can't bear to see this torture and brutalisation that is continuing to affect nations across our planet. 'It is such a betrayal to the citizens, the very people put in place to protect are the ones we are most afraid of being murdered by. My heart is broken for Nigeria. It is unbearable to watch."
#ENDSARS 🇳🇬 pic.twitter.com/59lrs8JnDA

— Rihanna (@rihanna) October 20, 2020
Others to comment on the situation in the past 24 hours include Nicki Minaj, Star Wars actor John Boyega, Naomi Campbell, and more.
Standing with & praying for the brave young people of Nigeria who are on the front lines of this senseless violence. Your voice is being heard. 🇳🇬 #EndSARS

— Mrs. Petty (@NICKIMINAJ) October 20, 2020
I am in London and Im doing my best to make sure sanctions are imposed against Nigerian Government Officials. I need all citizens of all European countries ,America , Asia EVERYWHERE to please Do the Same. THEY MUST ALL PAY!!

— Burna Boy (@burnaboy) October 20, 2020
There is a massacre happening in Lekki. Firing squads mass murdering young people in Nigeria. The world needs to engage #endSARS

— Chance The Rapper (@chancetherapper) October 20, 2020