Oklou levels up
Marylou Mayniel ventured into the Spanish wilderness and returned with her valorous debut project, Galore.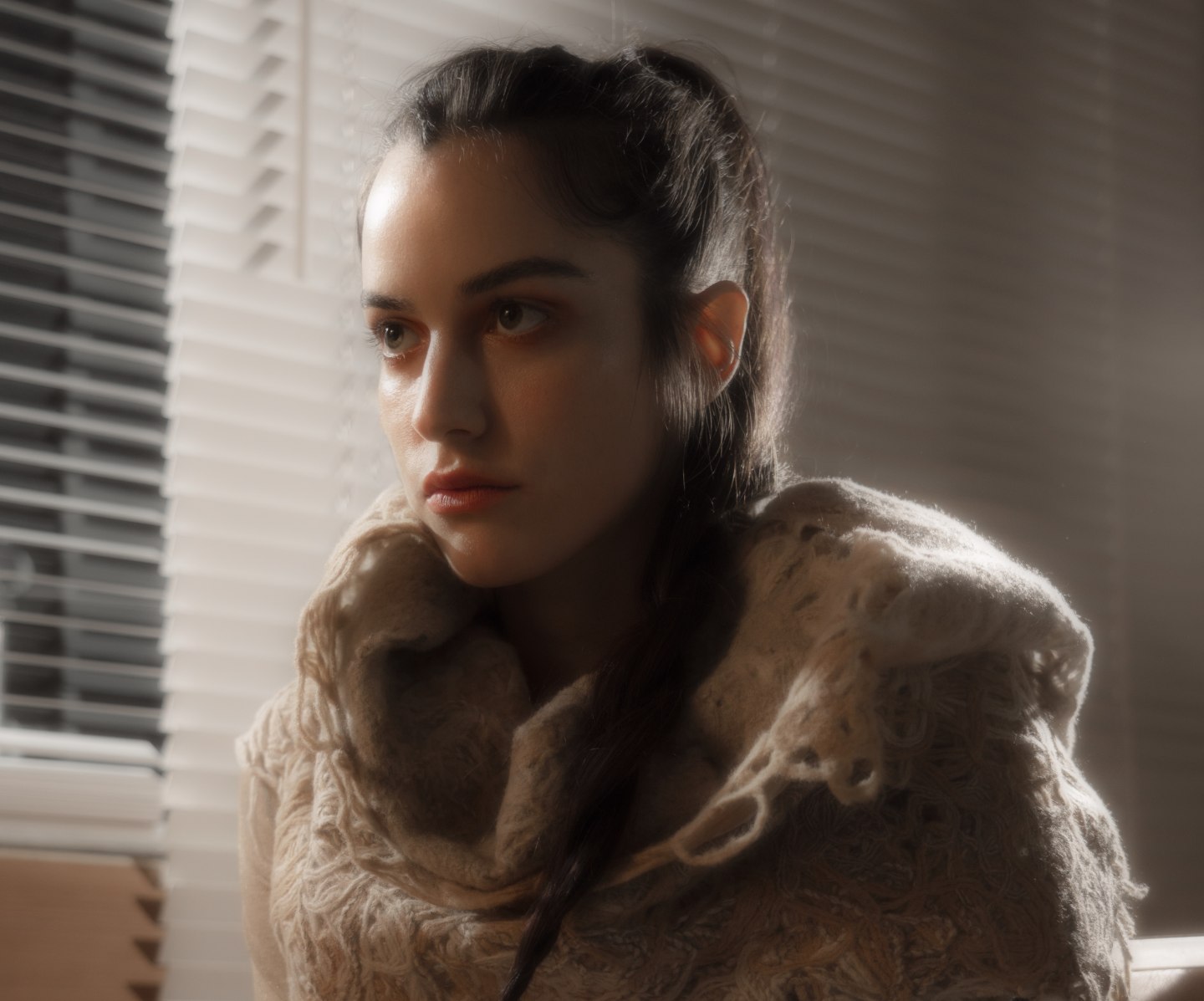 The bedroom Marylou Mayniel sits in is empty save for some billowing white curtains filtering beams of sunlight. Working her way through some kind of rolled cigarette, she looks like she could be on the set of one of her videos — "Forever," "God's Chariots," and "I Didn't Give Up On You" all project similar scenes — but today, she's just helping some friends move out of their apartment in Paris. This summer, she briefly managed to escape the sedate bustle of the post-lockdown city, spending time in the rolling valleys of southeastern France, though "not the wonderful coast," she clarifies. "Really isolated places where there is nothing around. That's the only thing that I did this summer."
Last October, with the majority of her debut project Galore already written, she plotted a similar escape with Toronto pop experimentalist (and Club Quarantine founder) Casey MQ. The two had met years prior and almost instantly found a mutual understanding that's audible on their co-produced 2017 EP For The Beasts. "Marylou has a joy in her that's so beautiful. She has the innate sense to get to the heart of what's happening," MQ says. "When she first shared her new songs with me, I was immediately taken aback. I kind of knew where a lot of the stuff was coming from, this very specific place. The more we talked about it, the more it felt so natural to continue the project together."
They set up camp in a converted dove house perched in the mountains of Serra Calderona, just outside of Valencia, Spain. "It was pretty secluded. I'd have to walk down the hill to the end of the street to hold up my phone and try to get some wifi. We'd have to walk 45 minutes just to get food," Casey recalls. "That brought out a certain dynamic in our friendship and our work. We felt like we were inside what we were making." The sounds of the mountains are speckled throughout Galore: crickets chirp, trees sway, feral dogs howl. Nestled in a provincial village embrace, Mayniel's fluttering synthpop hymns call out into the night with the expectation that someone will receive them.
"There is a story of escapism on Galore," she explains. "I've projected a universe that doesn't exist: a place where I would be alone singing and writing. These songs are supposed to happen in that narrative that I've used to write them, in the world I've been predicting. It was so nice in Spain to be in those mountains, because it was that place I always imagined. But I was there for real."
Still, Galore exists in a place that isn't immediately tangible. "I pull the phone close to my chest, just to feel closer to you… go online where it started, somewhere I can be with you," Mayniel coos over softly trumpeting synths on the title track, giving into screenbound gestures and granting them sentience. It's a beguilingly barren song, the one Mayniel says she loves the most on the record.
Galore mines its strength from these moments, lunging into emotional exposure with RPG-like valor. On lead single "Unearth Me," she ignites with the sole intent of being salvaged from the debris: "neither of us are ever gonna say it, but we need this smoke to breathe." She's singing it to a partner, but she could just as well be singing it to herself. Is it possible to dig deeper? To burn away the artifice and resuscitate what remains with tender care?
"I found the right language to express everything that I wanted to express, and to be vulnerable like this," she explains. "It's important for me because that has not always been the case. When I was a teen at music school, I played cello at a quite high level. Technically I was very good, but my teacher would tell me sometimes that I was playing with not enough emotion. I was very triggered by that. If I can't let my emotion transpose, what's the point of making art?"
She says that working with Casey helped her to fully realize the sonic topography of those emotions: "He really helped me understand all these things. He had the ability and the position to step back and have a wider view on everything. I felt his presence as a friend, when I was going through what was happening with my relationship. Beyond the writing of the mixtape and what it means to me, I think one of the most beautiful things I got out of it is the collaboration and the friendship with Casey. That's one of the reasons why I'm so grateful that I had this experience and that I love the music so much. It's thanks to him, actually.
Mayniel has spent the better part of the past decade writing music, but admits she's never before felt so emotionally attached to her work. "When I create some songs, I notice whether I'd be okay to give them away to someone else, or if I would absolutely not." She says that seven or eight of Galore's tracks fall into that sacred latter category, but that a few could have been rehomed, such as "Another Night," an old demo reworked to fit the penultimate spot on the tracklist. It's a bit of pop alleviation ahead of the record's most challenging moment, "I Didn't Give Up On You."
"I hurt myself [writing that one]," she explains. "It's tricky, because it's about breaking up, but I say something in the song in a way that you understand that I actually did give up on that person."
"Most of the times I've written pop songs, I would try to sound empowered," she continues. "I guess it was just not me. I didn't lose time, but I spent some time trying to find how I could incarnate. I feel so empowered with Galore, but I think the word empowerment is not just strength, it's the way any woman does whatever she wants and feels free to talk about anything she's feeling. So I've answered that question I had for myself for years: What is my definition of being strong? And I think maybe I know better what it means now for me."
Hearing Galore back as a singular body of work assures her that the crusade for emotional lucidity was well-won "The day I received the masters, I had a listening session in my home. I wanted to film myself doing a reaction video, like the ones you see YouTube," she remembers, laughing at the seeming mundanity of it all. "Three minutes into it, I burst into tears. For the first time I didn't hear what needs to be changed, or what needs to be worked, but just listening to it as just what it is, and as a finished product. So, the video is just me crying for 50 minutes. It's really not what I was expecting. But it's funny."
Galore is out now via True Panther.