LOWERLIPDRIP is ready to be timeless
The Chicago-based duo has always been wary of the digital landscape that made them. And for good reason.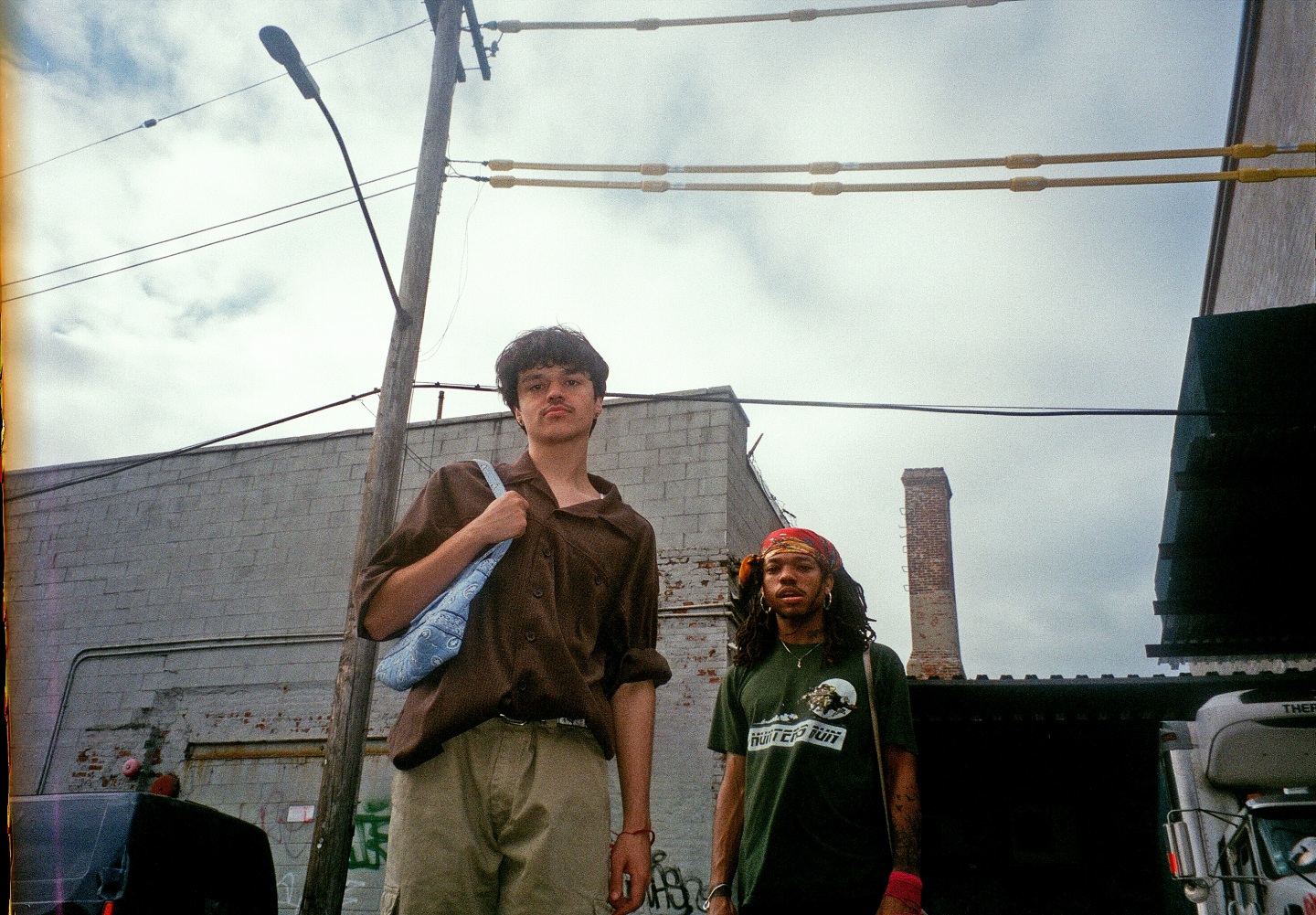 "I have an MF Doom tattoo on my neck." blackrobeBLACKROBES moves their locs and points to their nape, rattling the mysterious rapper's name off as they list those who've informed LOWERLIPDRIP, the duo they formed with Dew Haydn in 2019. The pair's strongest musical influences are similar enough to make perfect sense of their synergy. "My father made sure I heard Illmatic at a very young age," Haydn says with a laugh. "A lot of Kanye, and as soon as I got a hold of Youtube, I saw Odd Future and just wanted to be that immediately."
Similarly, blackrobeBLACKROBES' discovery of the Los Angeles collective was an early springboard into making music altogether. "All the people I looked up to were unique enough to stand out in a more, I guess, experimental way," they explain. "Odd Future, Kanye, N.E.R.D. — seeing them made me think, 'Oh, this is possible.'"
What pulls you into LOWERLIPDRIP's lair is their boundless energy, ardently trading bars about everything from politics to the internet to art school over blackrobeBLACKROBES' ever-evolving production. It's energy you can immediately imagine in person, quickly crisscrossing the stage of a packed venue with the fury of kids at recess. Equal parts artsy, youthful indiscretion combined with the self-assuredness of older and wiser years, the pair's music is gritty, pulsating, and forces you to see the world from their point of view, much like their video for "FERERFAREFAIRFERERFAREFAIR". It's contentious in all the best ways.
Both mainstays in Chicago's sprawling underground scene and members of creative collective Black Marsh, blackrobeBLACKROBES' and Haydn's paths crossed a few years before they finally started making music together. "We were doing music on our own, supporting each other and going to each other's shows until we realized we could probably do more damage together as opposed to whatever it was we were doing at the time," Haydn explains. Working mainly alongside their collective — a group of local artists including Don't Be Kendall, Cameron Bolden, and Eric Sampsun, who also happens to shoot all their visuals — they rarely go outside of their bubble. "It's still kind of difficult to tell people, 'Yo, we do all our art ourselves, we do all of [our] production,'" blackrobeBLACKROBES explains."That's not to say that the beats they send us are terrible, it's just not where our head is at."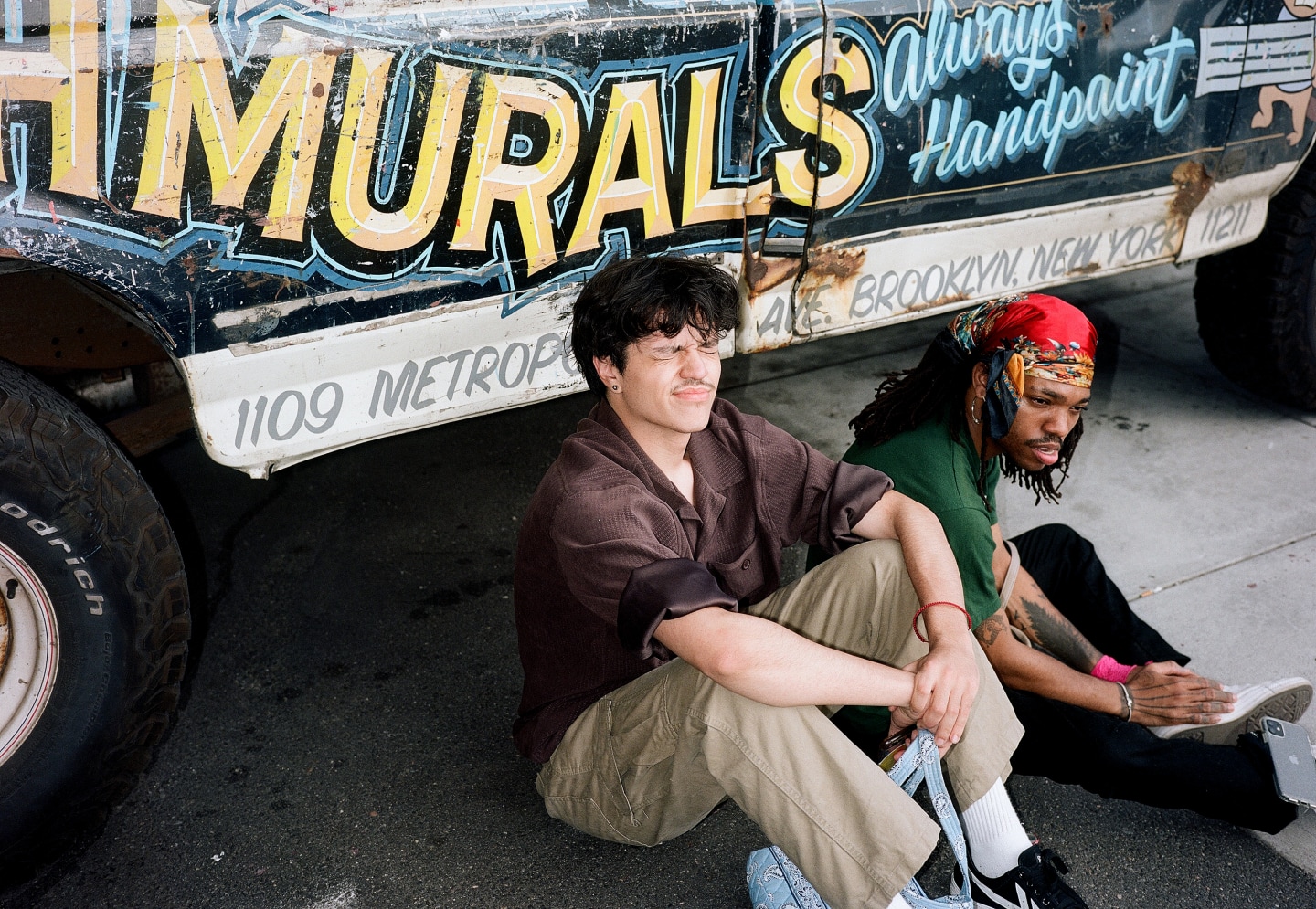 While blackrobeBLACKROBES handles the vast majority of the production, the duo's combined lyrical prowess guides them from absurdism to staunchly political bars. "A lot of stuff I make, I'm trying to make it sound like this movie that I'm watching with this little twist to it. Like, what this bird looks like, or what this bug does, random shit," blackrobeBLACKROBES says, explaining their process. "The outcome is always something that nobody else would have thought about at the moment."
So far, the rappers have released five two-track singles, each record venturing further from the analog-like warmth of their early music and deeper into experimental territory. With the release of Home, Fred Hampton and I Put My Whole Life on the Internet in 2019, and Everything is Fare earlier this year, their sound continues to veer into more industrial terrain with artfully muddy drums, claps and clanks melding together behind increasingly urgent bars.
It's obvious from their output and inspirations that the internet sits at the forefront of how LOWERLIPDRIP understand the world around them. On tracks like "Livestream," the duo rap about killing members of the alt-right group Proud Boys and dying on live stream. "I am not shit, I'm an object / We have been bought, what's the price tag," Haydn repeats later on in the track. It's bleak, as much of online culture has the propensity to be, but its place in their lyrical canon serves as more satire than reminiscence.
"I'm pretty repulsed by internet culture. We put out I Put My Whole Life on the Internet basically as a 'fuck you' to it," Haydn explains. "My baby cousin is not even 4 years old, and when he doesn't have a smartphone in his hand, he bites his nails and gets visibly anxious. That's disturbing to me. Our perception of reality is distorted."
Listeners could easily oscillate between the frenetic energy of the duo's non sequitur delivery and their music's political core ("I'm pro-Black, bitch / get it right," Haydn raps on "Live Stream.") but LOWERLIPDRIP is quick to stress just how calculated their work is, subtly and otherwise. "One second, orange man has COVID, the next second he doesn't. We're all in the Twilight Zone," Haydn explains. "It has to be in the music. The sound of the songs might change, but the politics will always be there." blackrobeBLACKROBES' approach is even more understated: "We don't have to keep saying it, but it will always be in the music," they say.
V, the duo's second single of 2020, is a far funkier take than their previous offerings, — less "dire", as Haydn describes it. While the sense of urgency in their lyrical takes remain, the production is much more buoyant. This time, bouncy basslines, softer synths, and chords take the place of more arresting production. The pair are more playful, less overtly political, but just as impactful. "It sounds like when a little kid is soaring and making plane sounds, that's what it sounds like to me. We're trying to make escapism music," Haydn explains.
"FLAWLESS" sees the pair tackle romance and their non-binary gender identity ("I can't end up on Maury / explaining my gender while I plead I'm not Papi,"), while the wide-reaching "SCANDALOUS" is self-reflective and self-critical at the same time. "The idea behind the project is we're all human and we all make mistakes, and sometimes we can be the enemy we're trying to protect ourselves from," blackrobeBLACKROBES explains.
Young artists, especially ones as dedicated to a DIY approach as LOWERLIPDRIP, will always welcome frequent evolution. If their previous releases are any indication, listeners may very well end up with a brand new pair of rappers with each outing. It's this continued progression, this consistent motion, that feels like it will propel them into cult-like longevity.
"In a decade, I see myself being responsible for making my favorite album of the year," Haydn says. "That's all I care about."