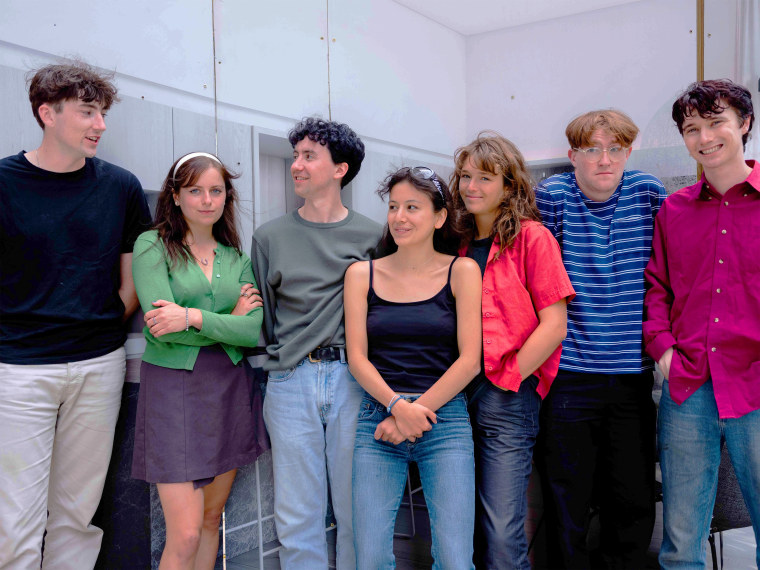 Black Country, New Road have taken time with their debut album. Had they had it their way the British band's debut would have come soon after they first emerged in January 2019 with the spiky and acerbic "Athens, France,", a post-punk song that referenced both Jewish folk sound klezmer in its musical palette and Ariana Grande in its dry and biting lyrics. In fact, only one song has followed since then ("Sunglasses" arrived later that same year), something of a rarity in a world where flooding the streaming services is the go-to model. Despite, or perhaps in part because, of this mystique they were branded "the best band in the world" by The Quietus and sparked something of a bidding war between labels in the U.K. keen to work with them. The result is For The First Time, due February 5, 2021 via Ninja Tune.
It's an exciting time in a band's life, sharing their opening statement, yet frontman Isaac Wood seems keen to downplay it all. Speaking earlier in the year on a Zoom chat with bandmates Tyler Hyde and Lewis Evans, he says that the album is "less of a conceptual thing or a massively considered set of song but a true document of what we were doing in our first year." Evans seems to agree, the sax player seemingly keen to move on to whatever comes next. "There will be a clear delineation between these first 18 months (an era he refers to as "phase one") and what follows. We've gone in a new direction and are writing with a new ethos."
Neither of the band mates are giving it the hard sell but then maybe they don't need to. Black Country, New Road's music has a magnetic appeal that defies the need for any posturing. New single "Science Fair" is the perfect introduction to their intense sound, a mix of squalling guitars going head to head with viola and sax loops to create a richly textured backdrop for Wood to vent. Wood's sprawling lyrical style, think somewhere between Mark E. Smith and David Thewlis's sardonic Johnny in the Mike Leigh classic Naked is a rich text. "Science Fair" concludes with him proclaiming "it's black country out there!" before the song collapses in on itself. In another world it would be the centerpiece of Black Country, New Road's epic live show.
"If I spend 3-4 hours alone I sort of start talking to myself and stuff pops into my mind that I think is a bit funny," Wood says when asked about his lyric writing process. "I build a big collection of that stuff and retrospectively try to work out how they fit together. Then I'll flesh things out at the computer and edit, edit, edit." He namechecks both Kurt Vonnegut and They Might Be Giants as influences on his witty, esoteric spoken word delivery.
Black Country, New Road have kept a low profile through sparse releases and a quiet social media presence ("our job is to be musical entertainers. Anything else undermines that," Wood says at one point), preferring instead to focus on live shows. The band found their feet playing DIY shows at south London venue The Windmill. The tiny Brixton venue has played a major role in breeding bands in England's capital in recent years, with Fat White Family, Shame, Jockstrap, Squid, and Goat Girl all regular fixtures on the stage with whom they have toured and collaborated. Wood recalls being "gobsmacked" seeing Black Midi play an early gig there and being left "in awe." There is little linking these bands musically but everyone associated with that period of time shares a youthful energy and a must-see live show.
Capturing Black Country, New Road's on-stage energy was My Bloody Valentine producer Andy Savours' job when laying down the six songs that feature on For The First Time. In a time when hitting the road and playing live isn't an option, Black Country, New Road are feeling the absence more than many. Wood talks of "people putting themselves out there and doing something quite risky in an intimate environment for 50 people who you end up drinking a Coca Cola with afterwards," Evans, meanwhile, adds: "There's no better feeling than going out there and smashing it." Black Country, New Road are keen to keep on smashing it and know that the long-awaited release of their debut album will push them further into the limelight than ever before. They feel comfortable with that, so long they feel the same cathartic release when stepping off stage. As for other ambitions? "Doing the next Live Aid would be good," Wood says in typically droll fashion. That may be one stage too far but Black Country, New Road's open-minded ethis is about being open to any possibility. If the world needs saving, maybe they're the band to do it.