Serj Tankian on the threat of genocide in Artsakh
The political activist and System of a Down lead singer says he sees a "high probability of genocide of Armenians" as shelling continues in Nagorno-Karabakh.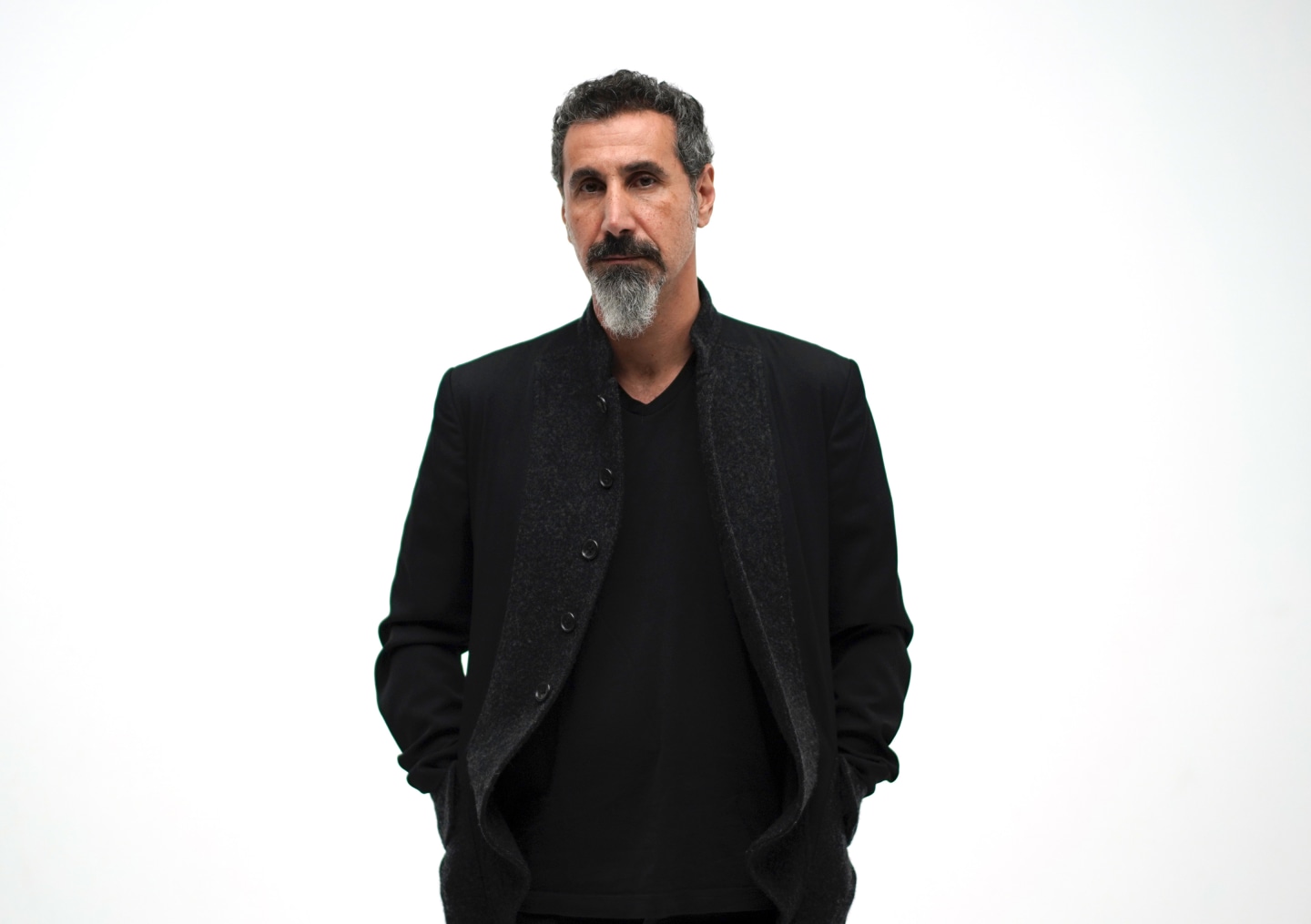 Throughout his career, first as the lead singer of System of a Down and more recently as a solo artist, Serj Tankian has been a political activist. His progressive worldview is written into his music — take "Temper," "B.Y.O.B.," and "War" for starters — and he's equally outspoken whenever he steps off stage and addresses the media.

An Armenian-American whose grandfather survived the Armenian Genocide of 1915, Tankian has been particularly vocal about the plight of Armenians and the danger of genocide denial in the 21st century. That danger has come to the fore again this month with a war as shelling continues in the Republic of Artsakh, also known as Nagorno-Karabakh, an overwhelmingly ethnic Armenian enclave recognized internationally as a part of Azerbaijan despite running its own affairs. Many scholars and observers warn that a genocide against ethnic Armenians in the Caucusus is either imminent or already underway.

The FADER spoke to Tankian on a video call last night (Thursday, October 29) to discuss the situation in Artsakh. This as-told-to has been edited and condensed for clarity. — Alex Robert Ross

Serj Tankian: After the Nagorno-Karabakh War ended in 1994 a ceasefire was signed and the Armenians of Artsakh were able to establish a republic, a modern democracy with its own parliament. Azerbaijan has never forgiven the Armenians for winning the war. Since then, from a young age, children in Azerbaijani schools have been taught to hate Armenians while the President of Azerbiajan, Ilham Aliyev, dismisses the Armenian Genocide of 1915 — in which Ottoman Turkish forces systematically massacred 1.5 million Armenians and sent others seeking refuge abroad — as a "myth," despite a clear consensus among historians.
Today Armenian people face an existential threat as Turkish-backed Azerbaijani forces attack residential areas, maternity hospitals, and cathedrals in the Republic of Artsakh, even using cluster bombs, in direct contravention of international law. The Azerbaijani Minister of Foreign Affairs is the same man responsible for indoctrinating his country's children against another race — he was the Minister of Education until this past July.
Now we find ourselves in the middle of a humanitarian crisis.
The specter of genocide hangs over this moment. For indigineous Armenians inside Artsakh, residents of Armenia, and members of the Armenian diaspora around the world, the repeated attacks on Artsakh — and the racist rhetoric used to justify them — are a bitter reminder of the 1915 genocide.
It is clear that Recep Tayyip Erdoğan, the President of Turkey who is providing military might to Azerbaijan today, has not forgotten the genocide. He continues to deny it, but he simultaneously exhibits a perverse sense of pride in the massacres. Earlier this year, Erdogan referred to the survivors of the genocide as "leftovers of the sword," and weeks later chillingly told a press conference: "We will continue to fulfill this mission which our grandfathers have carried out for centuries in the Caucasus region."
Observers agree that this is no empty threat. Earlier this week Genocide Watch issued an emergency statement on the war in Artsakh, declaring that Azerbaijan was in the latter stages of a "genocidal process" against ethnic Armenians. Last week the International Association of Genocide Scholars published an open letter warning that a genocide may already be underway.
There is a high probability of genocide of Armenians if Azerbaijani troops takeover Artsakh. We are fighting an existential battle, a challenge of a lifetime.
Erdogan is a dictator still hanging on to the remnants of the Ottoman Empire, using the same type of expansionist, violent methods that were used at the decline of the Ottoman Empire. As I wrote with Maria Armoudian at openDemocracy earlier this month, this war is the result of Turkey's neo-imperial ambitions in the region, and they will not stop.
I'm also concerned about the media narrative. Cardi B recently posted a link to a fundraiser for the Armenia Fund, which provides humanitarian aid to Artsakh, but took the post down after she was labeled a "terrorist" on social media. Elton John spoke out in defense of the Armenians, but his Instagram post was deleted as well. There is a huge disinformation campaign at play, funded by Azerbaijan. The Organized Crime and Corruption Reporting Project revealed three years ago that the ruling class in Azerbaijan had spent $2.9 billion on the "Azerbaijani Laundromat" between 2012 and 2014, in an attempt to whitewash their reputation. It was a setup to buy influence, to buy good press coverage. Still they have faced few if any repercussions for this.
In the long run, we are going to beat this disinformation campaign. We are going to get enough support from the world, who must sanction these dictatorial regimes. We are going to properly identify the role of Artsakh and get them proper legal status among the nations of the world. We are going to do that in international courts. Those people have rights. They have human rights, they have democratic rights. But the dictatorial, corrupt leaders of Azerbaijan and Turkey are trying to obliterate them.
It is horrible to see this type of human rights crisis happening to our nation, where no one comes to our aid. In 1915, all of the great powers — France, the United Kingdom, the United States — helped. They had orphanages for Armenians; they were trying to raise funds. The Near East Relief Fund spent millions of dollars on trying to aid Armenians. But no one came to our rescue militarily. Maybe they couldn't — maybe it was too late by the time that they were actually in Turkey.
But it feels like that again, 105 years later. We're calling on these great powers and saying, "They're cluster bombing the capital, Stepanakert." Who's going to condemn Azerbaijan for these war crimes? Some world leaders are speaking up now, but it's taken almost a month, at the expense of thousands of lives — and a war is still being fought.
There are two things that we're trying to get across to all our friends around the world. Call on your parliaments, your members of Congress, and demand that they take action. In the U.S., it's House Resolution 1165, "condemning Azerbaijan's military operation in Nagorno-Karabakh and denouncing Turkish interference in the conflict." Call your members of Congress and ask them to vote for that resolution. Ask them to sanction Turkey and Azerbaijan and recognize the Republic of Artsakh to give the people there necessary legal protection. And if you can, please donate to the Armenia Fund — we need humanitarian relief at the same time.
The Armenians of Artsakh have been living there for thousands of years. All of their spirit is imbued by those lands — their humor, their hard life, their will to live and survive. They are fighting for their existence.