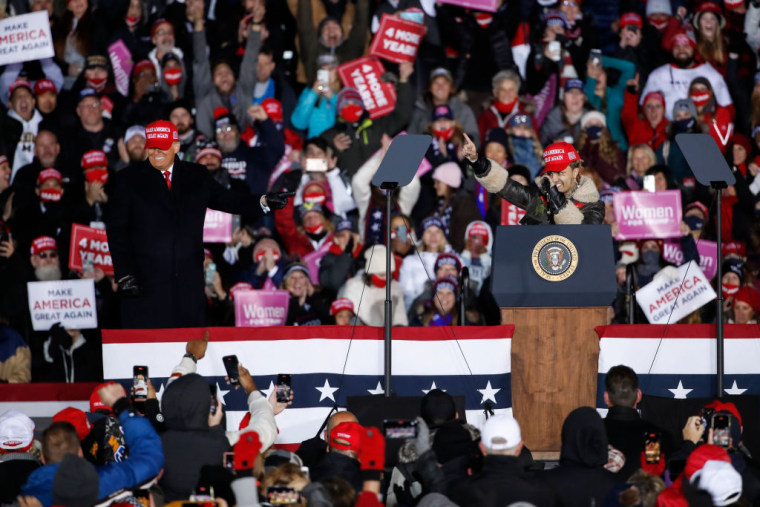 Lil Pump joined Donald Trump on stage at a pre-election rally in Florida on Monday night with the president mistakenly calling the rapper "Little Pimp" while introducing him to the stage. Pump, who first emerged in 2017 with "Gucci Gang," wore a red MAGA hat as he addressed Trump's supporters. Check out footage below.
Lil Pump takes the stage at the Trump rally shortly after 1amET on Election Day. Trump introduces him as "Little Pimp" pic.twitter.com/cS7yqT7c5Q

— Brandon Wall (@Walldo) November 3, 2020
"I've come here to say, Mr President, I appreciate everything you've done for our country. You brought the troops home, and you're doing the right thing. 'Maga 20 20 20!" Pump said when he got on the mic. "Don't forget that! Don't forget that, and do not vote for Sleepy Joe [Biden] at all!'
Pump has voiced his support of Trump in the run-up to the election, a rarity among young musicians, citing lower taxes as his reason for siding with the president. Pump's label Tha Lights Global have distanced themselves from the rapper's position, confirming that they back Democratic Biden/Harris ticket.
Lil Pump went full MAGA. pic.twitter.com/mO0OjR4vQ3

— Ian Miles Cheong (@stillgray) November 2, 2020
Lil Pump at the Trump Rally tonight. pic.twitter.com/4Av3v1vnVL

— Courtney Holland 🇺🇸 (@hollandcourtney) November 2, 2020