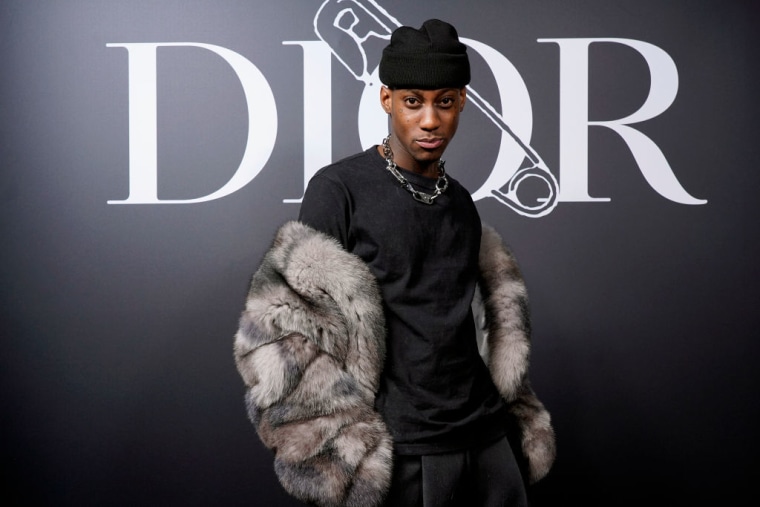 This article contains descriptions of alleged domestic violence that some may find disturbing.
British rapper Octavian has been accused of domestic abuse by his former partner.
In a series of posts on social media this morning the rapper's ex-girlfriend, a musician who records as Emo Baby, alleged that Octavian (born Octavian Oliver Godji) physically attacked her while she was pregnant. She also wrote that she has filed a police report after being the victim of physical, verbal, and psychological abuse during their relationship.
Octavian, whose debut album Alpha is due for release this week, has denied the allegations.
In her statement Hana says that she was pressured into getting an abortion by Octavian and that he also beat her with a hammer, kicked, and threatened to kill her. She claims the abuse was worsened by Godji's cocaine use and says that the rapper tried to control her behavior by making her delete her social media accounts. In further Instagram posts Hana said she left the relationship in April of this year and is currently living abroad for her "safety and wellbeing."
The statement, which was posted alongside screenshots of text messages and graphic images of her bruised body, reads: "The reason I have decided to share my story now, just before his album release, is because I don't want anyone to look up to this man. I particularly do not want young girls to listen to the dark music he makes to celebrate his abuse."
Since Hana's statement was published Godji has posted a number of Instagram Stories including one which reads: "I will not speak without evidence. What u are witnessing is real life abuse."
The FADER reached out to Octavian's U.K. publicists, Pattern Publicity, who confirmed they are no longer working with the artist in response to Hana's post. "After these allegations have come to light, we have stopped all work with Octavian as we cannot condone, nor support abusive behavior," a rep said. Octavian has also been dropped by his U.S. publicists, Orienteer, the company confirmed to The FADER.
In a statement obtained by The Independent, Octavian's label Black Butter said that they had dropped the rapper and would not be proceeding with the release of his album Alpha. "We at Black Butter have taken the decision not to continue working with Octavian and we will not be releasing his album," the label said. "We do not condone domestic abuse of any kind and we have suggested Octavian seeks professional help at this time."
Octavian first emerged in 2017 with breakout single "Party Here." He has released two mixtapes, Spaceman and Endorphins, and collaborated with Gorillaz, Diplo, Skepta, Future, and more.
The National Domestic Violence Hotline
This post was updated on Thursday, November 12 at 2:31pm to include a statement from Octavian's former label Black Butter