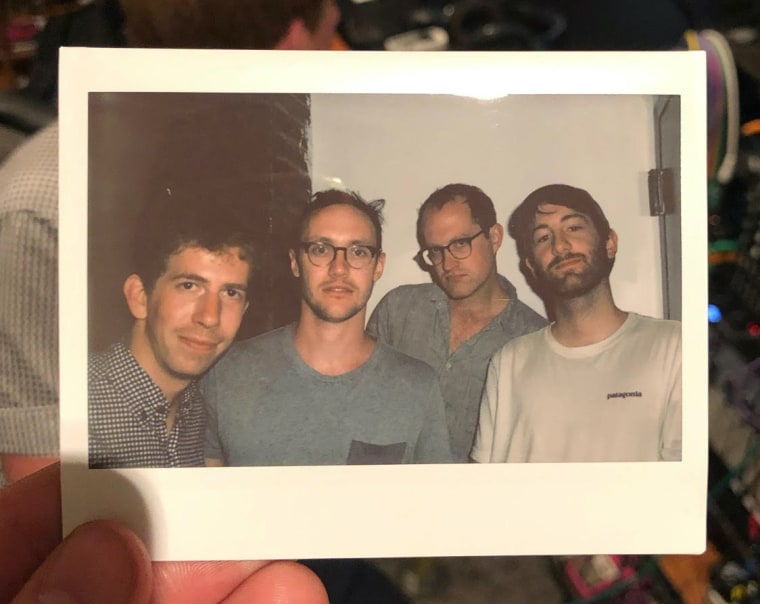 2020 hasn't been a classic year for hanging out with friends but Maxband have done their best to create something to remember nonetheless. At the top of the year the Brooklyn-based band, fronted by Max Savage of Parquet Courts, laid down the songs they had been playing live in support slots for the likes of The Men and The World Is A Beautiful Place... over the past couple of years. The result is Top Of The Stairs, a gauzy and exciting record that is streaming below ahead of its November 20 release.
Backed by Patrick Smith (A Beacon School), Tim Nelson, and Eric Read, Savage steps out from behind the drums on Top of the Stairs and takes on lead vocals. While EP opener "Unsaid" is a decent Parquet Courts facsimile, Maxband are at their best when they expand their horizons and move into dreamier territory: "Cut It Loose" is a super-pretty ode to fleeting freedom while songs like "Rural North" and "Good Time" push things further into the gray, plucking Cure-like melodies from the gloomy textures.
Speaking to The FADER via email, Maxband said: "Top of the Stairs was recorded in December 2019 and early 2020 in Brooklyn. The five-song EP is a fully collaborative effort. Each track began as a basic riff or structure that we all expanded on during rehearsals. Many of the songs had been performed live during the year leading up to recording, but it wasn't until we got into the studio that the loose ends were tied to form a cohesive project. There's a level of spontaneous creativity that only happens in the studio, and we thrived on the pressure to push these songs as far as they could go."
Top Of The Stairs is available from November 20 via Holm Front, the label run by British band Sports Team.