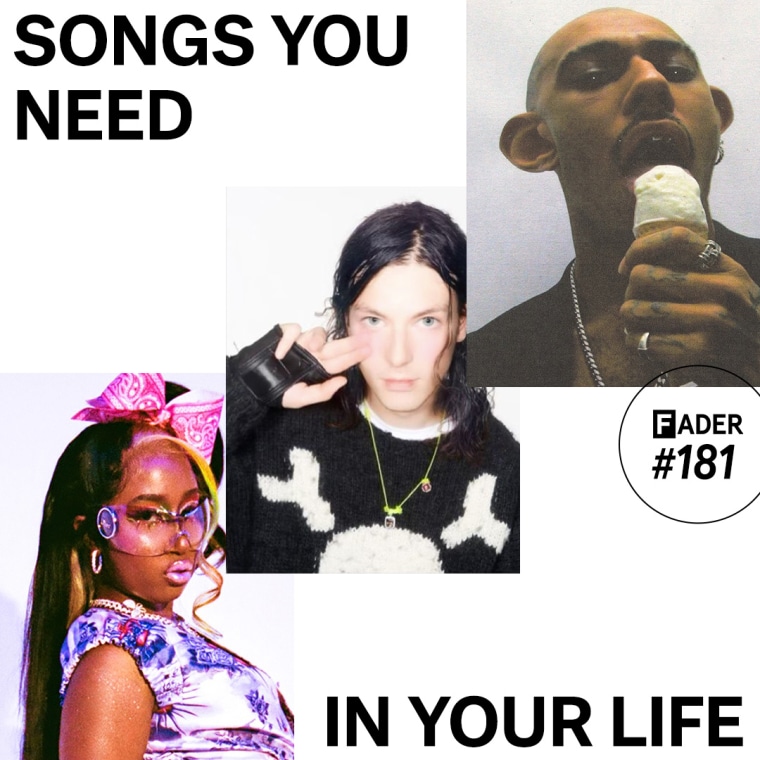 Each week, The FADER staff rounds up the songs we can't get enough of. Here they are, in no particular order.
"Moves" — ize
Of this we know to be true: crack kills, cocaine sells, and there's absolutely nothing can block ize's hustle. "Moves" is an exhibition of raw stamina.
"Westside" — Charm La'Donna
We're only two singles deep from the Compton polymath (who nabbed a VMA for choreographing Rosalía's "Con Altura" video), and yet on "Westside," she already sounds like a seasoned pro. This is how you put on for your home state.
"Circles" — Megan Thee Stallion
There aren't any big revelations to unearth on the second track off Good News, but it does manage to reaffirm everything we've known about Meg with laser-sharp precision. That Jazmine Sullivan sample certainly doesn't hurt either.
"God" — Bladee and Mechatok
It takes a certain audacity to name a song "God," and Bladee and Mechatok have plenty of it on the second offering from their forthcoming album, Good Luck. It's stadium pop for the Drain Gang sect.
"Factory Workers" — Off The Meds
Hearing Off The Meds's night shift paean feels startlingly akin to staring at Diego Rivera's Detroit Industry Murals on molly. More iron, steel, metal, and copp-ah, por favor.
"Rainbow Cadillac" — Yung Baby Tate
A little Danity Kane sample, a lotta bragging rights, and a technicolor ride to boot? Strap into Yung Baby Tate's new project After The Rain, and floor it, if you know what's good for you.
"Scratchcard Lanyard" — Dry Cleaning
Yes, the debut 4AD single from London band Dry Cleaning slaps, but they also deserve props for the ingenuity of miniaturizing the gig into a headpiece. Where can we cop?
"Foolish Game" — Laura Groves
On the newest single off her forthcoming EP A Private Road, Laura Groves captures the fleeting whimsy of an untenable situation and spins it into a trance.
"vaya con dios" — Kali Uchis
Kali Uchis aims for total ascent on the fifth track of her new album Sin Miedo, landing somewhere so indisputably heavenly.
"Social Cues" — Teezo Touchdown
You can't miss any social cues if you stay in for Thanksgiving, right? If we're all bound to our apartments, Teezo Touchdown's newest offering feels like a breath of fresh air.