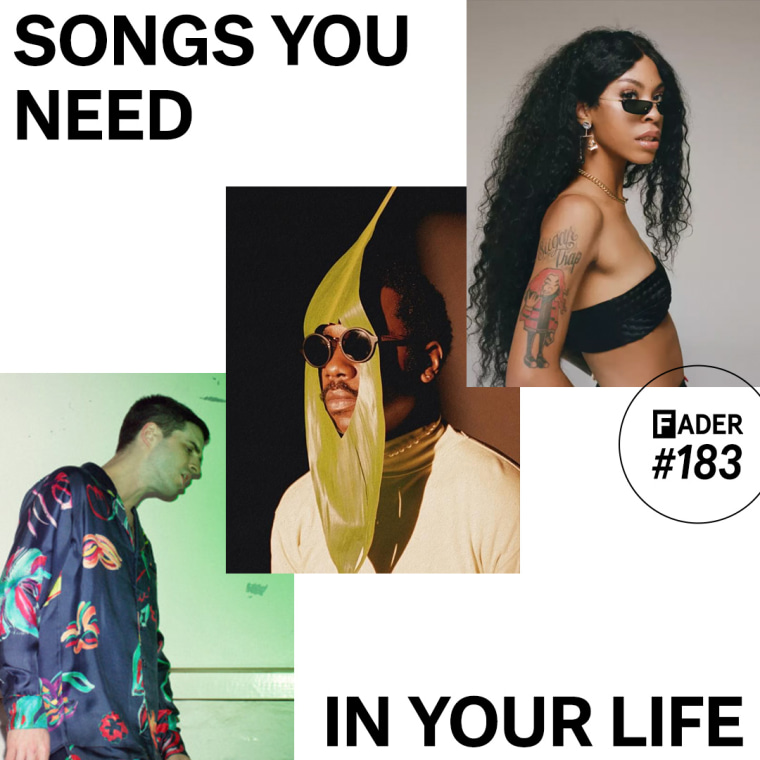 Each week, The FADER staff rounds up the songs we can't get enough of. Here they are, in no particular order.
"Zero Feel" — Kornél Kovács
"Hey Big Eyes (George Clanton Remix)" — Caroline Polachek 
I'm a staunch believer that "Hey Big Eyes" is the most underrated song on Caroline Polachek's Pang (next to "Go As A Dream"). So what a delight that George Clanton's remix breathes such massive new life into the track.
"Prada Me" — Baby Smoove
This man really just rhymed "Lululemon" with "shoot him in it." Need I say more?
"By Swallow Season" — Shintaro Sakamoto
Former Yura Yura Teikoku frontman Shintaro Sakamoto cooked up some new tunes in quarantine. Despite the confined circumstances it was born out of, "By Swallow Season" sounds like a whole walk in the park.
"fuego" — Channel Tres feat. Tyler, the Creator
Once Channel Tres gets going, one gets the impression that he could keep it up for hours — it's extraordinarily apparent on the ceaseless "Fuego," off his new project i can't go outside.
"Easy" — Troye Sivan and Kacey Musgraves feat. Mark Ronson
Did we need an alternate version of the best song off Troye Sivan's IN A DREAM EP? No. Will we take any excuse to watch Bardia Zeinali direct him and Kacey Musgraves in a camp fantasy? Most certainly.
"Sun" — Bladee and Mechatok
So far we've only spent an hour in the casino fantasyland of Bladee and Mechatok's new record Good Luck, and "Sun" is an immediate standout — something like early-aughts mall pop on molly.
"10Fo" — Rico Nasty
Tucked away toward the back of Nightmare Vacation Rico Nasty at her absolute nastiest over some thick beats from Al B Smoov & F1lthy. Just be sure to bring your own gas.
"Infrunami" — Steve Lacy
Steve Lacy's newest release The Lo-Fis captures the unvarnished soul of what the Compton crooner has been doing for years, never so lovingly as on "Infrunami."
"Twain Harte" — Morly
Morly set out to write "a pure, unapologetic love song" and "Twain Harte" more than fits the bill, exemplifying the now-London-based artist's innate ability to convey emotion without embellishment.