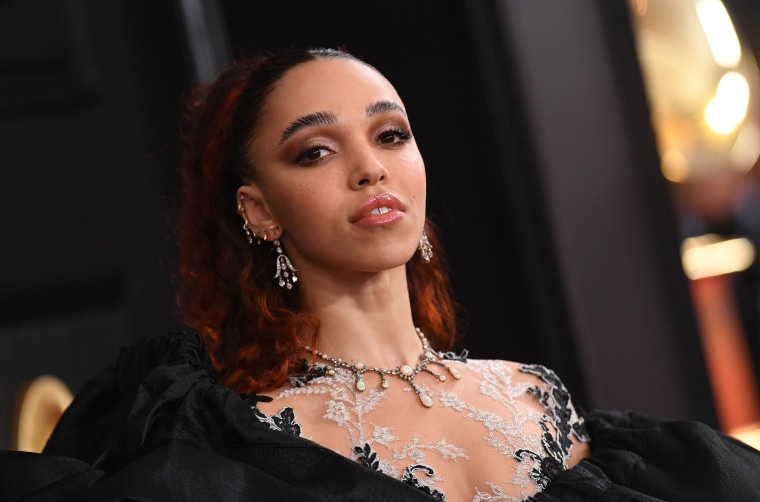 FKA twigs (born Tahliah Debrett Barnett) has filed a lawsuit accusing Shia LaBeouf, her former boyfriend, of physical, mental, and emotional abuse, according to a report in The New York Times.
"What I went through with Shia was the worst thing I've ever been through in the whole of my life," twigs told the Times, describing a relationship wracked with physical and mental suffering that disconnected her from her friends and supporters. "I'd like to be able to raise awareness on the tactics that abusers use to control you and take away your agency."
In the lawsuit, detailed in the Times article, twigs describes being choked by LaBeouf on a drive back from the desert and being assaulted and screamed at by the actor after a stop at a nearby gas station. The incident was part of a pattern of "relentless abuse," twigs alleges in the lawsuit filed in Los Angeles Superior Court. The suit accuses LaBoeuf of sexual battery, assault, and infliction of emotional distress, including knowingly inflicting twigs with a sexually transmitted disease.
The report in the Times also includes allegations of abuse from Karolyn Pho, another former girlfriend of LaBeouf's.
When reached by email by the Times, LaBeouf issued a statement on the report's allegations. "I'm not in any position to tell anyone how my behavior made them feel," he wrote. "I have no excuses for my alcoholism or aggression, only rationalizations. I have been abusive to myself and everyone around me for years. I have a history of hurting the people closest to me. I'm ashamed of that history and am sorry to those I hurt. There is nothing else I can really say." In a separate email responding to specific claims of abuse, LaBeouf wrote that "many of these allegations are not true."
twigs says that she plans to donate a "significant portion" of any money received through the lawsuit to domestic violence charities.
Attempts to contact LaBeouf's attorney were not successful. A representative for twigs emailed the following statement from twigs' attorney, Bryan Freedman: "Shia LaBoeuf has abused Ms. Barnett, Ms.Pho and others. We tried to resolve this matter privately on the condition that Mr. LaBeouf agree to receive meaningful and consistent psychological treatment. Since he was unwilling to agree to get appropriate help, Ms. Barnett filed this suit to prevent others from unknowingly suffering similar abuse by him."
Hours after the publication of the New York Times article, twigs shared a statement on Instagram. "my second worst nightmare is being forced to share with the world that i am a survivor of domestic violence," she wrote. "my first worst nightmare is not telling anyone and knowing that i could have helped even just one person by sharing my story." Her post included links to the domestic violence charities FreeFrom, the National Domestic Violence Hotline, and Sistah Space. Read it in full below.
This post was updated on Friday December 11 at 2:50 pm and 4:08 pm.