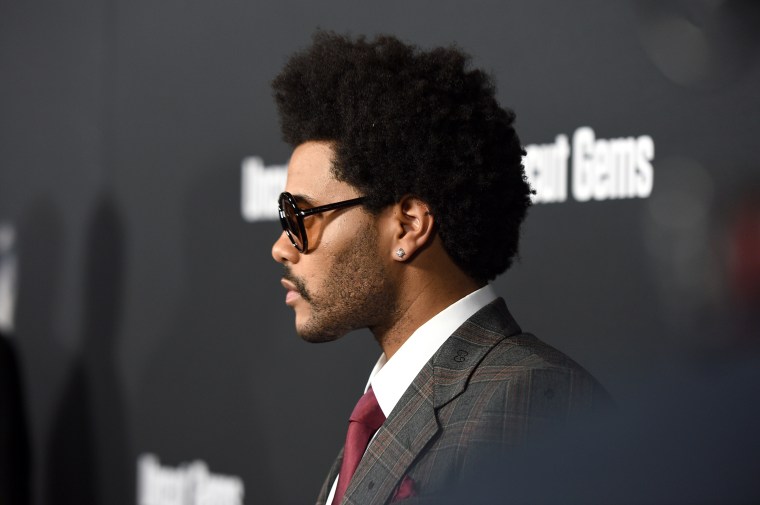 The Weeknd and members of his inner circle at XO are on the cover of the latest issue of Billboard. The biggest news isn't the mention of a new album (it's in the works) or Abel Tesfaye's thoughts on an upcoming tour (six dates have sold out, grossing between $1.2 and $1.4 million per show). No, the key fact from this profile is the revelation that the The Weeknd is known as "Diapers" by some of his team.
"They call me 'Diapers' because I always change my mind," Tesfaye says. "La Mar [Taylor, XO's Creative Director] keeps me on track, for example, with music videos and keeping a [consistent] body of visual work. I have a knack to be like, 'I want to do something else. I want to look different. I want to drop more music.' They're there to be like, 'Let's just keep this focused.' "
There's one thing Tesfaye hasn't changed his mind too much about: his snub at the 2021 Grammys, where he was locked out despite the global success of his album After Hours and its single "Blinding Lights." When he first heard the news, Tesfaye says it felt like a "sucker punch." ""Because it just kind of hit me out of nowhere. I definitely felt ... I felt things. I don't know if it was sadness or anger. I think it was just confusion."
He continued: "I just wanted answers. Like, 'What happened?' We did everything right, I think. I'm not a cocky person. I'm not arrogant. People told me I was going to get nominated. The world told me. Like, 'This is it; this is your year.' We were all very confused."
After the Grammy nominations were corrupt, Tesfaye called the institution "corrupt" in a tweet. Grammys chief executive Harvey Mason Jr. denied this in an interview with Variety. "I don't think [The Weeknd's lack of nominations] calls [the nomination process] into question, honestly."
When asked about potential racial biases at the Recording Academy, Tesfaye demurs. "If you were like, 'Do you think the Grammys are racist?' I think the only real answer is that in the last 61 years of the Grammys, only 10 Black artists have won album of the year," he says. "I don't want to make this about me. That's just a fact."