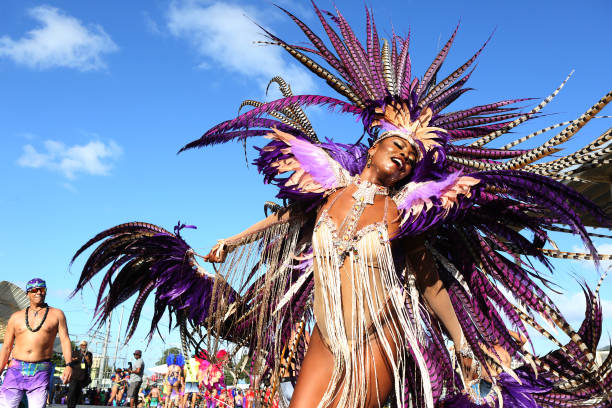 With lockdowns and travel bans devastating the live music industry last year, musicians across the world turned to online performances and streaming platforms to make up the numbers. But for soca, a genre so inextricably linked to the crowd-packed events of Carnival, the stakes are different. Carnival celebrations across the Caribbean — and across the world — saw cancellations last year, affecting entire ecosystems of costume designers, vendors, party promoters, DJs, producers, and artists. And though it seemed, in that first rash of cancellations, like the virus might be under control by the fall, Trinidad & Tobago's Carnival, its vibrant, closing road march scheduled to take place yesterday, was inevitably canceled as well.
If soca is an engine, Trinidad & Tobago's pre-lenten carnival — a euphoric stretch of seemingly endless fetes, cultural events, stage shows, and road marches that reach fever pitch in the early weeks of spring — is the fuel that makes it move. Where radio play and streaming are the predominant forms of consumption for most other genres, Trinidad Carnival is where the year's soca hits are made. While artists drop music year-round, fans can count on a sharp spike in output in the run-up to Trinidad Carnival. The most played songs in the weeks leading up to back-to-back road marches on Carnival Monday and Tuesday usually hold strong for the rest of the year, offering artists the ability to tour across the informal global carnival circuit that runs into the fall months. Live show income is the lifeblood for most soca artists, and they can easily spend months crisscrossing the Caribbean, North America, and Europe to perform at homegrown and diaspora-based carnivals.
Soca artists have so far responded to this wave of cancellations by leaning into digital platforms more than ever before. Slickly-produced virtual concerts from acts like Kes, whose We Home and Under One Roof shows garnered over half a million views, Patrice Roberts, Nadia Batson, and more saw the same high production value as their real-life stage shows, complete with full bands and often masked dancers on both indoor and outdoor soundstages. As artists like Batson, Skinny Fabulous, and Nessa Preppy continued to drop music in 2020, they leaned into TikTok with skits, dance challenges, and candid footage, bringing fans even closer to artists who, under normal circumstances, would be touring around the world at lightning speed.
Soca veteran Machel Montano has been tirelessly recording, releasing music, and performing through this energetic cycle for over 25 years. "Before you finish with Miami Carnival in October, you start to want to hit the studio around then trying to make an entire album for the next year," he explains. "You're releasing singles to make sure that you have songs popping for late December. As soon as Christmas is over, people want to hire you based on if you have new songs, new hits. It becomes a crazy whirlwind."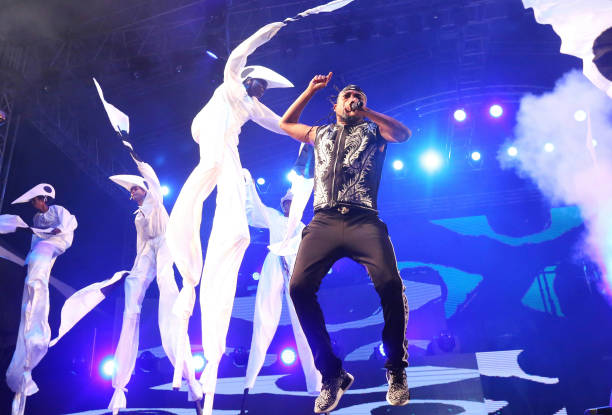 With such a frantic race towards an often limited release window, the cancellation of Carnival coupled with the overall effects of the pandemic saw less new music than usual. Where stars like Montano, Bunji Garlin, Kerwin Du Bois, Nailah Blackman, and Kes would likely have at least a half-dozen singles apiece out by this point in any other year, many of the genre's biggest players have slowed their output considerably. "By now, I would have 10 to 15 songs [I've produced] out, but I only have two," says Travis World, a Trinidad-based DJ and producer behind some of the biggest soca singles of the last five years, including Wuss Ways' "Pandemonium" and Lyrikal's "Zig Zag." As he continued to make riddims, he noted artists were less motivated to record over them. "This is a job for me, at the end of the day. But, it was also a traumatic experience for the industry, for the world, really," he says. "I had to understand it from that perspective."
As New York-based DJ Jel sees it, fans of soca have very different consumption habits than fans of other genres, making it tricky for artists to gauge the right pivot. "Honestly, we're not streaming the way other genres do. Within our region and in the diaspora, we're not consuming music the same way," he says, pointing to the importance of YouTube channels like JuliansPromosTV as a primary platform for new releases, the absence of soca as its own discoverable genre on streaming services, as well as a tendency toward other regional sounds like dancehall once the carnival season is over. "Soca will kind of get its play in Trinidad starting around October, then the radio stations go 100% soca right after Christmas. By Ash Wednesday, everything completely switches to dancehall, reggae, and hip-hop."
For a loose comparison, consider how Christmas music might feel ubiquitous in November and December, just to be all but wiped from radio programming and promoted playlists by January. For new holiday releases, that fall and winter listenership is critical. In a year where the main event is scrapped, the pay-off for the artist may go with it. "One of my goals is to release a soca riddim on Ash Wednesday," Travis said. "Just to show people that this is our opportunity to continue after Carnival Monday and Tuesday. That we can continue."
With many of the genre's more notable names taking a step back, Jel says emerging artists lead the charge in 2020. "We're going to start to see a shift in having more catalog from these smaller acts, so GBM Neutron, Ricardo Drue, Erphaan Alves, Voice, Sekon Sta, Adam O from the Virgin Islands," he says.
For Los Angeles-based producer Kasey Phillips, who works under the name Precision Productions and is responsible for hits like Preedy's "Yuh Bad," the slower pace offered artists and producers the chance to do entire campaigns they may normally breeze past. "The slow-down gave me the opportunity to actually focus on a release and put the steam, the money, the power, the marketing behind releases," he explains. "It's hard to tell artists to finish a new song with enough time to give it to Spotify four weeks in advance to get it onto some playlists. They're lucky if they get it two days in advance." Still, Phillips sees promise in soca fans' more recent shifts in consumption. "Streaming has picked up a lot of our local music, Trinibad (Trini dancehall) is another huge example of that," he added. "It's been getting very strong on the digital side, and I've been on that mission over the last five years to help grow that from nothing."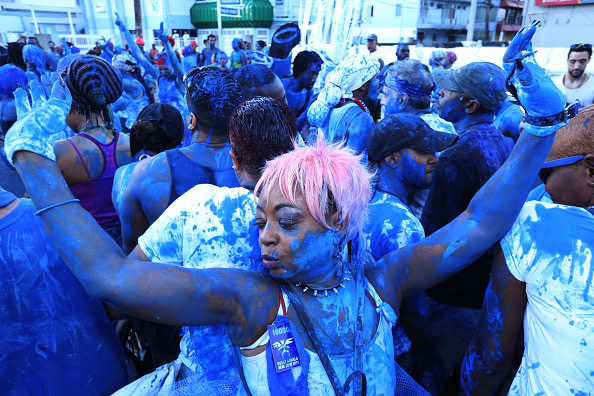 Like so much of our lives in the aftermath of this existence-altering pandemic, there are glints of a new, more sustainable normal. The genre's unique infrastructure often pressured artists to produce their best work at a breakneck pace for an otherwise small window of time, year after year. Post-pandemic, there may be more room to shift focus to full-length projects and give artists the space to experiment with sound and subject matter in lieu of chasing surefire hits. "The last year actually has afforded me the opportunity to dig a bit deeper," says Nessa, whose 2020 track "Pull Up" was one of a handful to break through on digital push alone. "There is a certain pressure to create music that looks and feels a certain way, so the quiet gave me the opportunity to do some serious introspection."
Montano, who recently shared his new single "2U," says he was able to return to unfinished music he may have otherwise not had time to complete. "Artists sometimes start songs that we're not sure they'll make it through Carnival, so we put them aside," he says. "In the rush to get new songs out, we never have the time to pull for those experimental songs; the songs where we take a chance and have fun, so it was kind of refreshing to have that space."
Of course, there have been hits, including Patrice Roberts' afrosoca jam "Tender" and "Uber Everywhere" from St. Lucia's Motto. The biggest songs play out like humorous or wistful takes on life in the pandemic itself. "In De Quarantine" by St. Lucian artists Jardel and Jequan pairs quips about social distancing with a frenetic bassline, while Boyzie's "Need A Fete" yearns for the day we can party together again, and Farmer Nappy's nostalgic and horn-heavy "Backyard Jam" reminds would-be revellers we can still celebrate without all the extras.
As vaccinations begin to roll out across the globe, there's hope that 2022 will see the return of massive events like Carnival. As artists will certainly welcome the return of live performances, the pandemic has empowered them to bring their strengthened digital fluency, and a push for more infrastructural amendments like proper genre labeling from streaming services, along with them. "I would hope that we don't go back to the program as usual," Montano adds. "I hope that what everybody has gotten from this time is that we'll have to push things forward. We always want better."