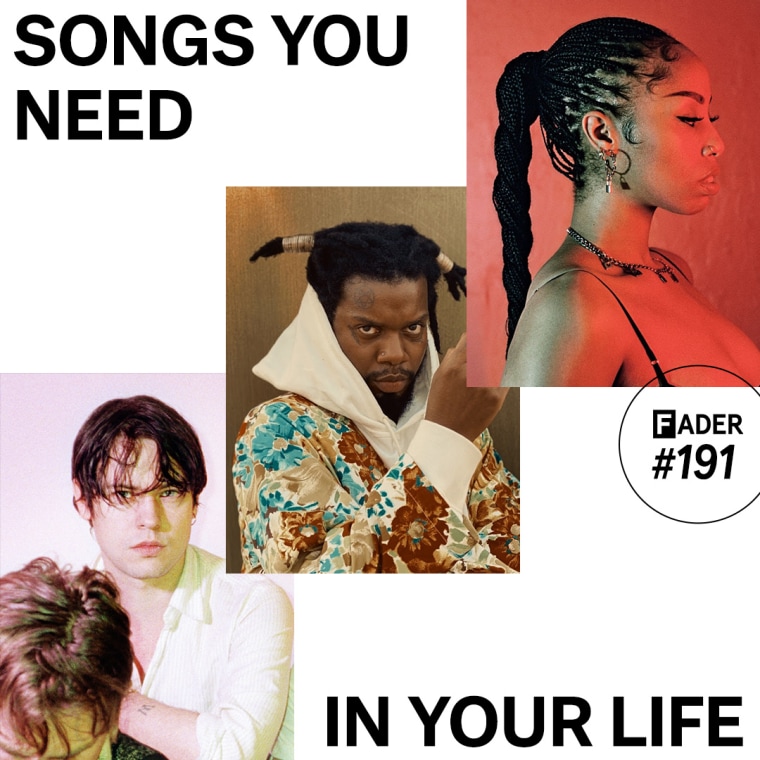 Each week, The FADER staff rounds up the songs we can't get enough of. Here they are, in no particular order.
"I See You Sometimes" — Vegyn feat. Jeshi
Speed is a malleable thing on the deeply intriguing first single from Vegyn's new EP Like A Good Old Friend, in which the British producer enlists Jeshi to wax poetic over his cyclonic bounce.
"ALL ALONG" — Rochelle Jordan
Teaming with KLSH once again, the globe-spinning jack swing of Rochelle Jordan's latest for TOKiMONSTA's Young Art Records is instantly irresistable. Coupled with last month's "GOT EM" it feels like a genuine reawakening for the LA-via-Toronto artist.
"Woah" — VTSS
Polish techno shapeshifter VTSS celebrated her birthday this week by unleashing this clattering beast of a track. Equally harrowing is its video, a hallucinatory hike into the unknown.
"Touch" — Yoshinori Hayashi
The first snippet of Yoshinori Hayashi's sophomore record Pulse of Defiance signals a voyage through labyrinthian jungles of the Tokyo producer's making, one where splendor looms at every corner.
"Heavy Metal" — Paris Texas
The formidable debut single from Paris Texas (Louie Pastel and Felix) has the South Central L.A. duo revved up and ready to take on the masses.
"Vendetta" — Iceage
It's not every day that we get to hear Iceage having (what sounds to be) genuine fun, which makes this nefarious feast of crime — the second single from their new record Seek Shelter — go down like a real treat.
"Michelle Pfeiffer" — Ethel Cain feat. lil aaron
Bathing in the glow of her first trip out to Los Angeles, the breathtaking lead single from Ethel Cain's new EP Inbred pantomimes bombshell theatrics with sustained quixotic precision. It's cinema that stares back.
"Same Size Shoe" — serpentwithfeet
We hadn't even got "Fellowship" out of our heads before serpentwithfeet had to go two-for-two with his latest, "Same Size Shoe," a love song that could only be fueled by true understanding and nothing less. DEACON couldn't get here soon enough.
"Tides" — Men I Trust
True to the Québécois trio's well-patented sound, the latest one-off single from Men I Trust ebbs in and out of an opalescent haze.
"So Frequently" — Marzz
Rising Louisville vocalist Marzz signed to Keep Cool after catching the ears of none other than Timbaland. It's easy to understand how she could've made such an impression on "So Frequently," a track that yearns in day-glo.