Edna is just the beginning for Headie One
The king of UK drill discusses his debut album Edna, his enduring connection to Broadwater Farm Estate, and the limitless possibilities of his career.
Headie One believes in the law of attraction, but it's a combination of faith, conviction and imagination that sets him apart from his peers. He doesn't say it explicitly, but he's a firm believer in going with the flow. "I'm trying to put out a kind of energy that will allow me to gravitate towards people that want more and vice versa," he says. "One thing I always said to my friends — and they think I'm crazy — but what I say is that your mind is powerful. A lot of people can't see the positive in a situation but in a way I had to have the will to do that."
When Headie and I first speak, it's early October 2020, and the rapper born Irving Adjei is gearing up for the release of Edna, his long-awaited debut album. We're sitting in a bar in Aldwych, rain pelletting the infinity windows relentlessly. Headie's facial expressions don't reveal much about the inner workings of his mind, belying the fact that he never thought this moment would come back when he started releasing mixtapes independently in 2014. Stoicism is key for Headie; throughout his career, he's tempered his expectations, meaning that his successes — of which there have been many — have never led him to rest on his laurels. "I'm working on myself, just trying to get better," he says, "I'm trying to get my energy right because it's easy to get taken off track and distracted. That's become one of my strengths now, what I've learnt to let get to me and let go of."
25-year-old Headie carries the weight of his past with apparent ease. With less than a month to go until Edna's release, Headie has been here before — anticipating, waiting to show the world what he's really capable of. Early in 2020, he released GANG, a tonally experimental collaboration with producer Fred again.. that alienated his core, drill-loving audience. "I know it wasn't everyone's cup of tea but I like testing boundaries and you can't impress everyone," he says regarding the reception to GANG.
Rather than continue in the footsteps of GANG, Edna is much more of a compromise between drill and more out-there sounds, befitting a debut album. "This time I really pushed myself. Music hasn't really been a challenge for me and the style that I do comes to me so easily," he says. "When I get in my element and I want to do a genre that I favour, I want to test myself, with different beats and producers."
Across London, Headie's image can't be escaped; statues of him were erected to celebrate Edna's release. In New York,Edna's cover was splashed across Times Square. It was momentous for Headie to see his voice permeate borders — especially since he himself can't travel to the US, having been arrested and sent to prison in 2019 after being found with a knife in his possession. It was a fall as fast as his ascent, but it didn't break Headie's faith. "I didn't really feel too terrible about it, I know it's only a matter of time before I'm able to [travel to the US.] I'm really feeling more positive about everything than negative," he says.
He was released early in 2020, thrust back into civilian life amidst a global pandemic that has altered any previous sense of normalcy. In six months, the world had changed dramatically. Headie says it gave him the environment he needed to focus: "Mentally, I've become more at peace with being alone, and it's allowed me to have more time to think and meditate."
Although his music has always connected with young people living in circumstances similar to those he grew up in, Edna is, more than ever, a record tied to Tottenham, and to Broadwater Farm Estate. "That's the mud that you come from — it made me who I am, both positive and negative," he tells me. "Edna is a story that could only come from Tottenham because of all of the things that I've seen and experienced that I poured into this."
As ever, Headie's lyricism cuts through the production, stripping all of the noise away to express the simultaneous singularity and universality of being a young man from Broadwater Farm Estate with aspirations far grander. "Don't look down on me, that was hypocrisy / Come up from poverty, blame the economy / You know the hustlers are gettin' monopoly / Do I blame destiny or blame astrology? So many different philosophies / Before I learned to love properly," he raps on "Teach Me". He wants to let go of the past now that he's been shown a life he can have.
"Not being able to do all of the things I want to due to past mistakes is very limiting, but I have my own timing. Coming from where we come from — you've got to have a lot of tools and help, but people don't really see the way out," Headie says. "I'm starting to build those tools for myself because I want to help change and do as much as I can."
Although he's left Tottenham, Broadwater Farm Estate will always be a part of Headie. When most people hear of the estate, they think of the 1985 riots or Mark Duggan, who was killed by police in 2011. To Headie and the estate's residents, it's still a community, one that needs nourishment and love poured into it. "I haven't left Broadwater in [the] sense that it's still my community," he says, "That was the height of my world at one point and it's important that I remember that."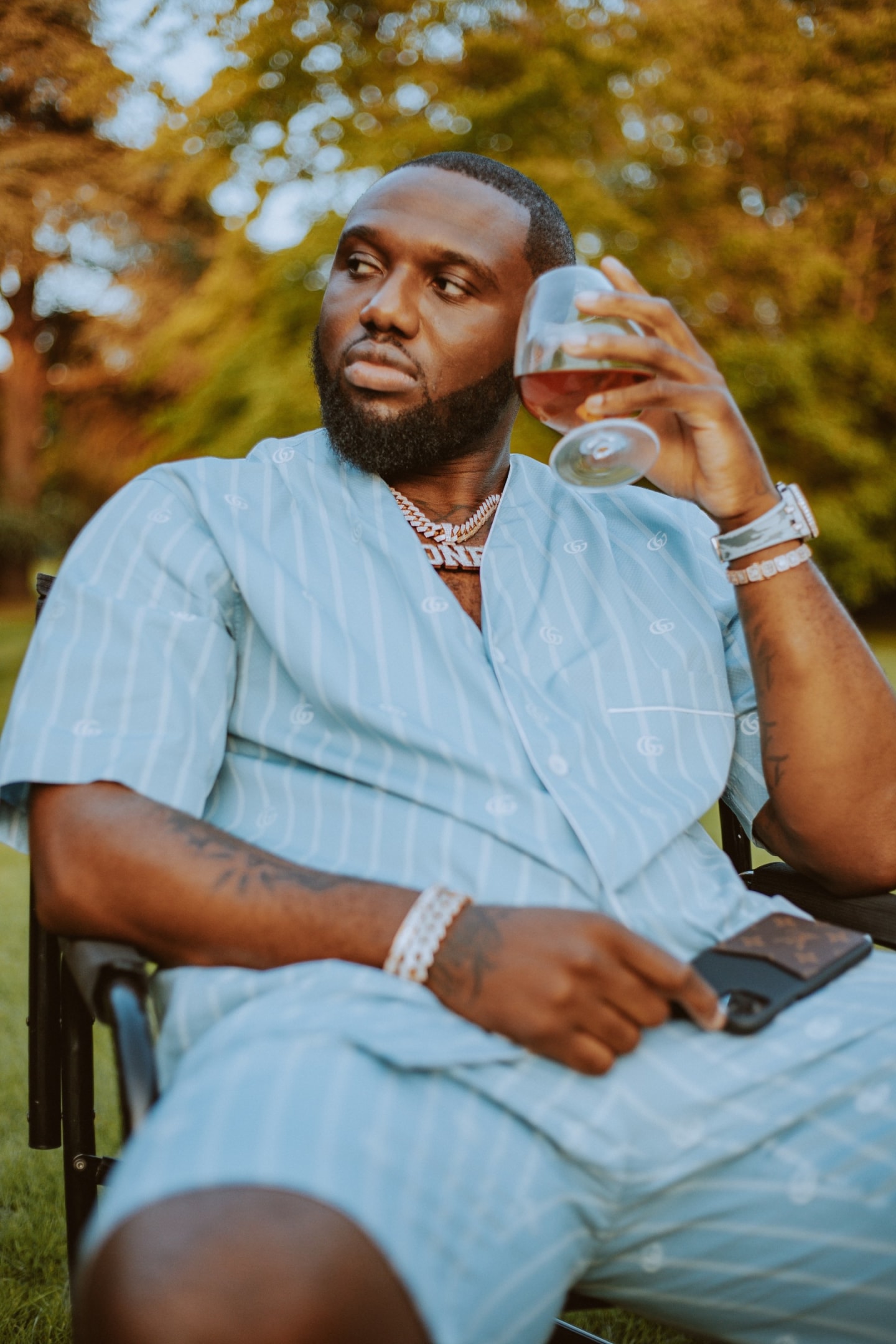 "My aunt gave me one Psalm — I've got it tattooed on my arm — Psalm 35 and it's a scripture that stayed with me," Headie says. In Psalm 35, which also happens to be the title of the second track on Edna, David is fierce in rallying of his faith but at the same time deeply earnest and yearning: "Contend, Lord, with those who contend with me; fight against those who fight against me. Take up shield and armor; arise and come to my aid. Brandish spear and javelin, against those who pursue me. Say to me, 'I am your salvation.'"
Headie has a similar ferocity in his conviction. He's out for what's his, and, given the systemic and institutional barriers he's had to overcome, a drive for revenge is understandable: "That's the driving force, that's the main thing that's pushing me to do well," he tells me. "It's this feeling inside of almost like revenge because of how bad it was before, and that's been key."
That fierce faith in both oneself and a higher power, combined with the way in which Headie delivers testimony through sermon in his own writing, has given him a language not only to contextualise his experiences but to realise his dreams, too. "Yo, somebody call God for me, tell him this is daylight robbery / Somebody tell the people that want an apology for all of their broken promises / Promises they made but, true, they didn't owe it me / They said if I get lost, they'll come for me, and comfort me," he spits on "Teach Me".
Back when we first spoke in that Aldwych bar, Headie was eager to find some semblance of normalcy in his life — a fair enough goal, given the chaos that has been part and parcel with his career since international stardom became part of the equation. Six months on from Edna's release, though, when I catch up with Headie again, normalcy seems the least of his concern. "I'm not very proud but I'm happy," he explains, "I want to do more and keep working, I don't want all of this to come to a halt just yet."
For someone like Headie, it's audacious to dream. A lot of people without a stake in his life and future have made it that way. Still, he rises. "The universe is a big place and the sky's the limit," he says. "I don't really know where I'm going but I'll know when I feel it."