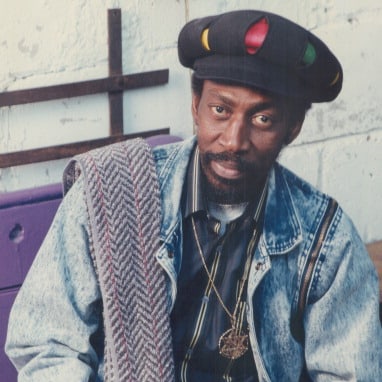 Bunny Wailer—reggae icon and founding member of pivotal group The Wailers—has died at the age of 73. His manager Maxine Stowe confirmed the news to the Jamaica Observer. While no cause of death has yet been reported, Wailer has reportedly been in and out of the hospital since suffering his second stroke last summer.
Born Nevile Livingston in St. Ann's Parish, Jamaica, Wailer grew up alongside step-brother Bob Marley in Trenchtown. In 1963, he founded The Wailers alongside Marley and friend Peter Tosh, who they met as mentees of "Godfather of Reggae" Joe Higgs. The trio would go on to release early hits like "Simmer Down," and by 1972, they signed with Island Records and released singles like "Get Up, Stand Up," and "Stir It Up." Their 1973 major-label debut Catch A Fire, and its follow-up Burnin from the same year, launched them to international fame, but as the group's then-manager Chris Blackwell sought to re-brand The Wailers as a backing group to Marley, both Wailer and Tosh left in 1974.
Wailer would go on to release solo hits like "Dreamland," "Crucial," and "Cool Runnings," releasing nearly 40 albums over his seven decade-spanning career. Wailer's last album, Dub Fi Dub, was released back in 2018. Over the years, he would take home the Best Reggae Album Grammy three times: Time Will Tell: A Tribute to Bob Marley in 1991, Crucial! Roots Classics in 1995, and Hall of Fame: A Tribute to Bob Marley's 50th Anniversary in 1997.
Wailer has been recognized multiple times by the Jamaican Government for his contributions to the nation's music history, receiving an Order of Merit in 2017 and the Reggae Gold Award in 2019.