The ferocious come-up of Alice Longyu Gao
The Los Angeles-via-Bengbu provocateur is post-hyperpop and punk as fuck.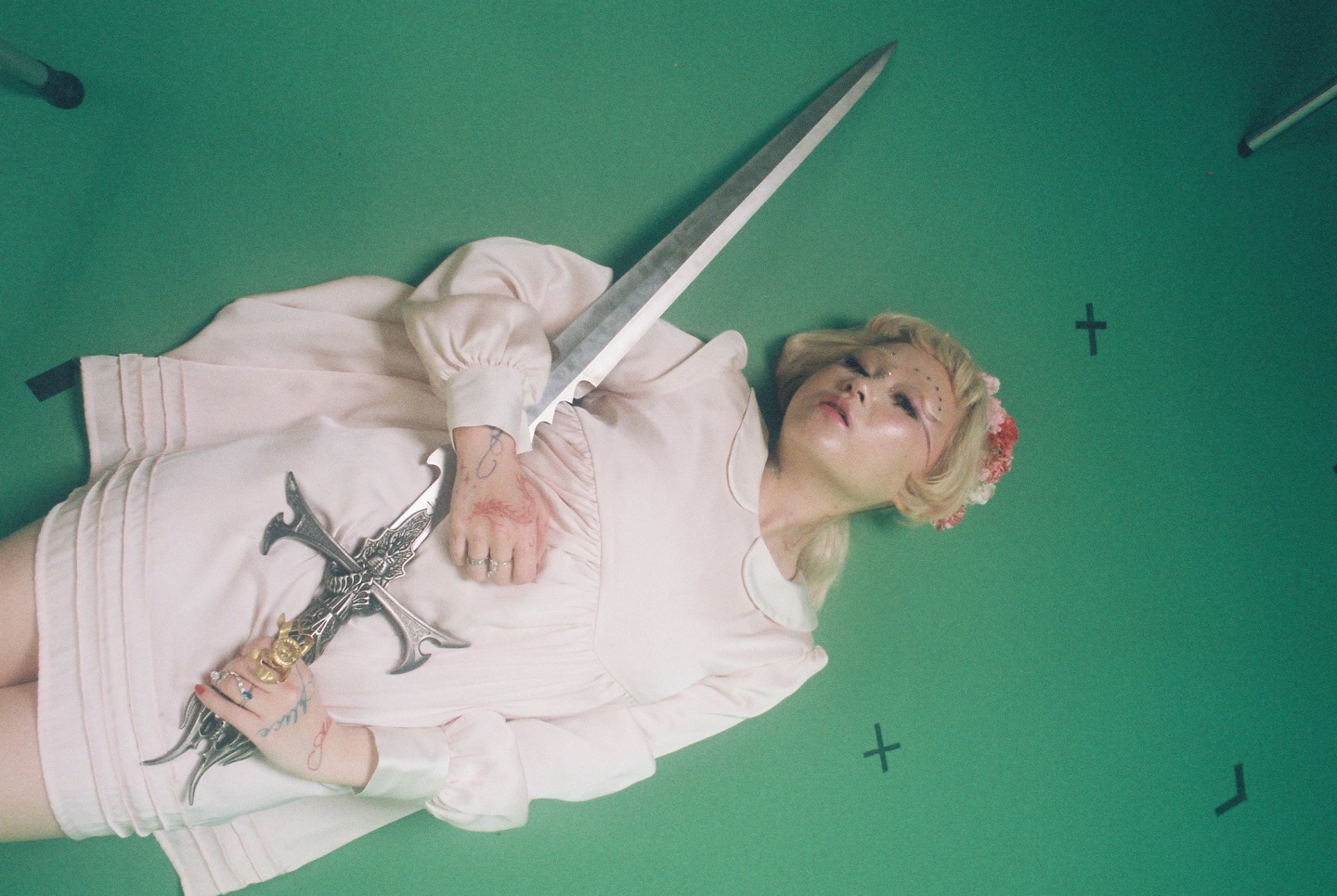 Alice Longyu Gao is back in her element once again. When we meet on a chilly February morning, it's her first time back in New York City in a year. Her haircut, multi-tiered and warrior-esque, is a holdover from the weekend prior, when she shot the video for her newest single, "She Abunai," in Bombay Beach. It's the precursor to an as-yet untitled project that's due for release later this year. "The idea is a girl with a sword — one sword to rule them all," she explains. "It's about girl power. I need it to be powerful. The song isn't just about romance, it's for those people who know that they're the queen and are ready to be admired."
Born and raised in Bengbu, China, Gao moved to the United States in 2012 to pursue her own pop star ambitions. Between the delightfully messy and confrontational art-pop of early singles such as "Karma Is A Witch," and "Magnificroissant," she became a fixture of downtown New York by pouncing at any opportunity that came her way. From the very beginning there was always a fiercely independent quality to Gao's work. It wasn't just that she was doing it all on her own; there was also nobody in the world doing it quite like she was.
The term hyperpop hadn't yet been popularized through its titular playlist when a mutual friend introduced her to 100 gecs' Dylan Brady back in 2019 — more of an accident than an A&R setup, she asserts. Though Gao wasn't familiar with Brady's work at the time, she knew that she was hungry for any opportunity to make music during a visit to L.A., and the two immediately blocked out studio time. But when it suddenly came time to record, she was unfocused, her discipline slipping: "I was so heartbroken over this girl that I was obsessed with that I hadn't prepared for our session at all.
Despite the anguish, she managed to cobble together the idea for a song called "Rich Bitch Juice" just minutes before meeting Brady. What manifested comes across as less of a breakup song and more of a champagne-soaked hypnosis. "Have some juice honey, rich bitch juice," she drones over Brady's sozzled beat. "You've been sad lately, need to let loose." As custom in Gao's work, every mood swing is saturated to the fullest. "I'm fucking tired, don't you tell me to be happy." It's a little bit manic in its topsy turviness, and entirely transfixing all the same.
"Rich Bitch Juice" quickly became her biggest hit to date, even catching the ears of Lady Gaga, who placed it in her Women Of Choice playlist. With plans to build a whole EP around the juice motif — "we made 'Poor Bitch Juice,' 'Smart Bitch Juice,' 'Side Bitch Juice,' and Dylan was going to work on this 'Bad Bitch Juice' idea" — and tour dates scheduled with the likes of Dorian Electra, CupcakKe and Zebra Katz, all of Gao's stars seemed to be aligned at the top of 2020.
Instead, the tours were cancelled, the Juice EP was scrapped, and Gao, who'd just moved out to Los Angeles, found herself alone in a new city. Unable to collaborate in person ("I was scared of COVID because I don't have health insurance in America") or over Zoom ("Everyone was having their mental ups and downs and I didn't want to match that"), Gao shifted the focus back to herself. The intensity of isolation forced her to level up: "Before quarantine I didn't even have time to sit down and write because I was always running around — touring, playing shows, DJing and just trying to pay my bills. Now I have more control over my music because this is all I've had to do."
Drawing inspiration from the Japanese television programs she would watch with her host mom while studying abroad in Kyoto, she penned "She Abunai," which eventually swelled into a collaboration with German-Canadian singer bülow and British producer Mura Masa. It's Gao's most addictive work to date, punctuating all of her bouncy, bloodthirsty and totally idiosyncratic tendencies. "All these Japanese girls don't really a fuck," she explains. "All these [white boys] admire them but they can't communicate with them. She's abunai, she's dangerous, she's icy." Subverting the gaze, "I wanted it to come from a queer girls perspective. These boys are trying to chase you, but I'm cute too. What about me?"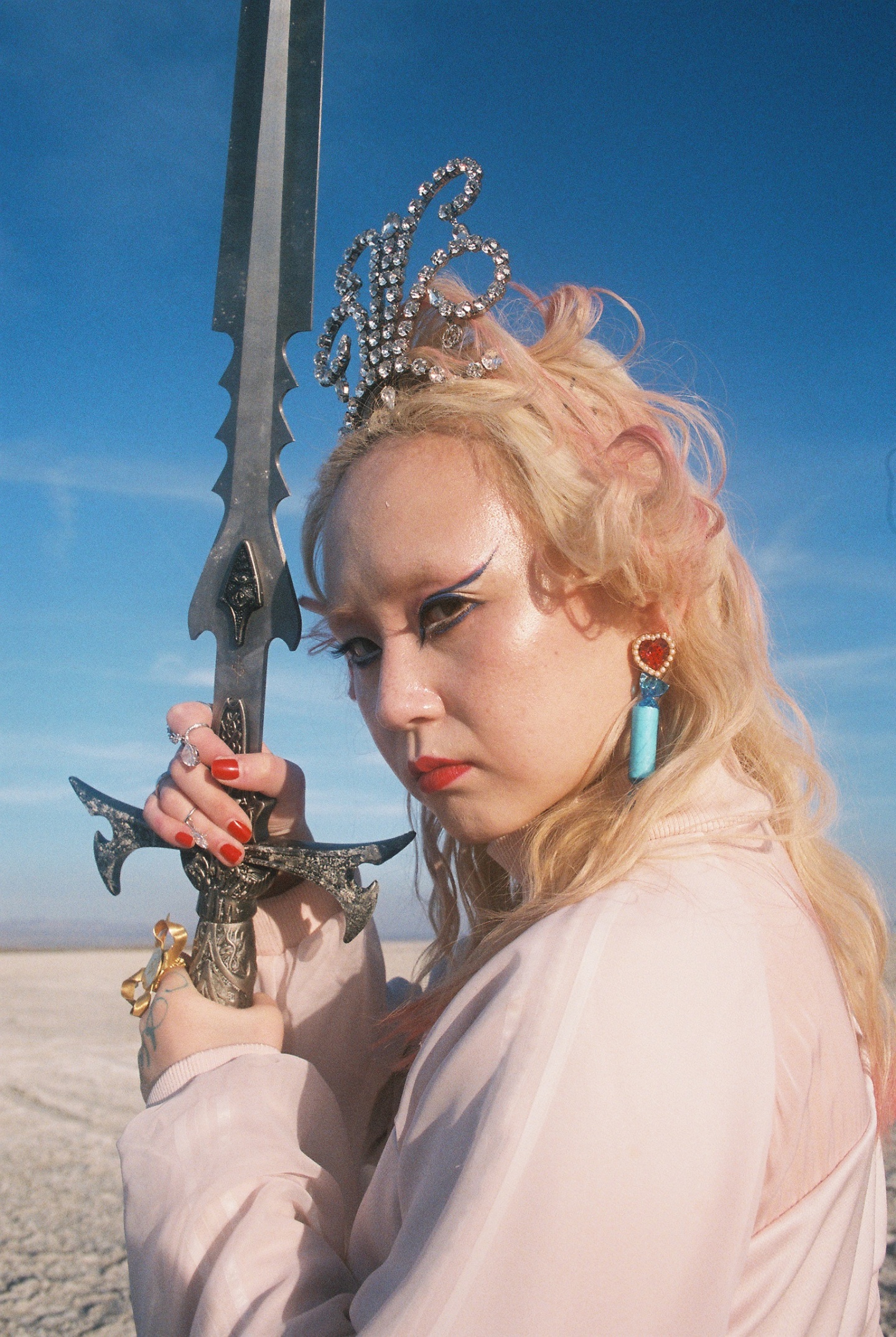 Beyond "She Abunai," Gao's forthcoming EP,which she hopes to release this summer, combats anger and trauma with sharpened daggers. It's pop, yes, but she's referring to it as a punk project, and rest assured it sounds like nothing she's made thus far. "Since 'Rich Bitch Juice' came out producers have hit me up asking if I want hyperpop beats, but that's not where I'm going," she says. "You think you know how I'm supposed to sound?"
Once pandemic travel restrictions ease up, Gao hopes to return to China and visit family that she hasn't seen in years. She's got fans out there now, but to stay there would be to defy everything she's been working toward. "Some people ask me why I wouldn't want to make that Chinese check with my Western charm," she explains. "I don't want to pull the card of nationality, gender, sexuality, anything like that. At the same time, I get all these DMs from my fellow little Asian girls that admire what I do, and to me, that's so cool. I'm not trying to be Asian Ariana Grande, I'm trying to be myself. I know I'm a crazy bitch, I know I'm aggressive, and I don't want my music to make you feel comfortable all the time. I'm doing this by myself, but I'm not doing this for myself anymore."